Musical Sprouts as Part of Sydney and Melbourne Fringe 2019 Presents a Day in the Life of You
As part of Sydney and Melbourne Fringe 2019, children's theatre group, Musical Sprouts, will premiere their delightfully fun and interactive show, 'A Day in the Life of You'. Featuring original songs, live instruments, dancing and lots of audience participation, this clever and creative 50 minute show written specifically for children ages two to six tackles all the big issues in a little person's daily life and ensures a love of music will blossom in every mini audience member.

Tickets are on sale now and are $20 for adults and $20 for children. Concession and group (4+) tickets are $18.

'A Day in the Life of You' features 3 'Sprouts'- Yella, Blueno and Reddy, each of whom have their own unique and charming personalities. During this playful and educational show which centres around the challenges of the youngest character Yella, the 'Sprouts' address the daily challenges of growing up, such as eating a healthy breakfast and learning to brush teeth, getting dressed, cleaning up and going to the toilet. By the end of the show, Yella learns all about independence, self-care and social emotional skills whilst little audiences come away with a renewed sense of confidence and musicality.

The Musical Sprouts performers Bridget a'Beckett, Sharni Page and Julia Davis have all enjoyed successful professional theatre careers. After they became mothers, instinctively they began looking for a new way to express themselves creatively within their changed lives. This unique collaboration of Musical Sprouts came from a shared belief that a love of music can shape a life. The first season of 'A Day in the Life of You' was presented in October 2018 in Melbourne with follow up Melbourne seasons in early 2019. Musical Sprouts have just secured funding through the VicHealth Gender Equity program for 2020 to develop a new musical for children exploring emotional literacy in small children.

Sydney Fringe 2019
Saturday September 21- Sunday September 22 2019
Saturday September 21, 11:30am
Sunday September 22, 10am & 11:30am
Actors Centre Australia, Fringe Hub, Sala Quattro, shop 30a/23 Norton Street, Leichhardt
Age recommendation: 2-6 years of age
Ticket Price: $20 adults/ $20 children/ $18 concession/ group (4 +)
For bookings and information visit www.sydneyfringe.com
*Sydney Fringe 2019 runs September 1-30 2019

Melbourne Fringe 2019
September 27-29 2019, 11:00am
Wonderland Spiegeltent,The Paddock, Federation Square
Age recommendation: 2-6 years of age
Ticket Price: $20 adults/ $20 children/ $18 concession / $18.50 Group (4+)
*Melbourne Fringe 2019 runs September 12-29 2019
For bookings and information visit melbournefringe.com.au or call 03 9660 9666
www.musicalsprouts.com.au


Interview with Bridget a'Beckett
Question: What is Musical Sprouts?

Bridget a'Beckett: Musical Sprouts is a theatre company that produces theatre and songs for children that inspires creativity, imagination and a love of music.


Question: What originally inspired the creation of Musical Sprouts?

Bridget a'Beckett: I had babies and once I got over the initial shock of my new life, I started to reflect on what made my own childhood special and it was music. My mother had it playing constantly in the background so I had a permanent soundtrack to my life. It opened up my curiosity and imagination – I would spend hours imagining the stories behind the songs. It also has an immediate calming effect on me now which is useful in my busy and chaotic world. I want my children to experience the same benefits and magic that I did, because I know how important early childhood is in setting up the future adult.


Question: How do your own children shape Musical Sprouts and the shows?

Bridget a'Beckett: They are constant inspiration! My little boy gets the jiggles when he needs to go to the toilet, so that inspired the Toilet Dance song "I have got the jiggles do you know what I mean?" The breakfast song which is an enthusiastic homage to the meal is actually from my own experience as a mother of fussy children – they don't eat lunch or dinner but they love breakfast so it was my thank you to the universe for providing Weetbix! All the jokes that make the characters relatable and funny to children and grown-ups have come from our own children. It was a delight writing the script with the other Sprouts because we could all share in the delight of our kids and their quirks.


Question: Can you tell us about the A Day In The Life Of You?

Bridget a'Beckett: The show celebrates early childhood and acknowledges the enormous accomplishments that adults take for granted like going to the toilet alone, cleaning our teeth and learning to tidy our mess. We wanted to see the world through the eyes of our children and show them that these challenges they face are big and sometimes scary. Children in the audience really enjoy seeing their life played out on stage; it gives them a sense of importance and belonging.


Question: How does it feel to have this show as part of the Sydney Fringe Festival?

Bridget a'Beckett: Exciting, especially to be chosen as part of the Sydney Fringe Kids Hub. Although I live in Melbourne now, I was a University student in Sydney studying music, so to bring my show here as an adult (pretend adult – I don't feel grown up even though I'm 40) it has a sense of achievement attached to it. Especially when all my friends come and bring their own children; it really is the circle of life (or I'm just getting old)!


Question: How do you feel about performing at the Melbourne Fringe?

Bridget a'Beckett: To perform in the Wonderland Spiegeltent is a dream come true! I can't wait to see my kids eyes light up when they go in there!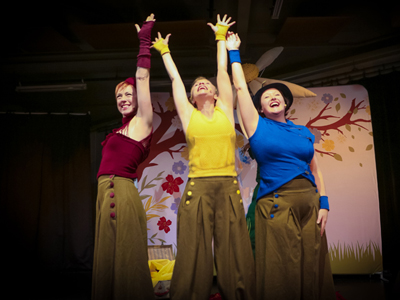 Question: What types of big issues does A Day In The Life Of You tackle?

Bridget a'Beckett: Imagine being a little person with only three years' experience in the world and you have to pull your nappy off and sit on a huge hole and wee? That's a big deal. It's scary. And then you have to get a stick and rub your teeth – which teeth, where are my teeth, how many are there, why am I doing this?

And then I just want to play, but there's a thing called mess and I have to do something about it, but it's boring. Cleaning up – blurgh.

There's so much to learn and absorb. Sometimes I just want to celebrate my wins, understand that other children are going through the same fears as me and have a laugh with my grown-up.


Question: Where do you find inspiration when creating new shows?

Bridget a'Beckett: We have a new show in the pipeline for 2020 and it's SO exciting. There is endless inspiration out there, but we've chosen a theme because we have a secret weapon in the Musical Sprouts. One of our creators, Sharni Page, is a psychodramatist which is a therapy that uses role play in its practice. Her paper on education in the 22nd century is to be published in the UN Encyclopedia SDG4 later this year (2019). We would be crazy not to use her skills and knowledge in our next show creation, so we are taking the opportunity to explore the foundations of empathy in children aged 2 – 8.

VicHealth have come on board and we have teamed up with other early childhood professionals to create a show that provides parents with tools and songs that they can use with their children at home to encourage development of skills directly related to empathy.


Question: What lessons do you hope children take from A Day In The Life Of You?

Bridget a'Beckett: They are not alone in their fears and challenges. They might be little, but their thoughts, feelings and ideas are important and need to be heard. The show deals with themes of belonging and finding independence.


Question: What's next for you and Musical Sprouts?

Bridget a'Beckett: Our new show in 2020; a collaboration with a speech therapist, early childhood pedagogical leader, psychodramtaist and the VicHealth team. A podcast, a web series, a collaboration with Playable Streets to create an interactive theatre set that children can play with.

Shows, workshops, creativity and music-making. Exactly the future I have wanted since I was a child myself!

One more thing – we have a really special opportunity for parents of children aged 2- 8 right now. A free service where you can ask our childhood experts 1 question about your child and we'll get it answered for you. Click here for details!


Interview by Brooke Hunter