Following the critical success of the first-ever instalments of MTV Unplugged Melbourne and plans to revive MTV TRL next year, MTV Australia today announced the 2019 launch a local version of the iconic celebrity home series, MTV CRIBS.

Like the original, MTV Australia's reimagining of MTV CRIBS will provide unfettered access to the lavish residences of the famous – and the infamous – with all the boom boom bedrooms, tricked out rides, refrigerator raids, over-the-top bathrooms, state-of-the-art in-home cinemas and, of course, the huge hot tubs fans expect to see in the homes of the ultra-famous.

On October 17, MTV will unveil a first-look at the brand new Australian version of MTV CRIBS with a special instalment showcasing the lavish waterside mansion shared by radio royalty Kyle Sandilands and his partner, Imogen Anthony.

With the doors of what 'King Kyle' and Imogen call "The Manor" flung open exclusively for MTV's cameras, fans will be treated to guided tour of their tri-level Mosman NSW mansion. From the opulent Versace interior décor to the "Hollywood-style en suite and spa" often featured on Imogen's Instagram feed and Kyle's vast 'weaponry' collection stashed in the garage, Australia's most talked-about couple opens their doors to give MTV all-access into how the 'other half' live.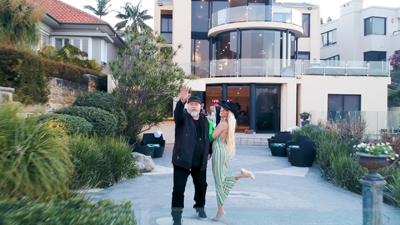 This special first-look at MTV CRIBS with Kyle Sandilands and Imogen Anthony will premiere Wednesday, October 17 at 10:30PM AEDT exclusively on MTV on Foxtel and Fetch, and on-demand on Foxtel Now. Further details of the Australian version of MTV CRIBS - including series premiere date and other celebrity homes to be featured - will be announced at a later date.

"The response to the revivals of MTV's iconic properties has been incredibly positive, so an Australian version of MTV CRIBS felt like the perfect format to revitalise next," said Simon Bates, Vice President and head of MTV Asia Pacific. "The popularity of MTV CRIBS spans decades, and who better than Kyle and Imogen to kick off a look into the inner sanctum of Australia's biggest and flashiest celebrities."

Originally launched in 2000, MTV CRIBS gives viewers an all access pass inside the private homes of celebrities, performers, athletes and business moguls. MTV CRIBS has featured the homes of Mariah Carey, Simon Cowell, Missy Elliott, Ludacris, Kelly Rowland, Shaun White, Snoop Dogg, Richard Branson, Tony Hawk, and even Kanye West and Kim Kardashian West before they shared a 'crib.' The 2018 international shortform reimagining of MTV CRIBS was the highest premiere of a Snapchat show ever, and will return for a second season soon.

www.mtv.com.au/cribs