Michelle Lee and Australian Maid
Michelle Lee is the first Australian woman to row solo non-stop across the Atlantic Ocean. Michelle, and her boat, Australian Maid, will be at the Adelaide Boat Show (28th-30th June) and at the Sydney International Boat Show (1st-5th August).
https://www.differentworlds.com.au/

The 2019 Adelaide Boat Show, South Australia's most comprehensive recreational marine exhibition, will take place at the Adelaide Convention Centre 28 – 30 June 2019. The move to this year's venue promises an inspiring and diverse exhibition of marine craft and accessories for anyone who loves boating, or aspires to spend more time on the water.

The popularity of the Adelaide Boat Show over the past few years with exhibitors, and the growing number of visitors to the show, indicates that boating in South Australia is more popular than ever, and remains an attractive pastime for families, water skiers, wakeboarders and fishing enthusiasts.

Alan Blake, President of the Boating Industry Association Ltd, says relocating the show to the Adelaide Convention Centre presents a compelling opportunity. "This venue reflects the vibrancy, diversity and popularity of the boating lifestyle across South Australia. Having the exhibition at such a convenient location, close to the city, with vast exhibition space has meant that we as an industry can further develop the show along with the accessibility of boating in general," he said. "From high-end watercraft, to practical fishing vessels, tinnies and kayaks, more than ever the Adelaide Boat Show remains a fun family day out, representing an exciting weekend for everyone who loves boating on the fabulous waterways and coastal areas in this great part of Australia."

At past shows, the exhibition has reached capacity, featuring new water craft, kayaks, jet skis, engines, trailers and accessories, as well as state-of-the-art communications, safety and fish finding technologies.



Simon Burgess, General Manager of the Adelaide Convention Centre, said the Adelaide Boat Show will feel very much at home at this year's venue. "We're delighted to welcome South Australia's premier boating showcase to the Convention Centre in June. Our location at the heart of the Riverbank provides a fantastic backdrop for the event and exciting opportunities for the future as the Show continues to evolve," he said. "Innovation is always welcomed here at the Centre and we enjoy working on events where they are establishing new and engaging content and experiences for their visitors. I'm sure the Boat Show team will deliver an innovative and memorable exhibition for boating and fishing enthusiasts."

Adult entry tickets to the show are $10, with children 6-17 years of age $5. Kids 5 years old and younger are admitted free when accompanied by an adult.

Up to date details regarding the show are available at www.adelaideboatshow.com.au.
Interview with Michelle Lee, the first Australian woman to row solo non-stop across the Atlantic Ocean
Question: What originally inspired your passion for rowing?

Michelle Lee: A book - titled Rowing the Atlantic by Roz Savage; she rowed on the same race in 2005, her ability to triumph over adversity was the message that inspired me to want to do it and be part of this phenomenal adventure.


Question: What motivated you to attempt to row solo non-stop across the Atlantic Ocean?

Michelle Lee: After being plagued by that book so consistently and persistently for two years I finally decided in May 2016 that "If I don't do this, I will die wondering".

My motivation was fueled by the desire to tap into my own un-tapped potential and to see what I was made of. I was looking for something bigger in my life and thought this was a great way to explore it.


Question: How long did you prepare ahead of this particular rowing challenge?

Michelle Lee: Just over two years of intense focus and major life style changes. In order to prove myself to sponsors and create a profile I also achieved a world record on the concept2 rowing machine - I became the fastest female to row one million metres - breaking the record by almost eleven hours. It was held by a German Olympic rower - which made my story even sweeter, as I was not a rower, an athlete or elite... I also had to build a boat and learn to row; plus, complete several courses including essential seamanship and navigation, marine first aid and how to be airlifted from a life raft. It was a massive change to my everyday normal life.


Question: How did it feel when you became the first Australian woman to row solo non-stop across the Atlantic Ocean?

Michelle Lee: The sense of accomplishment is still being processed - even four months later. Sometimes I catch myself thinking "Did I just do that?" It was of pure relief when I took the last stroke and the sense of OMG - what a pleasure, privilege and an honor.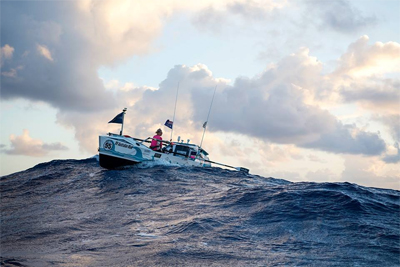 Question: Can you share with us the most challenging part of this particular rowing challenge?

Michelle Lee: Isolation. After day 23 I was over "me" and then the vulnerability and fragility of my own health and mental state. Day 46 was a real challenge and when I realised that I was doing something a bit bigger than run around my neighborhood naked. It was the day that I realised that this was a survival challenge before a rowing race. I underestimated the effects of isolation big time. Dealing with a tooth ache and ear ache plus things breaking on my boat was a real test to my mental resilience and will to push on.


Question: What are you most looking forward to at the Adelaide and Sydney International Boat Shows?

Michelle Lee: I am so thrilled and excited to be able to tell a different story. For the past two years I was telling the story of "I'm going to row the Atlantic Ocean", it gets to a point where you can almost hear people say "She's never going to do this". So to be able to say "I've done it and it is possible" and to show what a great ride it was. Come on Australia; get off your bums and chase that dream. the reward is huge.


Question: What advice do you have for young rowers?

Michelle Lee: Start thinking you can and you will. Make a verbal commitment and then put a plan in place. Follow it and enjoy the life changing events that follow your success. Embrace the hard times because they are what creates growth, resilience and integrity - ingredients essential for the game of LIFE.


Interview by Brooke Hunter