There's a point at 7,000 RPMs where everything fades
The machine becomes weightless. It disappears.
All that's left, a body moving through space, and time.
At 7,000 RPM, that's where you meet it. That's where it waits for you.

Cast: Christian Bale, Matt Damon, Caitriona Balfe
Director: James Mangold
Genre: Action, Biography, Drama
Running Time: 152 minutes

Synopsis: From Academy Award®-nominated filmmaker James Mangold, the masterful storyteller behind Walk the Line and Logan, comes a film inspired by a true-life drama about a powerful friendship that forever changed racing history.

In 1959, Carroll Shelby (Matt Damon) is on top of the world after winning the most difficult race in all of motorsports, the 24 Hours of Le Mans. But his greatest triumph is followed quickly by a crushing blow"the fearless Texan is told by doctors that a grave heart condition will prevent him from ever racing again. Endlessly resourceful, Shelby reinvents himself as a car designer and salesman working out of a warehouse space in Venice Beach with a team of engineers and mechanics that includes hot-tempered test driver Ken Miles (Christian Bale). A champion British race car driver and a devoted family man, Miles is brilliant behind the wheel, but he's also blunt, arrogant and unwilling to compromise.

After Shelby vehicles make a strong showing at Le Mans against Italy's venerable Enzo Ferrari, Ford Motor Company recruits the firebrand visionary to design the ultimate race car, a machine that can beat even Ferrari on the unforgiving French track. Determined to succeed against overwhelming odds, Shelby, Miles and their ragtag crew battle corporate interference, the laws of physics and their own personal demons to develop a revolutionary vehicle that will outshine every competitor. But their tireless efforts take a difficult toll"for these bold men, victory comes at a price.

Ford v Ferrari
Release Date: November 14th, 2019


A High-Octane Drama About The Friendship That Redefined Racing
It's one of the most legendary tales in the history of motorsports. Carroll Shelby, working closely with his spirited test driver Ken Miles, develops a revolutionary car that bests a fleet of vehicles built by Italian racing legend Enzo Ferrari at the 1966 running of the 24 Hours of LeMans. This is the story of a group of unconventional thinkers who overcome incredible odds to achieve something extraordinary through sheer inventiveness, determination and force of will.

Director James Mangold was excited by the dual challenges the project offered: the opportunity to stage thrilling racing sequences that would essentially put the audience inside the cars with these fearless drivers, and the chance to chronicle the turbulent friendship between Shelby and Miles. Both had quite distinct, larger-than-life personalities"Shelby, tough yet eminently likable; Miles, prickly and unfiltered"but they were united by a passion for innovation and an abiding love for racing.

Quite simply, Shelby and Miles were driven to excel, even if it meant putting their lives on the line every time they got behind the wheel. "They understood each other at the most profound level," says Mangold. "When Shelby's confronted with the fact that he can't race anymore, he reinvents himself from a driver into a car salesman and designer, and Ken becomes a vessel for Shelby's dreams. But Ken can't quite filter himself or control himself in corporate situations or publicity situations. He just says whatever he thinks, so Shelby takes on this role of protector or spokesman for Ken. They have a very symbiotic relationship. One fills in where the other leaves off."

"FORD V FERRARI is the kind of movie that reminds me why I got into the movie business in the first place," say producer Peter Chernin about what drew him to the project. "It's a big, emotional, distinctive theatrical experience that embraces all of the reasons we want to sit in a movie theater. We want to be invested. We want to be moved, to cry to laugh... to be inspired. This movie is all of that and more."

Chernin was excited that director James Mangold was enlisted after several years of developing the script. Mangold was already experienced in telling emotionally satisfying stories about historical figures and dramatic tales about outsiders.

"He is always drawn to reluctant heroes, people who live by a strong moral code all their own, often idiosyncratic, sometimes less than law-abiding," says Chernin. "The draw for him to make a gorgeous, huge-scope drama with high-stakes action was unmistakable. Nobody could've combined beauty and soul in this film in quite the way he did."

"The challenge was how do we navigate this story so that audiences feel the love and camaraderie and energy of these drivers and designers and mechanics and pit crew, but it doesn't depend upon a cliché kind of victory," adds Mangold. "I felt that if we could get deep enough into these unique characters, the winning and the losing of the races would be secondary to the winning and the losing of their lives."

The key to Mangold's approach was to create a more naturalistic portrait of what life was like for Shelby and Miles. In a modern era when CG spectacle has come to define many blockbuster films, the director felt it was critical to take a grounded approach to the action in FORD V FERRARI to both more accurately depict the 1960s and to help the audience understand what these drivers experienced as they were pushing themselves, and their cars, to the limit.

"The goal to me, in an age of incredibly computer-enhanced action movies, was that there could be something profoundly analog and real and gritty about the film and the sexiness of these beasts, the cars, their engines, the danger," Mangold says. "These characters are riding in a thin aluminum shell at 200 miles an hour around a track. The miracle that was their daring and their survival under these circumstances was something that I really wanted to try to convey."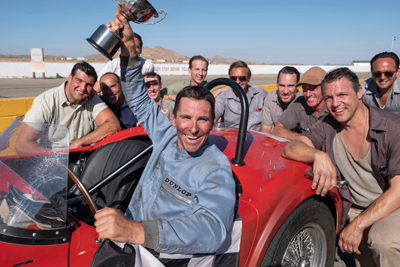 The film opens with Shelby's victory at Le Mans and his subsequent diagnosis, before moving forward in time to 1963, when Ford Motor Co., once the industry leader, is trailing in sales behind U.S. competitor General Motors. Marketing Executive Lee Iacocca suggests that if Ford wants to appeal to the young people of the day looking to buy their first cars, the company should focus on speed"if Ford had winning race cars, their consumer automobiles would become that much more attractive by association. Since no company produced faster or sexier cars than Enzo Ferrari, an acquisition of the European carmaker seems like the answer. An envoy of top executives is dispatched to Ferrari headquarters to negotiate the purchase of the European carmaker only to return to Michigan empty-handed.

Outraged, Ford CEO Henry Ford II (aka The Deuce) immediately places his right-hand man, senior vice president Leo Beebe, in charge of a new high-tech race car division, Ford Advanced Vehicles, tasked with quickly building a car that will beat Ferrari at their own game" defeating them at the "Mount Everest of Motor Racing," the 24 Hours of Le Mans. The FAV team builds the exciting-looking GT40 Mark I, but its first outing at Le Mans in 1964 ends miserably. All three models fail to finish the race while Ferrari's place first, second, and third. Finishing fourth is the Shelby Daytona Cobra Coupe, a fact that Ford II doesn't fail to notice.

Ford II hires Shelby to develop, test and ultimately oversee the corporation's entire racing program, but Shelby's lead test driver Ken Miles complicates the relationship. The outspoken Miles quickly makes an enemy of Beebe, who does his best to manipulate Shelby and box-out Miles at every turn. Still, against impossible odds and virtually non-stop corporate interference, Shelby and his team"which also includes chief engineer Phil Remington and young British mechanic Charlie Agapiou"build one of the greatest race cars ever produced: the Ford GT40 MKII. The vehicle changed the perception of both Ford, and America itself, when it took part in one of the most infamous racing showdowns in history, the 1966 running of Le Mans.

Mangold says, "This movie is about characters striving for excellence, trying to push against the onset of corporate market-tested group-think. It's an essential struggle in the 21st century in our country, the risk-taking and daring and leaps of instinct that were required to invent a lot of the things that define our country are things that we're almost too frightened to do anymore."

Adds Chernin: "We had always felt this could be an incredibly compelling film because it's about the behind-the-scenes conflicts and choices of passionate, competitive, driven, largerthan-life people caught in the very moment the American landscape was changing from the optimism of the post war 1950s and early 1960s to the more cynical late 1960s and '70s. It's also the best kind of American underdog story, one filled with nostalgia."

Finding Carroll Shelby and Ken Miles

Although FORD V FERRARI features a top-notch ensemble cast playing a range of high-profile historical figures, the central drama turns on the heated relationship between renegades Carroll Shelby and Ken Miles. From the start, the filmmaker knew which actors he wanted to cast as the figures at the heart of the story: Matt Damon and Christian Bale. "They're both incredibly gifted," Mangold says. "There was a natural camaraderie that I sensed from the beginning that really translates to the screen."

The director says that each performer had a certain kinship to his respective role. Like legendary car racer and sports car builder Carroll Shelby"whose creations included the Shelby Cobra and Shelby Daytona, as well as modified race-worthy editions of Ford's legendary Mustang series, the Shelby Mustang"Damon's celebrity status stretches back decades.

"He's been a movie star most of his life," Mangold says of Damon. "He carries with him the notoriety, the fame, from this giant long career, but he also faces the questions of every actor in their forties"where am I going?"in the same way that Shelby has to see and reimagine himself when the story begins."

Says Damon: "Shelby had been a great driver and had kind of hit the pinnacle of that. Because of this heart condition, he'd lost his great love. He was really on the cusp of fading into oblivion and just being another guy hustling trying to sell cars to people. This Ford opportunity was a once-in-a-lifetime chance for him. The stakes were incredibly huge for him as they were for Miles. This is an inflection point in both of their lives."

Bale has built a career crafting bold characters and, when portraying real-life people, whether Dicky Eklund in The Fighter or Dick Cheney in Vice, he notably submerges himself into the role to channel the essence of those characters. He also has a reputation for being passionate and outspoken, much in the same way that Ken Miles, who drove tanks in World War II before finding his way onto the race track, had been.

"In many ways, Ken Miles and Christian are similar in character," says Mangold of the actor, who had starred in the director's 2007 feature 3:10 to Yuma. "Christian is a remarkably gifted actor but doesn't love being a movie star. He loves the work when he can feel in control of the work, when he's behind the wheel as it were. Christian is also British, also has connections to working-class neighborhoods in the UK"he found a million ways to connect to Ken. I knew he would love the idea of training and driving in this film."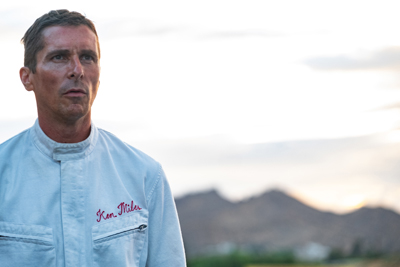 Offers Bale: "There's a freedom to playing real characters because they've got definite mannerisms, they've got their eccentricities, they've got their voice, everything is right there," Bale says. "You have the freedom to use all of that. You can look at it on video or you can bring the guy onto the set and have a chat with him"people are wonderfully eccentric and fantastic in that way. I feel more liberated playing a real person because I know it's not my own ego driving choices."

Adds producer Chernin of the two stars: "Bale and Damon are among a tiny group of the finest actors working today. They both have a tendency to disappear into their roles while maintaining major movie star wattage. One can believe that they would be characters who represent the last of an old school, brave, humble, gracious, male prototype."

Although the actors had never worked together previously, they were excited by the chance to share the screen and explore the friendship between these two singular characters. "Shelby just felt Ken Miles was indispensable to this mission, and Ken was known for not suffering fools," Damon says. "He was irascible and not afraid to speak his mind and did not want to just fall into step with everybody else. If he thought an idea was stupid, he'd tell you, and he had very little political skill or diplomatic skill. And so he was a constant source of frustration to Shelby because he couldn't get out of his own way. But Shelby really needed him to help build the car and to then subsequently drive it at Le Mans."

Mangold wanted his stars to do as much of the driving as they could with real vehicles on real tracks. "The whole idea was to do as much with our cast as humanly possible," the director says. "What I really wanted was to make the driving feel like you're really there. You're both hearing and seeing the bolts rattling in the chassis of the car. You're feeling the vibration of the engine. You're understanding how hard they're pushing this vehicle and how close to exploding it is.

"Today, we have computer-aided design," Mangold continues. "We can postulate with much greater accuracy what's going to work. These drivers had to get in cars in which there was no idea whether they'd hold together. There was no way with a pencil and an abacus you could know that. You just had to build the car and drive the car and see if it just blew up around you. There's a romance to that kind of daring and risk-taking and getting dirty with your own ambitions."

Before filming began, Bale trained with veteran stunt coordinator and stunt driver Robert Nagle to help him prepare; Bale drives both a Shelby Cobra and a variety of Ford GT40s on screen. The stunt coordinator spent a week with the actor at the Bob Bondurant School of High Performance Driving in Phoenix, Arizona, which specializes in racing. "Christian was very much into it and has a very strong aptitude for this" Nagle says. "He's the best actor I've ever trained for driving."

Assembling The Supporting Cast

Jon Bernthal portrays Lee Iacocca, who, from his humble roots as the son of Italian immigrants in Allentown, Pennsylvania, became a legend in the automotive business, reviving U.S. automaker Chrysler during the 1980s. Bernthal is an athletic stage, screen and television actor known for emotionally-damaged characters on television series such as The Punisher and The Walking Dead and films including Sicario, The Wolf of Wall Street and Wind River.

"While I usually play men who depend on their brawn, their might and their anger, in a way I found Iacocca as a man to be as strong as any I've ever played," Bernthal says. "His strength comes from his intensity. It comes from his intellect. When he was at Ford, Iacocca had the presence of mind to understand that there was a whole generation of 17-year-olds with money in their pocket who were interested in rock 'n' roll and sex and moving fast, and the stale, stagnant repetition of reproducing 1950s cars was failing Ford."

Irish actress Caitriona Balfe, who stars as Claire Randall in the long-running Starz series Outlander, plays Mollie Miles, Ken's wife, and mother to their young son, Peter. "What I love about the character of Mollie is that even though she's a stay-at-home mom in the film, she's very much an equal partner in the relationship," Balfe says. "He's a little rough around the edges with his personality and his people skills may not be that great. But this is where their relationship is strong. She tells him when he needs to pull up his boot straps and to also encourage him. There's this real sense that they're a team who supports each other. It was a beautiful thing to be able to play."

Pulitzer and Tony Award-winning writer and actor Tracy Letts (August: Osage County, Lady Bird) portrays Detroit auto legend Henry Ford II, the CEO of Ford Motor Company from 1960 to 1979. The auto racing and sports genre represented a new opportunity for the actor, who was intrigued with the story's historical importance. "It's a classic story of man versus machine, man versus man, and man versus himself," Letts says. "It touches upon a lot of the points of a sports story, but at the same time the historical story that's being told here is a good one. A lot of the cars that we know now, and a lot of the advancements we've seen with technology, starts with this period."

Josh Lucas is Leo Beebe, the Ford Motors Company executive who was given control over Ford's racing program. Best known for his roles in Sweet Home Alabama and the Oscar®- winning drama A Beautiful Mind, Lucas previously worked with Bale in 2000's American Psycho. "There's a lyrical quality to the writing," says Lucas. "There's an epic quality to it. There's a kind of poetic aspect to this story on the energy and intensity of race car driving.

Like his father, Peter Miles is completely consumed with the sport of car racing; Peter is portrayed by Noah Jupe who co-starred with John Krasinski and Emily Blunt in the 2018 hit A Quiet Place. "Peter is a happy boy, but he's also a kid whose dad could die at any point in a race," Jupe says. "From an early age, he's been brought into the racing world and wants to be a racer when he's older just like his dad. It's all he's ever known."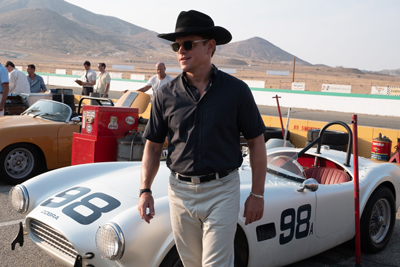 Veteran actor Remo Girone, an Italian leading man of films, television, and stage, plays Enzo Ferrari, whose Scuderia Ferrari racing team dominated the sport for years. Girone is best known for his starring role as a mafia leader in the popular Italian television mini-series La 10 Piovra (The Octopus) as well as his co-starring role as an Italian-American crime boss opposite Ben Affleck in Live by Night. Ray McKinnon, an American character actor, writer, and director best known for creating the acclaimed SundanceTV drama series, Rectify, plays Phil Remington, the chief engineer at Shelby American. A technical genius who could fix or fabricate anything, Remington is a key partner to Carroll Shelby in helping develop the Ford GT40 MKII that took on Ferrari at Le Mans.

JJ Feild, best known for his roles in Captain America; The First Avenger, Austenland and currently stars opposite Idris Elba and Piper Perabo on Netflix's comedy series "Turn Up Charlie" portrays Roy Lunn, Ford engineer responsible for designing and developing the GT40 race car.

British actor Jack McMullen portrays young Shelby American mechanic Charlie Agapiou"known in the film as Chaz, he works with Ken Miles at Miles' foreign car repair shop in Hollywood before joining him at Shelby's shop in Venice in early 1963. Ken was something of a father figure to young Charlie.

The production also enlisted the sons of racing icons depicted in the film"many of whom are or were champion drivers themselves and grew up knowing Carroll Shelby"to portray their fathers. Some of the notable stunt drivers include Alex Gurney, son of racing legend Dan Gurney; Derek Hill, son of former Formula One champion Phil Hill; and Jeff Bucknum, son of American racecar driver Ronnie Bucknum.


About The Production
Ford V Ferrari was filmed in the summer and early fall of 2018 in Southern California, Georgia, and Le Mans, France. Director James Mangold assembled a team of frequent collaborators to help him create his vision of the epic rivalry between Henry Ford II and Enzo Ferrari and the scrappy team of upstarts that Ford hires to help him in his quest. The production also enlisted several consultants who had personal connections to the events in the film to add an extra level of authenticity; they included Charlie Agapiou, the former crew chief and chief mechanic for Shelby American, and Peter Miles.

Production designer François Audouy was tasked with recreating a variety of real-world places for the film from the Ford Motor Co. headquarters in Dearborn, Michigan to Shelby American's workshops in both Venice, Calif., and later, its expanded facility at the Los Angeles International Airport. Audouy previously worked with Mangold on projects including Logan and The Wolverine, and was excited to reunite with the filmmaker.

"Jim has a very strong vision of the story he is trying to tell," Audouy says. "His films are very much character driven. They're grounded in a filmmaking style that keeps you in the story. That means that the production design has to follow suit and be very much in sync with realism and plausibility and keeping the audience in the magic trick of this world that has been created."

Interestingly, virtually every sequence of FORD V FERRARI was shot on location. For early scenes set at the legendary Ford factory known as Ford River Rouge Complex, or just The Rouge, in Dearborn, Michigan, the production filmed inside a 100-year-old former steel factory in downtown Los Angeles. The 15,000-square-foot warehouse structure was outfitted with an assembly line and conveyor belt system to become the massive automobile plant where 1963 Ford Falcons are in the process of being assembled. The factory scenes required 20 Ford Falcons to be displayed in various states of completion.

Rather than build the Ford Falcons from scratch, picture car coordinator Rick Collins scoured Craigslist, eBay and other used car sites to purchase Ford Falcons from the era, and then either stripped the cars bare or refurbished the interior and exterior of the light blue vehicles to create the illusion they were brand new off the assembly line. "They're all real cars," Audouy says. "There's no fiberglass. They're all out of real metal, totally restored. Even the paint is the same paint that was used out of the Ford color book in 1963."

The exterior of the Ferrari factory and interiors of Enzo Ferrari's office were filmed at the Lanterman Development Facility in Pomona, Calif. Its exterior walls and inner courtyard closely matched the company's exterior façade in Maranello, Italy. The art department constructed an exact replica of Enzo Ferrari's office with windows overlooking the courtyard where two Ferraris are parked: a replica 1961 California Modena Spider and a real 1966 Silver Ferrari 275 GTB, borrowed from a local collector.

One of the iconic pieces of the Ferrari headquarters are its factory gates; for FORD V FERRARI, the film's design team built a replica of the gates on site. "They are like the King Kong or Jurassic Park gates," Audouy says. "You see those gates, and it just says 'Ferrari.'"

To recreate Shelby American, Inc.'s storied original location on Princeton Avenue in the beachside community of Venice, Calif., the production found a two-story brick warehouse with a courtyard in South Los Angeles' Chesterfield Square neighborhood. Set designers transported the vacant 12,000-square-foot structure back in time utilizing various pieces of car-shop dressing"jacks, monkey wrenches, car magazines"along with trophies, surfboards and bikes. To round out the décor, one dozen pre-1966 Shelby Cobra replicas, including an assortment of MKIs, MKIIs and Carroll Shelby's own personal Shelby Cobra roadster, were rented for the facility.

With the addition of the Shelby Mustang to his manufacturing lineup and an influx of resources from the Ford Motor Co., Carroll Shelby outgrew his original shop in Venice, and in 1965 moved his company and assembly line to a hangar facility at Los Angeles International Airport (LAX), where he produced some of automotive history's most famous sports and consumer cars. Over the course of nearly two weeks of filming, scenes set inside the Shelby LAX workshop and exterior tarmac were filmed at a California Air National Guard hangar located at Ontario International Airport, about 40 miles east of downtown Los Angeles.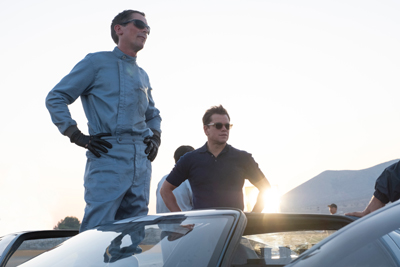 When planes were not in use, the airport allowed filming on the tarmac, which served as Shelby's test track. "Not only did we find an incredible gigantic hangar that we transformed into an exact replica of Shelby's LAX hangar, but we also had access to the runway where we could take these race cars and capture what really happened at the beginning of Shelby when they were developing the GT40," Audouy says.

The trendy Highland Park neighborhood hosted scenes set at Ken Miles' house, garage and surrounding neighborhood. Over the course of two weeks of filming, a cozy two-bedroom bungalow from 1909 doubled as the home Ken Miles shares with his wife, Mollie, and their son, Peter. Miles' foreign automotive repair shop, Ken Miles Limited, was located across the street on Ave. 64 at the site of an existing auto body shop that the set designers took back in time. (Miles' former garage was originally located on Lankershim Boulevard in the east San Fernando Valley.)

Throughout, picture car coordinator Collins, whose previous credits include several films in the Fast & Furious franchise, First Man, Bright and Captain Marvel, among others, worked closely with production designer Audouy and his art directors to make sure the cars that were either built, borrowed or rented were exactly what was used back in the day. His team had to 13 transport this massive assemblage of cars all over Southern California and to the film's second unit crew in Georgia.

Among the vintage cars glimpsed on screen is a one-of-a-kind polished aluminum Daytona Coupe, which cost $30,000 to rent, and is featured in the Shelby American LAX facility scenes. For Ken Miles' arrival in Le Mans, France, the Automobile Club de l'Ouest loaned the production several historical cars from their museum including a Ford GT40 MKI and an ultrarare CD SP66 Peugeot. Only three CD SP66s still exist in the world.

Many of the film's race cars were manufactured by Superformance, a high-end collector car facility in Irvine, Calif., which specializes in "rolling chassis" replica and continuation cars from the 1960s. JPS Motorsports in North Hollywood built several Porsche Speedster replicas seen on screen in the early 1963 race sequence set at Willow Springs International Raceway at Willow Springs Motorsports Park in Rosamond, Calif., a 600-acre complex outside Los Angeles, in which Carroll Shelby and his racing team put their early-model AC Shelby Cobra up against their biggest competitor at the time, the Chevy Corvette. Collins' own longtime picture vehicle team at the film's car shop in Sylmar built Corvettes for those scenes. In all, 34 custom race cars were built for the film.

With so many prominent races featured in the film, distinguishing each sequence visually in a way that would help move the story forward became vitally important. Costume designer Daniel Orlandi, who, like Audouy, had worked with Mangold on Logan, extensively researched both the era and the world of racing to make sure his designs were historically correct. He also closely collaborated with Audouy to set up a color palette for each race. "We looked at footage of Le Mans in 1966, footage of Le Mans in 1959, footage of Willow Springs, and I read all the books about Carroll Shelby and Ken Miles," Orlandi says. "You can't do anything in a story about real people until you do a lot of research. You want to be as truthful as possible within the parameters of helping to tell the story."

For Shelby, the costume designer didn't feel that Matt Damon should go too big for his portrayal of the larger-than-life Texan who, in reality, was known for wearing signature striped bib overalls and a Stetson hat from his days as a farmer in the chicken business. "He could have had some of the more over-the-top stuff, but Matt really can act it," Orlandi says. "He doesn't need the costume to define the character and be so exaggerated. He does wear a cowboy hat, which Carroll Shelby wore a lot, but he wears it selectively in key scenes where it intentionally is supposed to seem a bit over-the-top along with his crocodile cowboy boots."

For his portrayal of the famously curly-headed car manufacturer, the 47-year-old actor had his hair colored"and he received his first perm. Hair department head Gloria Casny, another veteran of Logan, says that while the film takes place in the 1960s, she chose fairly cropped styles for all the men. "We erred on short and conservative, since the whole summer of love/Jim Morrison longer hair period didn't start until after the events in the film," she says.

"It was a very specific look"most of the men are very clean cut, have short sideburns, and very little facial hair," adds makeup department head Jane Galli whose collaborative relationship with Mangold dates to 1999's Oscar®-winning drama Girl, Interrupted. In the makeup designer's early discussions with the director, they decided that the characters who spend their days on the race track should look like they lived their lives outdoors in extreme conditions. "Whether they're drivers or the pit crew, Jim always wanted them to look kind of sunburned, tanned, weathered, sweaty, greasy and dirty," Galli says.

In terms of costume, Miles spends much of his time wearing a racing suit and coveralls. "They refer to him as a beatnik, even though he never dressed as a beatnick," says Orlandi.

Since there are few photos of Ken's wife Mollie, the costume designer chose clothing that would suit Irish actress Caitriona Balfe, while realistically approximating the wardrobe of a mechanic's wife. She mostly wears old Wranglers from the 1960s and cotton sweaters or shirts.

By contrast, there were ample archival images of Henry Ford II available to create a full picture of the auto titan's fashion style. When it came to dressing the Deuce and his executive team, Orlandi drew inspiration from a project he did earlier in his career. "I remember doing a film a long time ago set in a big law firm and the director said he wanted them to look like a football team"when they come in, they're a block," Orlandi says. "We did that while giving each one their own personality."

The designer outfitted Ford himself in classic Brooks Brothers suits. "Old money, buttondown shirts, blue blazer"it's recreating what they really wore," Orlandi says. "His clothes are very traditional. And he always wore navy blue with plain navy blue ties." Josh Lucas' character had a shadier color palette. "Leo Beebe, we played a little bit darker, a little bit oiler," Orlandi says. Jon Bernthal's Lee Iacocca was the flashiest exec on the team. "He's got a good shark skin suit, mohair suits, little slivery ties"ultra '60s."

Orlandi wanted there to be an immediate visual contrast between the Ford team and their counterparts at Ferrari. "Whereas the Ford executives are sort of cool"wearing blues, grays, silvers"the Ferrari people are more old world," Orlandi says. "Their wardrobe is primarily browns, creams, knit ties, vests." Orlandi compares the uniforms of the Ferrari factory workers, who wear jumpsuits and coveralls, to the Italian military. "We wanted that old-world style for Ferrari, and the space age 1960s for Ford."

Where the worlds collide is on the race track. One of the chief challenges in the whole of the production was devising the right way to film the various racing sequences that lead up to the climactic restaging of the 1966 running of Le Mans. Explains producer Jenno Topping: "One of the most challenging aspects of filming was that Jim was focused on infusing character into the driving moments so that audiences could identify and better relate to the story being told"it wasn't just who was winning."

Mangold and director of photography Phedon Papamichael"who previously worked together on five films including Walk the Line, 3:10 to Yuma, and Knight and Day"opted for a traditional approach that would support the storytelling; both the classic 1966 sports drama Grand Prix and Steve McQueen's 1971 film Le Mans served as references. "Our visual inspiration came more from the films of the '60s and '70s, rather than contemporary interpretations of race car films" no exaggerated movement, keeping it intimate with the use of close-ups and always maintaining a character's point-of-view," Papamichael says. "We tried to stick to camera techniques of the period."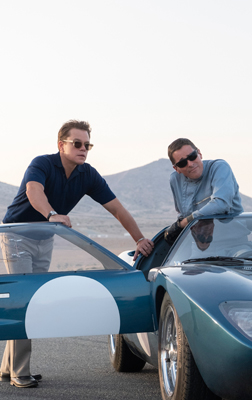 To provide unique, close-up perspectives during the numerous racing sequences, Papamichael relied on specialty rigs and camera vehicles. "It was very difficult to shoot our cast going at correct race speeds," the cinematographer says. "We couldn't always travel at actual race-speed, and we didn't want to apply too much digital help. We tried to do as much in camera as we could, with hard mounts on the actual race cars. It just generates a much more realistic experience, as well as for the actors, who go through the G-forces and all the vibrations involved, which makes it so much easier to perform."

Many of the specialty tracking vehicles used to shoot the film's race sequences and capture the cars in motion were supplied and often driven by noted stunt driver Allan Padelford and his company, Allan Padelford Camera Cars, whose credits include Black Panther, Captain America: Civil War, Baby Driver, the Fast & Furious films and Days of Thunder. Padelford won 16 an Oscar® for Technical Achievement in 2015 for his Biscuit Rig drivable camera and vehicle platform, which is featured extensively in Ford V Ferrari. Additional specialty camera mounts were also utilised, including telescopic cranes from CineMoves, SpaceCam gyrostabilized heads and Oculus stabilised camera gimbals.

The most challenging sequence to capture by far was the restaging of the 1966 running of the 24 Hours at Le Mans race, which was a massive undertaking to stage and to shoot. "The last 40 minutes of the film is this race predominantly, and I really wanted you to feel like you were hunkered down and living in the race"I wanted that idea of racing for 24 hours to start to dawn on you, to feel what that really would be like trying to drive faster than any man for longer than you ever can stay awake," Mangold says.

For that 24-hour country road race, the behind-the-scenes team needed to find a countryside that looked like the Loire Valley region in France (a search that ultimately took them to rural towns in Georgia) as well as a place to erect the mammoth grandstands and pits at Le Mans. "It's something that took months and months of effort," Audouy says. "Picture cars had to be involved. Stunts had to be involved. Visual effects, pre-vis, storyboards"it was really a behemoth of a sequence. I can't think of another movie that has this sort of epic car race in it."

Although the 24 Hours of Le Mans is still an annual event in Le Mans, France, the current track no longer resembles its 1966 incarnation, so the entire course and grandstands had to be created from scratch. The dozens of race cars that competed at Le Mans are now priceless museum pieces or in private collections, and regularly fetch tens of millions of dollars at auction, so high-performance replicas had to be built.

Le Mans, the race track in France, still exists but not like it did," Mangold says. "Now it's a race track"it looks more like Charles de Gaulle Airport than what it once was, which was a homespun, very simple thing. It was a set of country roads connected up in a loop with a series of quaint grandstands. The magic of that, of driving 200 miles per hour in the most cutting-edge race-car prototypes on a series of French country roads over and over again through day, night, rain, sleet, dawn, dusk"doing that for 24 straight hours in one vehicle seemed like the most powerful thing we could try to convey."

The sequence featured the largest set constructed for the film: a full-scale historical recreation of the start- and finish-line grandstands for Le Mans, along with three large segments of additional grandstands, VIP boxes, the Ford and Ferrari pits, and the international press box, 17 all of which was built at Agua Dulce Airpark. a private airport in Santa Clarita, Calif. The design was based on more than 300 archival photos from the era acquired from various sources including the Automobile Club of the West in France, the organizers of the 24 Hours of Le Mans.

No detail was too small for Audouy and his team of set designers and decorators, who created hundreds of pieces of period advertising, banners, race programs, stopwatches, drivers' helmets, spectator flags and even pit tools. "When you're telling a story like this, you're given the ability to recreate the world exactly as it was, to show the historical events looked at the time," Audouy says. "We have to be faithful to history in recreating the signage and details at the same scale, in the same colors, not changing anything."

While main unit filming was occurring in Southern California, a second unit action crew assembled in Georgia. Led by second unit director Darrin Prescott"who also plays racing legend Bob Bondurant in the film"stunt coordinator Nagle and a veritable army of stunt drivers piloting 30 Ford, Ferrari and Porsche race cars, the second unit shot many of the Le Mans racing scenes that take place along sections of the Circuit de la Sarthe, such as the Mulsanne Straight, Mulsanne Hairpin, Tertre Rouge, the Esses, White House, Arnage Corner and Dunlop Bridge.

Three locations in Georgia were used to portray the country road course in 1966, including a stretch of Route 46 in Statesboro, the Grand Prize of America Race Track in Hutchinson Island and Road Atlanta in Braselton. Over five miles of roads in these three Georgia cities were dressed to recreate the Circuit de la Sarthe, with hundreds of period-correct banners to line the racetracks.

"Every moment of the race has a point, so there's a lot of pressure there," says Prescott, whose credits include such films as Baby Driver, Captain America: Civil War, Drive, and his Screen Actors Guild award-winning car chase work in The Bourne Ultimatum. "Jim's mandate was that he didn't want it to be a big car commercial. He didn't want beauty shots. He wanted to really get in there and feel like we were shooting this kind of vintage style. We knew we'd have to hire the best drivers in the world and let them drive at 140 miles per hour."

That commitment to capturing the real experiences that Shelby and Miles faced during their extraordinary partnership was something that deeply resonated with the actors, and every member of the filmmaking team. In the end, writer-director Mangold hopes that the passion the cast and crew poured into making FORD V FERRARI serves as a fitting tribute to the courage 18 and conviction of the characters the film celebrates. "I hope people walk away loving these guys, celebrating their commitment to one another and to their craft, and remembering a different kind of American man and hero," says producer Topping.

Notes Mangold: "This isn't Carroll Shelby's whole story or Ken Miles' whole story. This is about a hugely defining moment in their lives that shaped all they were to be. People really connect with this idea of trying to do an excellent job at whatever your job is with the challenge of dealing with oversight and corporate management and the corporate tendency to round every corner that's a little sharp and to soften any blow that could offend somebody. I think we all miss the world when it was just a little more raw and prone to taking a risk."

Adds Bale: "The reason the story is so legendary is because these misfits challenged God and won, didn't they? God was Ferrari. He was a monster, a Goliath of reputation and style, legendary in the racing community. And this little band of misfits, with Ford's backing but in spite of Ford's interference, they did it."

Ford v Ferrari
Release Date: November 14th, 2019