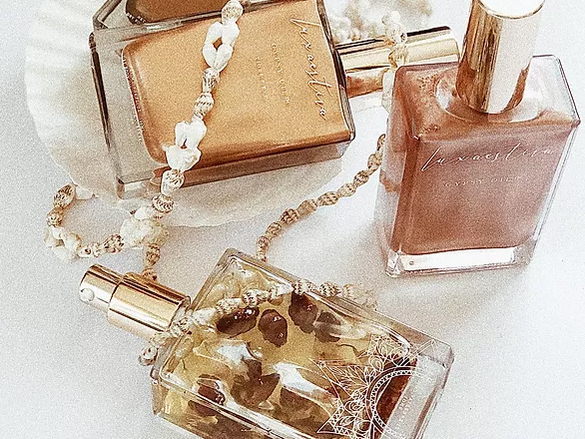 With Mother's Day around the corner and isolation leaving us craving some pampering, Lux Aestiva has a divine range of must have creations that are the perfect gift for mum.
Born in 2015 from a desire to change the way consumers think and feel about their beauty products, Lux Aestiva produces heavenly hair and skincare creations including its signature Gypsy Oil™ - a luxurious dry oil infused with neroli, prickly pear and meadowfoam to improve skin tone and deeply nourishes the body from head to toe.
The affordable and diverse product range makes it perfect for a special Mother's Day gift, that won't break the bank. Not to mention, all Lux Aestiva products are highly effective, 100% natural, and lovingly handcrafted in Australia using only the best cold pressed vegan oils and the finest ethically sourced plant-based ingredients. So, no matter how Mother's Day is celebrated this year, a bit of pampering will go a long way, and bring the lux, spa feeling to your home.
The range, comprised of more than 20 produces includes highlights such as:



Original Gypsy Oil™ – RRP: $52.00 (100mL)
A luxurious dry oil infused with neroli, prickly pear and meadowfoam to improve skin tone and deeply nourishing the body from head to toe.

Ingredients:

Grapeseed oil, almond oil, camellia oil, apricot oil, rosehip oil, meadowfoam oil, prickly pear oil, pomegranate seed oil, patchouli seed oil, bergamot non-photo toxic oil and neroli oil.




Gypsy Oil™ Shimmers – RRP: $52.00 (100mL)

A body shimmer enhanced with natural mica particles to deeply nourish and revive skin to give a radiant, sun kissed shimmer. Available in three finishes:

Rose Quartz
Smoky Quartz
Tiger's Eye

Ingredients: Neroli, Prickly Pear, Meadowfoam, Camellia, Apricot Seed and non-phototoxic Bergamot.

Aphrodite Hair Oil – RRP: $46.00 (100mL)

Providing unique hydration, Aphrodite Oil for Hair will repair and strengthen hair, preventing damage and encouraging growth leaving the hair richly hydrated and internally nourished.

Ingredients:
Macadamia nuts, jojoba seeds, coconuts, grape seeds, pomegranates and almonds.




Constelations Cleansing Oil – RRP: $56.00 (70mL)

Constellations Cleansing Oil is a gentle, yet effective cleanser for all skin types, helping to melt away impurities with this fatty-acid rich, make-up removing and skin calming oil cleanser. Use to thoroughly cleanse and remove all traces of makeup, leaving skin soft, dewy and glowing.

Ingredients: Hazelnut Oil, Avocado Oil, Jojoba Oil, Mandarin Essential Oil and Peru Balsam




Wild At Heart Scrub – RRP: $26.00
Boost skin appearance & texture with nature's own 'Botox plant' – the Hibiscus Flower and utilise nature's most effective, yet gentlest exfoliant, natural sugar crystals.

Ingredients:
Patchouli & mandarin intertwined oils of grapeseed, pomegranate & meadowfoam.




Prickly Pear Oil – RRP: $56.00 (30 mL)

Stimulate cell renewal, reduce redness and hyper-pigmentation as this deeply penetrating oil helps lighten dark under eye circles, brighten skin, tightens pores and restore elasticity. For dehydrated skin, premature aging, wrinkles and fine lines, scaring, sun damaged skin, fragile nails and cuticles.


Ingredients:
Prickly Pear Oil
Review: Really love this luxuirous range from Lux Aestiva. Run a bath, apply Aphrodite Oil to the hair and relax while you rub Wild at Heart Scrub to the skin. You body will feel refresh and your hair nourished right to the tips. Finish off by applying gypsy oil and enjoy your new glow. The perfect 'me' time to nourish your whole body and soul. Quality products and ingredients.