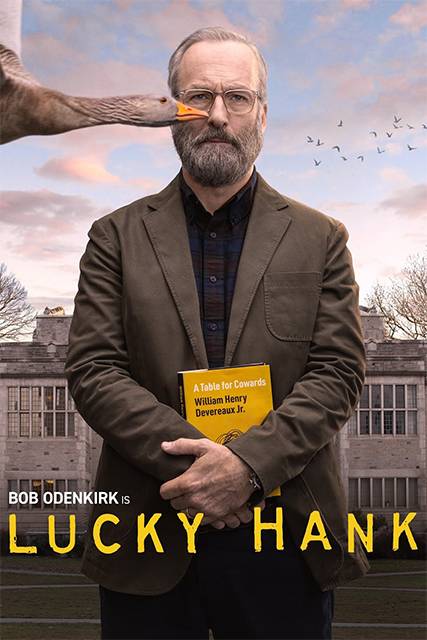 Starring Emmy-nominated Bob Odenkirk (Better Call Saul) and Mireille Enos (The Killing)
Lucky Hank is an eight-episode mid-life crisis tale set at Railton College. Told in the first person by William Henry Devereaux, Jr. (Odenkirk), the unlikely chairman of the English department in a badly underfunded college in the Pennsylvania rust belt. Professor Hank Devereaux toes the line between midlife crisis and full-blown meltdown, navigating the offbeat chaos in his personal and professional life.
Aaron Zelman (Silicon Valley, The Killing) and Paul Lieberstein (The Office, The Newsroom), who adapted the project from the novel Straight Man by Pulitzer Prize-winning author Richard Russo, serve as co-showrunners.
Zelman, Lieberstein, Odenkirk, Director Peter Farrelly (Green Book), Mark Johnson (Breaking Bad, Better Call Saul, Anne Rice's Interview with the Vampire), Richard Russo, Naomi Odenkirk and Marc Provissiero (PEN15) are executive producers.
**Lucky Hank Premieres Sunday, March 19 on AMC+ and AMC**
Review: Hang in there, Hank's life seems rather depessing as he heads into mid-life crisis, but his raw take on his mundane life draws you in with great performances from Bob Odenkirk and his supporting cast for a well rounded series that I became surprising addicted to.