Lucia Carbines EMPIRE by Spiegelworld Interview
Seen by over 130,000 people around the country with rave reviews, sold out performances and standing ovations. Spiegelworld is delighted to announce that EMPIRE will return to Sydney's Entertainment Quarter in the beautiful spiegeltent from January 7th 2014.

When EMPIRE was last in Sydney, The Sun Herald awarded the show a rare '10/10"; while The Sydney Morning Herald described it as 'the best show I've seen in years". The return Sydney season of EMPIRE follows spectacular engagements in Melbourne, Brisbane, Perth and Adelaide that left audiences amazed and breathless. The Brisbane Times said, 'the athleticism and audacity of Empire's performers are a marvel. It's now one of my picks for show of the year… the best sex of my life and I wasn't even involved". The West Australian recently described the show as 'a thrilling, agile, contemporary circus, immaculately staged and precariously gripping for every one of its 90 minutes".
Presented in Spiegelworld's 700-seat antique spiegeltent, EMPIRE smashes the boundaries of circus, cabaret, vaudeville and burlesque, reinventing the genres for a 21st century audience. Featuring the sexiest, most daring artists from across the globe, the show had its world premiere season in New York City during the summer of 2012, where it was the first tented show ever seen in Times Square. EMPIRE is a 90-minute theatrobatic adventure performed by the greatest international talent ever assembled in one tent. The MCs, Oscar and Fanny, steer the show while an eccentric cast of characters help Oscar rebuild his empire; the seductive Gorilla Girls from Ukraine form perfectly balanced pyramids on top of each other and the Ethiopian foot juggler Black Flintstone throws and impossibly catches his brother Big Mac Boy on his feet.

Other performers include the Lime Green Lady and Carrot Man who beautifully and sensuously balance each other, the Half Naked Asian Dude Wearing Pigtails from Japan who is the world champion wheelmaster, rolling dangerously past the audience; Miss A in a Bubble contorts gracefully inside an aerial sphere and the 3D Graffiti Guy from Canada creates amazing structures, balanced entirely on a feather. Miss Purple is the resident vocalist and is backed by the Viking of 6th Avenue, Moondog.

To create EMPIRE, Spiegelworld Impresario Ross Mollison assembled a stellar Australian creative team of director Terence O'Connell (numerous Australian comedy greats at The Last Laugh in Melbourne through to Circus Oz), choreographer John -Cha Cha' O'Connell (Strictly Ballroom, Moulin Rouge, The Great Gatsby), and designer Angus Strathie (Academy Award for Moulin Rouge).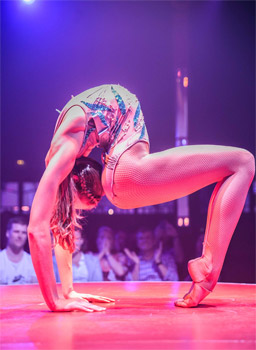 Spiegelworld first presented its annual summer season in New York City in 2006 on Pier 17 at South Street Seaport with acclaimed shows including Absinthe, La Vie, Gazillionaire's Late Night Lounge and Desir. For the world premiere season of EMPIRE last year, Spiegelworld relocated to a premium vacant lot right in the heart of Broadway. Spiegelworld is also currently presenting Absinthe on the forecourt of Caesar's Palace in Las Vegas, now in its 20th sold-out month and recently extended through to 2015.

EMPIRE by Spiegelworld
From January 7th 2014
Under the spiegeltent, Showring at the Entertainment Quarter, 122 Lang Road, Moore Park
Performance Schedule: Tuesday – Thursday 7:30pm Tue/Wed/Thu: $59.00 - $129.00*
Friday & Saturday 7:30pm & 9:30pm Fri/Sat/Sun: $69.00 - $149.00*
Sunday – 7:00pm
Bookings: www.ticketek.com.au
Interview with Lucia Carbines
Lucia Carbines is a graceful and elegant aerial artist. She combines contortion, aerial and dance into a performance that is breathtaking and captivating to watch. Lucia started her career at the age of 4 with classical ballet, progressing into Jazz, Tap and Musical Theatre. At age 11, she discovered acrobatics and moved on to competing in Calisthenics and Horse Vaulting, winning the Vaulting national title for her age in 2007. At 14 Lucia started training with Aerial Angels where she found her true passion as an aerial artist. She has specialised in Contortion, Lyra, Trapeze and Silks, and has created mesmerizing performances at multiple corporate events around Australia and Asia. Lucia also has some 'dare-devil" tendencies, performing the death defying High Wire Motorbike Trapeze stunt at the Melbourne Grand Prix in 2013. Lucia most recently starred in LumiAir, a Cirque Extraordinaire as the lead character 'Diamond" at Jupiter's Casino Gold Coast.


Question: How would you describe EMPIRE by Spiegelworld to Australians who haven't seen the show, yet?

Lucia Carbines: Empire is a very energetic, raunchy, hilarious and thrilling show! It offers a wide variety of entertainment, from slapstick comedy to dangerous acrobatics.


Question: What inspired you to get involved in EMPIRE by Spiegelworld?

Lucia Carbines: One of the main things that inspired me about Empire was the opportunity to work with an international cast in a world-class production. Also, being able to perform in a spiegeltent is such a different experience! I love having the audience so close, being able to perform to an audience and seeing the expressions on their faces makes it really intimate.


Question: What do you enjoy most about being a member of EMPIRE by Spiegelworld?

Lucia Carbines: There are so many reasons why I love being part of Empire. I love working with the internationals! Learning so much about all the different cultures. I also love the travelling, seeing so many parts of Australia that I haven't seen before. Even though it's my country I think I have experienced more of Australia over the past three months then I have in my entire life. I have become so close with the entire cast since I have been on tour. It feels like I have a big family away from home


Question: Can you talk us through the audition process?

Lucia Carbines: My audition process for Empire was a uniquely quick one. I happened to be performing in Melbourne at the time when their contortionist fell ill and was unable to perform for a few weeks. Through word of mouth, the team at Empire heard I was in the area and asked if I could come in to audition and fill in for their regular performer who was unable to perform. The audition consisted of 1 hour of learning as much of the routine as I could on the floor, I was then sent away while they made their decision. I got called back in within 20 minutes and then had two hours that afternoon and a rehearsal in the bubble the next day to learn everything and then perform it.


Question: What is involved in your role as -Miss A in a Bubble'?

Lucia Carbines: My role in the show as 'Miss A in a Bubble" is performing in a bubble! As the show starts I appear in the sky in a Perspex bubble, it is a mix of aerial and contortion inside the spinning bubble that is above the audience.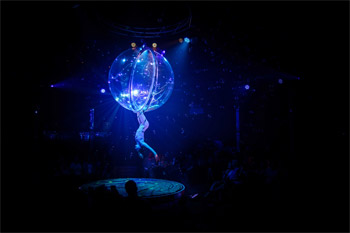 Question: Can you share any secrets about the bubble?

Lucia Carbines: Here is a sneaky secret for you... The bubble is actually made of two submarine windows!


Question: Could you talk us through the preparation that goes into a show, like this?

Lucia Carbines: My preparation before the show consists of arriving an hour and a half before show time. I then spend an hour doing my hair and makeup with headphone on listening to my favourite music. Then at half hour call I throw my costume on and head backstage to warm up for the show.


Question: Where is your favourite place, in Australia, to perform?

Lucia Carbines: So far I would have to choose Melbourne. The city has a wonderfully artsy culture which I feel made a difference to how people appreciated the variety of acts in the show.


What originally inspired your passion for aerial?

Lucia Carbines: Originally I started out dancing. I loved dance but was such an energetic child, I always wanted to do more. I trained in acrobatics for a while at the same time as dance, as well as Horse Vaulting. Then an Aerial academy called 'Aerial Angels" opened up near my house when I was 14, I tried it out and fell in love with it. I trained there from then on.


Question: What's next for you?

Lucia Carbines: I'm not entirely sure what's next just yet. I'm truly hoping that EMPIRE will be wanted in more parts of the world, it's such an amazing show I would love to perform with it for as long as I can.


Interview by Brooke Hunter
Photo Credit: Mark Turner