Powerhouse Vocals
The voice of Libby Steel is something to behold. She is a performer that sings with purpose and passion. Libby's latest single, "Miss Me", is hauntingly raw and follows in the footsteps of previous single, "Fever Acoustic".

Raised in the rural Victorian town of Cobden, Libby has never made it just about herself. After the 2018 St Patrick's Bushfires, she organised the Bushfire Relief Festival, bringing artists statewide to support the cause. She raised over $15,000 for those affected by the fires. For Libby it's about family, community and music.

Libby's debut single "Bones" hit hard and fast, picking up airplay on Triple j and Triple j Unearthed. Along the way Libby was the winner of the Triple j Unearthed Queenscliff music festival competition.

"Miss Me" is Libby's 6th single release and she continues to go from strength to strength. Enjoy the ride because Libby Steel is going places.


Interview with Libby Steel
Question: What inspired Miss Me?

Libby Steel: I wrote 'Miss Me' when I was living in Melbourne. The song was a catharsis for expressing a lot of anger and pain that I'd endured earlier in my life. My mother raised four girls in cancer remission after my dad abandoned us. We lost our home, and for a long time struggled to stay afloat. 'Miss Me' channels these emotions and captures the sense of not belonging somewhere, or with somebody.


Question: What motivates you most when writing music?

Libby Steel: The beauty of songwriting is that it draws on so many different themes and emotions; so ultimately, I always have a different motive to write. I recently read Tina Turner's autobiography where she talked about turning poison into medicine, for 'Miss Me' this was very much the case. If something bad happens in life, write about it and turn it into something good.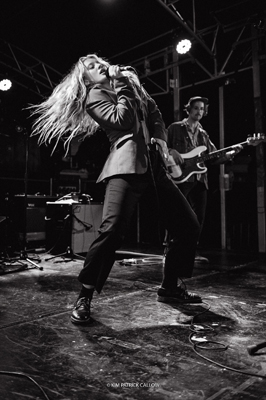 Question: How did it feel to be the winner of the Triple j Unearthed Queenscliff music festival competition?

Libby Steel: I was extremely grateful to open Queenscliff - It's an amazing festival which always brings an array of sensational music to the coast. It's was nice to have my hard work recognised, and be able to share that with a new audience.


Question: Do you prefer performing live or recording?

Libby Steel: The two go hand in hand, however there is something special about performing your song live and seeing your work come to life. I can't compare the feeling of hearing the crowd sing back your lyrics – the same lyrics that started as a scribble on a note pad with a few chords strung together.


Question: Which is your favourite song to perform live and why?

Libby Steel: 'Miss Me' is a really special song to play live and carries a lot of energy. I first played it at an intimate show in Geelong and wasn't expecting the reaction I got. There were a few people in the audience in tears and it really hit home that it's special to me.


Question: Which music/artists are you currently listening to?

Libby Steel: I'm listening to a lot of Khruangbin and, as always, a lot of Alabama Shakes.


Question: What or who was your inspiration to go into the music industry?

Libby Steel: Growing up I never imagined pursuing music was a possibility, not because I didn't love it – I think coming from a small country town I was always encouraged to get a job and be able to look after myself. I did so until mid-way through my first year of University where I recall sitting on my bed asking myself if I were really content and happy in what I were doing. Something switched in my brain and I have since made music a priority. I know it sounds cliché, but I'd hate to look back on life knowing I wasn't doing what I love.


Question: If you could collaborate with another artist, who would it be?

Libby Steel: There are so many artists I'd love to collaborate with. However, perhaps Mark Ronson, he has collaborated with many artists I look up to, including Amy Winehouse.


Question: What's a typical day like?

Libby Steel: A day in the life of Libby Steel is quite hectic at the moment. I juggle multiple jobs, a band, trying to practice, write and record as much as I can while trying to keep life in balance with things like friends, family and surfing. It keeps me on my toes to say the least, but it's all worth it.


Question: What has been your favourite part of becoming a music artist?

Libby Steel: Over the last year, I've had some really eye opening experiences where people have connected with my music which has really given me perspective and a sense of worth in the industry. As many know, the music industry it's the easiest, but it's these moments that make it all worth it and drive me to do it all again.


Question: Can you share your socials?

Libby Steel: @libbysteelmusic
Facebook
YouTube


Interview by Brooke Hunter