LA SlimWrap
Introducing LA SlimWrap - the revolutionary body treatment that Hollywood stars are rapt with, literally!
Hollywood's revolutionary body wrap company
LA SlimWrap
has arrived in Australia and is set to melt away those excess kilos leaving you looking and feeling red-carpet fabulous!
LA SlimWrap works to smooth, tighten and soften the skin as it accomplishes an incredible cleansing of the body. After just one session, clients see an immediate slimming of up to 20 inches over the entire body. This brilliant procedure is already loved by many of Hollywood's biggest names including Ellen DeGeneres, Kim Zolciak- star of Bravo's The Real Housewives of Atlanta, Minnie Driver, Kris Jenner and Tyra Banks!
Afsi Naim, founder of LA SlimWrap in the US and Hollywood's "Body Wrap Expert" has been helping the residents of Los Angeles and numerous Hollywood celebrities achieve a slimmer and sexier body for more than 10 years.
"LA SlimWrap helps you look and feel better with treatments that achieve actual and lasting results. Lose weight and inches (not just water), reduce cellulite and stretch marks, detoxify your body, improve your skin texture, relieve stress and just feel better about yourself in the process," says Afsi.
One of Hollywood's most talked about personalities Kris Jenner is testament to the incredible results which can be achieved from LA SlimWrap. Following a recent treatment she quoted; "OMG LA Slim Wrap is AMAZING! I lost like 9 inches all over and Afsi was SO SO nice, really made me feel comfortable! I LOVED my slim wrap...seriously...to die for. Thanks SO much xoxoxo"
LA SlimWrap - FAQ'sHow does LA SlimWrap work?
The bandages are soaked in a detoxifying blend of minerals and nutrients and then applied to the body in a tight wrap. As toxins are drawn out and removed from the body, empty pockets are formed and the compression of LA SlimWrap's advanced wrapping technique results in inch loss as well as nourished, tightened and toned skin.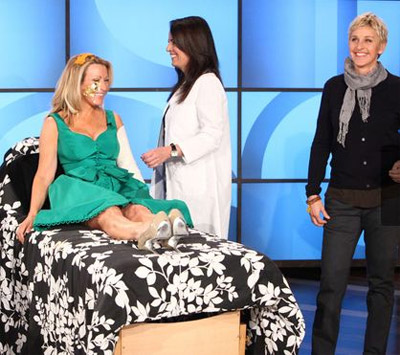 Once wrapped, clients participate in light activity to stimulate circulation, which further amplifies results. Every 15 minutes clients are replenished with additional minerals that are saturated into the wrap and absorbed by the body. Once unwrapped...VoilĂ , instant results! LA SlimWrap is the perfect indulgence prior to any big event or just to make you feel, and look, sensational.
Melbournian Katrina Lukey, who first came to know of LA SlimWrap after watching it on Real Housewives of Atlanta where Afsi worked her magic, saw an opportunity to bring the treatment to Australia, and within a week was on a plane over to LA to meet her and train in the treatment.
How do body wraps work?
The accumulation of toxins in the body causes poor circulation, water retention and the body's natural elimination process becomes weakened. As toxins accumulate between the fat cells, the skin begins to take on an orange peel effect of cellulite as the fat cells expand to accommodate trapped toxins.
LA SlimWrap body wraps use a detoxifying solution that is absorbed into the body, extracting toxins from between the fat cells, and restoring much needed nutrients to the body. As toxins are removed, empty pockets are formed and the compression of our advanced wrapping technique creates inch loss, nourishes, tightens and tones the skin.
How long does it take?
Your first body wrap session is approximately 2 hours. The initial pre consultation, first measuring and wrapping will take about 30 minutes. An additional 45 to 60 minutes are spent in the wraps, and then unwrapping; a second measurement and dressing take approximately 15 minutes, followed by the reviewing the results from your first session. For our members and program holders, the body wrap should take approximately 1 ˝ hours.
What should I wear to be wrapped?
In order to maximize the coverage of the wrap, we suggest that women be wrapped in cotton undergarments, and men are required to wear underwear and gym shorts. You will be wrapped in warm, damp bandages, so bring an extra set of dry undergarments for after the wrap.
What should I do after the wrap?
The body wrap process is still working in your body for 5-7 days after your body wrap and provides your body the ability to continue inch loss and tissue reduction. For continued results, we suggest the following:
For continued inch loss, wear contouring clothes like a firm body shaper.
Since the process is removing toxins from your body, we encourage you to assist this process by avoiding toxic foods such as salt, sugar, alcohol, caffeine and carbonated beverages for several days following the wrap.
An internal cleanse, which includes drinking 8 to 10 glasses of water a day, will complete the detox process by flushing out the toxins.
We also recommend avoiding creams or lotions on your areas of concern and by taking lukewarm showers during this time period.
In addition, dry brushing increase circulation and decrease the appearance of cellulite.
How often can I get a body wrap?
The body wrap is a safe and effective process that may be done as often as you wish. For inch loss results, we have found that a series of 6 to 12 wraps-performed at least 3 days apart--gives most clients the full benefit of the process. If you are losing weight, a continuing series of treatments will show results and help tighten the skin to your new shape. Many people are happy after just one wrap, and others return monthly to maintain their results and to keep the skin soft and supple.
How many inches will I lose?
Depending upon body type (the proportion of soft tissue to muscle mass), most clients average an 8 to 10 inch loss on their first wrap, and about half as much on the second and third wraps. Many customers have body wraps for skin tightening and cellulite reduction, which does not involve inch loss, while others seek the therapeutic benefits of detoxification.
Does it involve dieting?
No dieting is required for inch loss; however, if you are using LA SlimWrap body wraps as part as your weight loss program, we recommend a body wrap after every 5 to 10 pound loss to help tighten up the skin.
How long does it last?
As long as you maintain your weight (or lose weight), the lost inches will stay off for at least 2-3 months. Bear in mind that in everyday life we continue to take in toxins through chemicals and preservatives absorbed daily through the air we breathe, the foods and drinks we consume, and the products we use on our bodies. As previously noted, the solution is removing toxins, so introducing toxic substances back into your body could reverse the effects.
During your post-consultations we give instructions to help maintain, and lose additional inches lost. We recommend reducing the amounts of toxins avoiding salt, sugar, fried foods, alcohol, caffeine and other highly toxic foods. Regular exercise will also retard the re-toxification process and prolong your inch-loss results.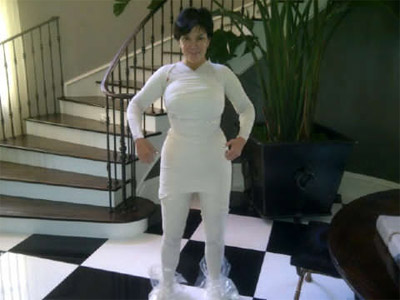 Does the LASlimWrap involve exercise?
Clients are required to partake in gentle exercise whilst they are in the wrap to activate the minerals.
Is this just a temporary water loss?
No! The LA SlimWrap contour wrap is a firming and toning process that produces results by detoxifying and contouring the flesh; therefore, you will lose inches not pounds. We recommend drinking 8 to 10 glasses of water a day, especially on the days following each wrap to continue the detoxification process through the body's natural elimination system. Flushing your system this way will even aid weight loss.
Will wraps help Lap Band/Gastric Bypass patients tighten and tone excess and loose skin?
Body Wraps are the perfect partner for gastric bypass or lap band patients who are losing weight drastically. Losing weight causes a breakdown of fat, releasing more toxins within the soft tissues, frequently resulting in loose, flabby-looking flesh. The detoxifying and sculpturing wrap will firm and tighten the flesh, showing the full benefits of your weight loss. We recommend a wrap after every 5 lb. loss.
Review
:
The LA SlimWrap is for anyone who is interested in looses a few inches for a special occasion. Suitable for pre-wedding or a bridesmaid treat afternoon, or even for mums looking to reshape their bodies after children. The LA SlimWrap can accommodate a couple of people for an afternoon of giggles & mummification. I've tried many different techniques, but this one really intrigued me.
First you are wrapped like a mummy in bandages soaked in organic minerals including Aloe that has great therapeutic qualities for suffers of skin conditions such as eczema, psoriasis and general sensitive skin. While wrapped tightly you in your LA SlimWrap, you are doused every 15 minutes in warm mineral solution and asked to do small exercise movements on either a mini tramp or walker for 50 minutes. This allows the pores to open and let the minerals work their way into your skin. It should be noted that this is not a weight loss option but more of a skin tightening procedure to reduce centimeters around your whole body.
An in-depth pen marking of your body at the beginning of the session will allow you to compare the finished results, and a recommended 3 sessions is required to see major results. For the best results, they recommend you allow the minerals to soak into your skin for the next 24 hours. As a severe
psoriasis & allergy
suffer, this treatment had a definitely positive result on my skin, reducing itchiness & skin irritation with no side effects to the treatment.
LA SlimWrap might also appeal to pre holidaymakers looking to tighten their body for a bikini.
Review held at:
Skinovations
Shop 2/ 268 Balcombe Road
Ph : 9585 2199
www.skinovations.com.au
For more information visit
www.Laslimwrap.com
or call Katrina: 0412 144 971.