Kristina Anapau Color it New and Altergiest Interview
True Blood favourite Kristina Anapau has revealed her latest role… that of the CEO of a major new fashion company!

Color it New, from Anapau's newly-formed company of the same name, is an aerosolized colorant that is the result of a technological process and is formulated specifically to bond with all types of shoe surfaces, including, but not limited to: leather, rubber, plastic, suede, canvas, and satin.

Color It New allows you to transform any pair of shoes into a custom-coloured pair that looks just as flawless and 'brand new" as any new shoes you would find in a department store. Whether you want to refresh a pair of your old favourites or change the colour completely, Color It New lets you create the perfect shoe for you!

Color it New helps you follow the latest style trends, bringing you not only a selection of the most beautiful basics, but the hot colours of the season – straight off the New York and Paris runways!

www.coloritnew.com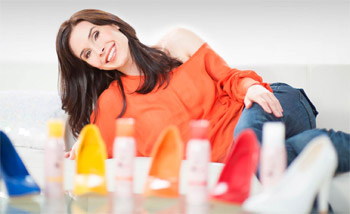 Altergiest

Cast: Kristina Anapau, Mark Hapka, David Weidoff
Director: Tedi Sarafian
Genre: Horror, Sci-Fi, Thriller
Rated: R
Running Time: 91 minutes

Synopsis: King's Ransom Winery is one of the most haunted places in America, with a long history of bizarre suicides. Six ghost hunters have been given the rare opportunity to conduct a paranormal investigation. What they discover terrifies them.

Altergiest
Release Date: November 7th, 2014



Interview with Kristina Anapau
Kristina Anapau, whose other credits include Grimm and Black Swan, celebrates the third quarter of 2014 with the lead role in a movie that's getting a great deal of buzz. Altergeist premieres on DirecTV in October, and a month later in cinemas everywhere!

The Hawaiian-born beauty is best known for playing the faerie Maurella on HBO's True Blood.

Question: What inspired the creation of Color It New?

Kristina Anapau: I had a red carpet event to go to and realised, at the last minute, that I didn't have the right pair of shoes to go with my dress! I was still thinking about this the following morning and thought that there had to be a product out there that would allow me to change the colour of shoes myself at the last minute. I researched online and didn't find anything that worked the way I envisioned, so I decided to find a chemist to create a product for me, and for everyone out there, that would allow us to do just that.


Question: What is Color It New?

Kristina Anapau: Color It New is an aerosolised colorant that allows you to permanently transforms the colour of your shoes, handbags, belts and other accessories within minutes!


Question: How do you use the product, at home, with your own shoes?

Kristina Anapau: Exactly. It's a DIY product that is so easy to use " you don't need to be handy or crafty to get great results.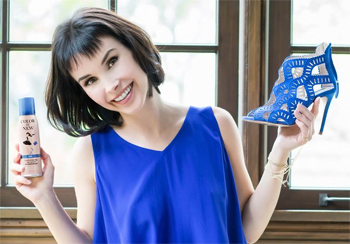 Question: Can you tell us about the upcoming film, Altergiest?

Kristina Anapau: Altergeist is a paranormal thriller that hits theatres November 7th!


Question: What role do you play in Altergiest?

Kristina Anapau: I play a television producer named Theresa Augland who takes her team of filmmakers up to a haunted winery in Northern California. They discover what they are looking for and a whole lot more!


Question: Is it difficult filming such a scary film?

Kristina Anapau: It was physically demanding at times, but so much fun. I loved every minute.


Question: Was this another film where most of the shooting was done at night?

Kristina Anapau: Yes, night shoots for almost a month. It's really great to be up all night creating art while everyone else in your world is asleep!


Question: How did you get prepared for the role of Theresa?

Kristina Anapau: I worked a lot with Tedi Sarafian, our writer/director, to create a really substantial backstory for Theresa. I also listened to a lot of stories about the true paranormal events that have taken place over the years at the winery we were filming at. When you are filming at an actual haunted location, it doesn't take much to get into character " just wander off alone for five minutes!


Question: How can you relate to your character, Theresa, in Altergiest?

Kristina Anapau: I relate to Theresa's determination and her desire to discover the truth at any cost.


Question: What's a typical day like, for you?

Kristina Anapau: Everyday is very different. I've never been too good with a repetitive schedule. A lot of Color It New work, gym, green juice, meetings, more Color It New work…various combinations of that for the most part unless I'm on set.


Question: What are you currently working on?

Kristina Anapau: Right now, primarily Color It New " It's very much like having a newborn baby. I'm set to do a very cool period piece film at the beginning of the year, set on Maui in the 1970's. Really well written, great role " can't wait to delve into the preparation for it.


Interview by Brooke Hunter
Images: Photography - Angela Marklew
Makeup/Hair - Teal Druda