Barnum the Circus Musical- Opening April 27th In Melbourne
BARNUM, one of Broadway's most treasured musicals, returns to Australia in an all‐new spectacular production. From visionary director Tyran Parke, this new production of a favourite Broadway classic, originally starring Jim Dale and Glenn Close, followed by a London West End production starring legendary Michael Crawford will play an exclusive engagement at Melbourne's most intimate professional musical theatre venue, the Comedy Theatre for a strictly limited time from April 27th, 2019.

Starring in the new Australian production as America's legendary circus impresario and unparalleled showman, P.T. Barnum will be none other than Australia's own greatest showman Todd McKenney. Star of Australian stage and screen, Rachael Beck will play the devoted wife of P.T. Barnum, Charity whilst Suzie Mathers will return home to Australia having taken London's West End by storm in recent years, as the Swedish Nightingale Jenny Lind. Also joining the cast playing Joice Heth, is musical theatre star Akina Edmonds.

"Barnum is one of those roles in musical theatre that every actor dreams of playing and performing this role has been on my bucket list since 1983 when I first started in musical theatre. It's a dream come true for me to get the chance to play this iconic man in this legendary musical," said Todd.

Starring alongside this incredible group of performers will also be Kirby Burgess as the Ringmaster and Joshua Reckless as Tom Thumb. Joining them with extraordinary talents in circus arts are the wonderful ensemble cast including Embla Bishop, Robbie Curtis, Sarah Gray, Matthew Hamilton, Stephen McDowell, Vanessa McGregor, Karlee Misipeka and William Meagher.

Based on the life of P.T. Barnum, BARNUM is a colourful, dynamic spectacle with heart, where audiences shall witness the wonders of the world including Jumbo, the largest elephant, Joice Heth the oldest woman to ever live, a great white whale from Labrador, General Tom Thumb only twenty‐five inches from toe to crown, and the rarest and most beautiful bird in captivity the Swedish nightingale, Jenny Lind. Plus, a cast of hundreds, no thousands including marching bands, tumbling bands, flying bands, bands of every size shape and description!

This heart‐warming and uplifting musical is a theatrical event for all generations, full of great music, circus, magic and comedy; not to mention Barnum's magnificent tight-rope scene. In collaboration with the National Institute of Circus Arts (NICA), the brand new Australian production is produced by StoreyBoard Entertainment bringing together some of the creative team from its critically acclaimed production Follies, In Concert.


BARNUM debuted on Broadway in 1980 where it played for almost 900 performances. A West End production premiered in 1981 at the London Palladium before a successful UK tour in 1985-1986. The first Australian production premiered in Sydney in 1982 starring Reg Livermore.

With a book by Mark Bramble (42nd Street), lyrics by Michael Stewart (Hello Dolly!), and music by Cy Coleman (Sweet Charity). BARNUM covers the period from 1835 through 1880 in America and major cities of the world where Barnum took his performing companies.

This reimagined Australian production of BARNUM will be directed by Tyran Parke, with the all Australian creative team also including Choreographer and Musical Staging Kelly Aykers, Musical Director Stephen Gray, Circus Direction Zebastian Hunter, Set and Costume Design Dann Barber, Lighting Design Rachel Burke, Sound Design Michael Waters and Associate and Resident Director Caroline Kaspar.

Suspend your disbelief at the theatre door and do not miss this musical or as Barnum himself would say "The Greatest Show on Earth!"
barnumthemusical.com.au

Barnum the Circus Musical
From 27th of April at Comedy Theatre, Melbourne.
Wednesday to Saturday 7:30pm.
Wednesday & Sunday 1pm, Saturday 2pm.
Tickets


Interview with Kirby Burgess, Ringmaster
Kirby Burgess is the true definition of a triple threat. Spanning stage and screen, Kirby has made her mark as an actor, singer, dancer, choreographer, stylist and Art Director. Some of her career highlights include Jenny in Network 10's Wonderland, Heather Chandler in Heathers the Musical, herself in Jerry's Girls, Sweet Charity, Jenny Hill in Big Fish the Musical, Rizzo in Grease the Musical, Anna in Here comes the Habibs, featured dancer in Baz Luhrmann's The Great Gatsby, Hairspray The Musical, An Officer and A Gentleman, Stylist and Art Direction for Mess Maker's Life Lessons and the list goes on. Kirby is a proud graduate of the Talent Development Project and a finalist of the Rob Guest Endowment winning the Production Company Award. Most notably, Kirby played the role of Frances 'Baby' Houseman in the 10 year anniversary Australian tour of Dirty Dancing the Classic Story on Stage.

Question: How would you describe Barnum the Circus Musical for audiences?

Kirby Burgess: It's an extravaganza following the story of Phineas Taylor Barnum, the creator of one of the most spectacular circus shows ever produced. We discover his journey there, meeting some of the interesting acts he created along the way and surrounding this are all the circus elements you are craving. High wire, juggling, flying through the air - along with singing and dancing this show has it all.


Question: What can you share about Todd McKenney as P.T. Barnum?

Kirby Burgess: He brings the perfect blend of showman and little boy playing with his toys! Todd is spectacular in this role and a true leader for this show. He shines in the glitter of our production and melts your heart in the little truths that slip between the magic.


Question: What originally drew you to audition for Barnum the Circus Musical?

Kirby Burgess: Honestly- it was our director Tyran Parke. He approached me to play the Ringmaster and when Tyran asks me to do something I say yes because I think he is brilliant. It definitely helped that I've always dreamed of blending my circus background with my acting career and the show is the perfect vehicle!


Question: Can you tell us about your role as the Ringmaster in Barnum the Circus Musical?

Kirby Burgess: The Ringmaster is almost the spirit of the circus that keeps drawing Barnum back, back to the dream of glitz and glamor life away from a 'respectable' life with his family. Maybe the Ringmaster is good... maybe the Ringmaster is bad - you decide.

I also play all the other male roles in the show (bar Tom Thumb). I think I have nine characters all up. Rehearsals have been a great challenge working out all the fantastical worlds of these men.


Question: Are you able share any details about your costume?

Kirby Burgess: I can't give away too many details, but as I play so many characters, let's just say the costuming is interesting.


Question: Do you have a favourite musical number, from the show?

Kirby Burgess: Every number has a spectacle that blows my mind so I couldn't possibly choose.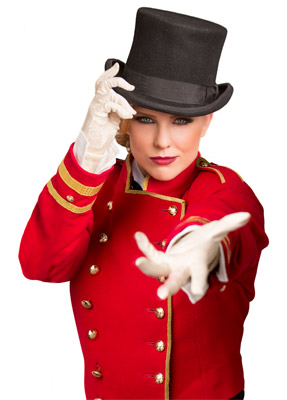 Question: Can you talk us through your preparation and rehearsing for Barnum the Circus Musical?

Kirby Burgess: As I have many characters I have been doing a lot of voice/accent and physical comedy work; trying to make these men vastly different but real. Working with the NICA cast, I am also learning a lot of new skills which are challenging and exciting.


Question: Do you have any pre-stage rituals to ease nerves?

Kirby Burgess: I turn up to the theatre completely ready. Makeup done, wig prep done. I like to be ready to walk straight on stage if needed.


Question: What's a typical day like, when performing?

Kirby Burgess: Sleep in; it takes a long time to wind down after a show so I often to get to sleep until 1/2am. I go to Pilates and try to fit in a little real life by seeing friends as it's important to find balance. Eight shows a week takes a lot of physical and mental energy, down time is essential.


Question: What advice do you have for young Australians hoping to achieve their on-stage dreams?

Kirby Burgess: Loving it will become very important! It's no secret that the entertainment industry is hard to crack. There will be times that it seems impossible-but it's not! It's just a lot of hard work and when you do break through- it's an amazing feeling!


Interview by Brooke Hunter