Kenneth To USANA Health Sciences Interview
Originally terrified of the water, Hong Kong born Kenneth To started swimming at the age of 5 at his local pool, and by the age of 12, he was noticing surprising and rapid improvement in his abilities. To's acceptance into the NSW School Sport team in 2003 was a catalyst for his growing passion when he was introduced to the joy of making friends through sport and being part of a team. As To's abilities developed so did his passion for swimming. He came to love the combination of speed, endurance and finesse demanded by the sport and was compelled by the hundredths of a second that can result in a win or lose.

To first came into the swimming spotlight in 2009, when he beat Australian sporting legend Ian Thorpe's 10 year Australian record in the 16 years 200m individual medley at the New South Wales Championships. Fast becoming the -one to watch', Kenneth cemented his nickname -To-pedo' when he burst on to the international scene at the 2011 FINA World Championships in Shanghai. To made himself well known to the Australian public by qualifying for the 200m Individual Medley Final. The pocket rocket of the Australian swim team, who claimed third fastest for semi-finals, clocking 1:59.02, showed the world he is well on his way to more International success for the future.

To seemed prepared to make a leap towards the medals at the 2012 London Olympics before fate intervened, seeing the swimmer miss selection for the Australian Olympic team, just seven weeks after an operation to remove his appendix. But despite the bitter disappointment of missing selection for his first Games, To refused to let the setback define his year. He instead regrouped and demonstrated immeasurable performance at the 2012 world championships in Istanbul, where he only fell a touch short of dethroning American superstar Ryan Lochte in the 100m individual medley.

At only the age of 22, To has already competed against his swimming heroes Michael Phelps and Ryan Lochte and sets his sights on the Rio 2016 Games.


Interview with Kenneth To
Question: What originally inspired you to begin swimming?

Kenneth To: I originally began swimming at the age of 5 at learn to swim down at my local pool. I was scared of being in water and my parents wanted me to be water safe and knew it would be an important skill for the rest of my life. Over time, it slowly became my favourite sport but never would I have thought I would get to where I am now!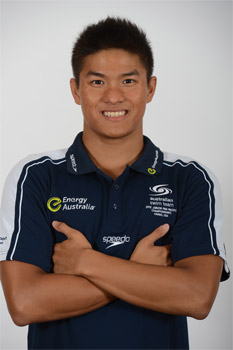 Question: How did you overcome your fear of water?

Kenneth To: I think the main reason I feared water as a child was because I was unfamiliar with it. I hadn't learned to swim or float and water therefore was not my natural environment. It took a long time for me to learn to swim but once I did, became more confident and proficient, and started to enjoy swimming I overcame my fears.


Question: Can you talk us through your training schedule ahead of the Rio 2016 Games?

Kenneth To: As an aspiring athlete working towards Rio 2016 Olympics, my week routine consists of a lot of structured and dedicated training. At this current stage I am doing 8 x 2.5 hour sessions a week in the pool, where I clock up between 50-70km of swimming. On top of that, I do 2 x 1 hour weight sessions a week in the gym to focus on building strength, and 1 x 1 hour pilates session a week to build up my core strength.


Question: How important is diet to your fitness?

Kenneth To: Aside from structured training there is also a lot more to being an athlete. It is important to focus and make the most of your day-to-day sleep, rest and perhaps most importantly, diet. Everything I eat is important as recovery after or fuel before your next session, and in order to get the best performance out of myself it's important I take care of my body. This means eating the right foods, in the right amounts, at the right times.


Question: Which of the USANA Health Sciences products do you use?

Kenneth To: I use a wide variety of USANA products to give me the edge or assistance in balancing my nutrition and diet. I take the HealthPak nutritionals on a daily basis and love the NutriMeal after each workout I do in the week to maximise my recovery and get ready for my next session. Another product I used when I race is the Rev3 Energy Drink, it gives my body a boost and helps me switch on at competitions so I can get the best performance out of my body.


Question: What difference have you seen since beginning the use of these products?

Kenneth To: USANA's products have made a major difference to the way I perform, both in the training pool or weight room, or in competition. The HealthPak ensures my body gets it essentials and has kept my healthy in even the hardest phases of training and when I spend long periods travelling and competing, The NutriMeal ensures I can back up after every session which is a very important or training consistently and the Rev3 drives me physically and mentally to race at my best at every competition.


Question: What has been the biggest challenge you've had to overcome in your swimming career?

Kenneth To: My career has had it's fair share of highs and lows but I think the biggest challenge I've faced was the back injury/ surgery I had earlier this year around the Commonwealth Games. I sustained a bulging disc from the gym and struggled through training and competing, and eventually had a microdiscectomy after the Games in August. Due to the injury my performances in Glasgow were not my best but most difficult part was deciding to have surgery and the extended recovery period after. I had to skip a lot of competitions I would have loved to race at and definitely realised how importance swimming has been in my life.


Question: What advice do you have for young Australians hoping to have a career in swimming?

Kenneth To: Swimming is a great sport to be involved in. For any young aspiring Australians to have a career in swimming, I would say to dream big and never give up. It's important to be passionate and enjoy the sport as there is a lot of hard training involved to reach the top. If you believe in yourself and your abilities, and train hard, you will keep improving yourself as a swimmer and who knows what your limit is!


Question: What's next for you?

Kenneth To: After recovering from back surgery I am currently making my way back into full training. I will race the domestic season in Australia in January and February and race at the Australian Championships in March, where we will be selecting our team for the World Championships next year in July. I'll be hoping to compete in the 4x100m Freestyle and Medley relays, and race individually in the 100m Butterfly and Freestyle and hope to come back with a medal or two!


Interview by Brooke Hunter