Experience the power of five powerful Roses in one Exclusive Edition Mist.

Uplift the senses and hydrate the skin with new Exclusive Edition Rosewater Balancing Mist Five Roses from Jurlique. This new scent and formula features five Jurlique farm-grown roses: Rosa gallica, Rosa centifolia, Rosa damascena, Rosa alba, and Rosa rugosa - a new breed on the farm which has never before been used in a Jurlique formulation.

Since 2012, Jurlique has had the tradition of releasing an exclusive edition version of its best-selling Rosewater Balancing Mist in a deluxe value-size bottle. For the first time, Jurlique is introducing a new scent to its Exclusive Edition tradition. This new lightweight Mist is perfect for refreshing and hydrating the skin, complete with moisturising Rose extracts and an uplifting and beautiful new fragrance inspired by a beautiful bouquet of five farm grown Roses.
JUST A FEW SPRITZES OF THIS MIST

a. Leaves skin soft and dewy for a glowing complexion
b. Restores and hydrates skin, leaving it feeling balanced and refreshed
c. Uplifts and invigorates with a unique Rose fragrance
d. Helps to shield and protect skin from daily aggressors, thanks to its natural antioxidants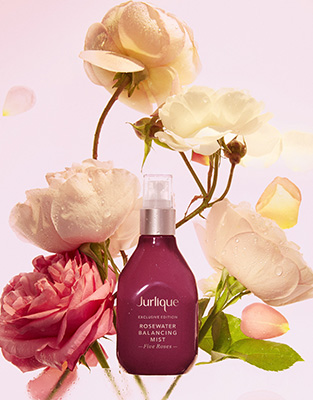 THE FIVE ROSES

Rosa centifolia: possesses softening, soothing and calming properties

Rosa damascena: an ornamental hybrid known for its fine fragrance. A skin conditioner which softens the skin and provides soothing properties

Rosa canina: a beautiful white rose known for its toning and uplifting properties

Rosa rugosa: known for its fragrant and ornamental flowers. Possesses antioxidant properties to protect skin against environmental aggressors

Rosa gallica: a skin conditioner which helps balance, soften and aid in overall skin wellness. Possesses antioxidant properties which helps prevent premature ageing of the skin

The Mist also contains Marshmallow Root extract, which deeply hydrates while improving the skin's ability to retain moisture, and Aloe Vera Leaf extract which helps rebalance dryness and calms delicate skin. As well as Rose, this refreshing and uplifting fragrance features notes of Lwychee, Geranium, Leafy accord, Peony, Freesia, Blackberry, Patchouli, Cedarwood Rose, Palmarosa, Lilly of the Valley, Cinnamon and Oakmoss.

Treat your skin to a unique face Mist and a true experience of the Jurlique Farm in the unspoiled Adelaide Hills in South Australia. Use as part of your skin care ritual after cleanser, and before essence and serum, or use it throughout the day outside of your ritual for instant hydration and refreshment. Suitable for all skin types.
Jurlique Rosewater Balancing Mist Five Rose
Julique standalone stores and selected Myer and David Jones Stores

Review: I absolutely adore this scent, feels like i've walked through a rose garden. The mist is light and refreshing and perfect for uplifting mind, body and soul. Love it.