Jurlique Rose Moisture Plus
Jurlique's first dual benefit, high performance skincare range for intense hydration and protection against free radicals. The blend of potent botanical extracts are enriched with rose Hip and Avocado oils to provide lasting hydration, and Green tea to help protect the skin.

Introducing a new skin care range with the emphasis on hydration and developed exclusively around our classic blend of rose essential oils. All three products are specially formulated to deliver the dual benefits of hydration and antioxidant protection, targeting consumers with the first signs of moisture loss. This skin care range maintains the integrity of delivering moisture and natural efficacious product features, with lightweight and creamy textures. Keeping with our heritage, these formulas contain the most natural ingredients, our proprietary Biodynamic+ Blends and the infusion of our classic rose scent. Used alone or, for maximum results in a 3 step regime, these formulas provide long-lasting moisturising benefits that re-establish and enhance your skins' natural system.

These products are designed to:
Provide immediate and lasting hydration to the skin's surface
Leave the skin feeling soft and supple
Help protect the skin with antioxidant ingredients
Improve overall skin texture with continued use

The rose Moisture Plus range is designed to protect against moisture loss and environmental damage.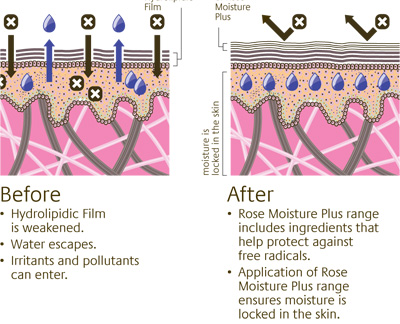 3 Easy Steps for Intense Hydration and Protection against Free Radical Damage
1. Cleanse: Rose Moisture Plus Moisturising Cleanser: the first step to beautiful skin. This lightly whipped texture cleanser with rose Hip oil helps improve skin moisture levels, skin clarity and smoothness. Willow Bark extract and Pumice lightly exfoliates to finely polish and smooth, along with a potent proprietary Biodynamic+ Blend of ingredients designed to help protect against free radicals. This effective cleanser leaves skin feeling hydrated, protected and radiant.

Usage instructions: use morning and night to gently remove surface impurities. Gently lather a small amount between moist hands and massage soft foam over face. Avoid the eye area, rinse thoroughly.


2. Toning Mist: Rosewater Balancing Mist: hydrate the skin after cleansing to prepare it for the benefits of daily moisturisation.
This hydrating mist, infused with essential rose oils, Aloe and Marshmallow to help restore tone and hydrate the skin leaving it feeling balanced and refreshed.

Usage instructions: Gently mist the face to refresh and tone after cleansing or any time throughout the day.


3. Moisturise: Rose Moisture Plus Moisturising Cream: restore skin's beauty by providing moisturisation and protection twice a day.
This creamy moisturiser with rose Hip oil helps improve skin moisture levels while providing essential protection against free radicals. Avocado, Macadamia and Jojoba oils hydrate, soften and smooth the skin while Green tea and Grapeseed extracts provide antioxidant properties. Our proprietary Biodynamic+ Blend of ingredients also helps to aid in overall skin wellness. This effective moisturising cream leaves skin feeling hydrated, protected and replenished.

Usage instructions: Warm a small amount between fingertips and gently press onto face, neck and décolletage morning and/or evening.



Key Ingredients
Hydrate to Help Stop Moisture Loss and Nourish:

- Rose hip oil: lightweight oil, known for its skin restorative, hydrating and balancing properties. It is rich in essential fatty acids including linoleic acid which helps the skin to retain moisture.
- Avocado oil: rich in essential vitamins (Vitamin A, c and e) and superior skin nourishing benefits. This oil contains beneficial fatty acids to nurture the skin and protect it from moisture loss and dehydration. It rebalances dryness and comforts delicate skin.
- Macadamia oil: this nourishing and protective oil has a similar composition to the skin's natural sebum. It helps rebalance dryness while protecting skin from moisture loss during the day.
- Marshmallow: this potent extract holds a humectant quality that has the ability to draw moisture from the environment. It provides intensive hydration and softening properties that rebalance dryness on the skin.
- Rose essential oils: A blend of precious rose oils, including rosa damascena and rosa centifolia, help hydrate and balance the skin.

Protect to Help Stop Damage from Free Radicals:

- Green tea: Well known for its many healthbenefits as it is rich in polyphenols which are potent antioxidants. It also helps maintain a smooth, balanced and radiant complexion by protecting the skin from the damage caused by free radicals.
- Grape seed: this extract has the ability to lock moisture into the skin and protect it from free radical damage as it is rich in natural plant antioxidants. It helps to enrich your skin, keeping it smooth and supple and protected against both moisture loss and environmental damage.

Jurlique Rose Moisture Plus
Rose Moisture Plus Moisturising Cleanser 100mL $32
Rosewater Balancing Mist 50mL $30
Rose Moisture Plus Rosewater Moisturising Cream 40mL $52

From Jurlique stores, leading department stores, selected pharmacies nationally and www.jurlique.com.au