"I'm gay. I'm gay and your son.
And neither of those things are going to change"
-Lucas Hedges "Jared Eamons"
Cast: Joel Edgerton, Nicole Kidman, Russell Crowe, Xavier Dolan, Joe Alwyn, Lucas Hedges, Troye Sivan
Director: Joel Edgerton
Genre: Biography, Drama
Running Time: 114 minutes

Synopsis: Boy Erased tells the true coming of age and coming out story of Jared Eamons (Lucas Hedges), the son of a Baptist pastor in a rural, small American town who is viscously outed to his parents (Nicole Kidman and Russell Crowe) at age 19. Fearing a loss of family, friends, and church, Jared is pressured into attending a conversion therapy program. While there, Jared comes into conflict with its head therapist (Joel Edgerton) and begins his journey to finding his own voice and accepting his true self.

Academy Award®-nominee Lucas Hedges (Manchester by the Sea, Lady Bird), Academy Award®-winner Russell Crowe (Gladiator, A Beautiful Mind), Academy Award®-winner Nicole Kidman (TV's Big Little Lies, The Killing of a Sacred Deer), Golden Globe®-nominee Joel Edgerton (Loving, Zero Dark Thirty), Emmy® and Tony Award®-winner Cherry Jones (TV's Transparent), Grammy Award®-winner Michael "Flea" Balzary (Baby Driver, TV's The Wild Thornberrys), Joe Alwyn (The Sense of an Ending), Xavier Dolan (I Killed my Mother), Troye Sivan (X-Men Origins: Wolverine), David Joseph Craig (Permission), Jesse LaTourette, Britton Sear and Théodore Pellerin (First Light) star in Boy Erased, a Universal Pictures presentation of an Anonymous Content Production.

Director Joel Edgerton (The Gift) teams up with Academy Award®-winning producer and Anonymous Content founder Steve Golin (Spotlight) and veteran producer Kerry Kohansky-Roberts (Admission, TV's Berlin Station); with Ann Ruark (Thank You for Your Service), Rebecca Yeldham (The Kite Runner), Kim Hodgert, Tony Lipp and Nash Edgerton executive producing; co-producers David Joseph Craig and Michael Moore.

The Boy Erased screenplay was penned by Joel Edgerton and inspired by Garrard Conley's true-life coming of age and coming out memoir titled Boy Erased: A Memoir of Identity, Faith, and Family. Conley's memoir was first published in 2016 by Penguin Random House.

The production's creative team includes director of photography Eduard Grau (Gringo), production designer Chad Keith (Loving), editor Jay Rabinowitz (Requiem for a Dream), visual effects supervisor Chris LeDoux (12 Years a Slave), and costume designer Trish Summerville (Red Sparrow).

A Universal Pictures presentation of an Anonymous Content Production, Boy Erased will be distributed by Universal Pictures, a Comcast Company.

Boy Erased
Release Date: November 8th, 2018


A Note from Author Garrard Conley
Fourteen years have passed since my time in conversion therapy at Love in Action, yet the sights and sounds and textures of my experience there remain as vivid as ever: the sheen of the laminated Twelve Steps on the facility's stark white walls, the cadence of my counselors' instructions, the feel of the padded chairs against my white button-down shirt. Fourteen years have not completely erased the pain of my trauma, but they have given me a great deal of insight. My father no longer plays the villain and I the victim. The Love in Action staff no longer plays the predictable role of dictator. My mother is no longer simply a preacher's wife trapped between two impossible extremes. Our stories have become, like all stories when carefully considered, all too human.

When Joel Edgerton, Lucas Hedges, and co-producer/actor David Craig visited my family's home in Arkansas to conduct early research for an adaptation of my memoir, I saw my insider perspective reflected in the way these outsiders spoke earnestly to my Baptist parents. My story"and my family's story"was taken seriously. No longer fodder for satire or skits, no longer seen as an isolated small-town concern, conversion therapy became, in that living room, a tragic practice whose roots have been in the country since its colonial foundations, and whose long-lasting negative effects have altered not just the lives of 'ex-gay' patients but also those of their families and friends. Prejudice, whether you are the one wielding it or receiving it, damages all.

It is my hope that the Boy Erased film continues the project of my memoir. By telling my story, we want to give words of solidarity to those who have experienced conversion therapy. But equally important to our project is the question of how this kind of bigotry can be perpetuated by people who, at their core, love one another. We hope to provide some context for viewers to understand that these kinds of social injustices aren't always carried out by monsters, but by people close to us, tragic figures whose decency is often outstripped by their actions. "I want to convince your father what he did was wrong," Joel said to me on the ride back to the airport. "And I want to do it in a language he and others like him might understand."



A Note from Director Joel Edgerton
I first met Garrard Conley at a Brooklyn café on a cold afternoon in February 2017. Since that first day, the goal of this film has always been to bring raise awareness about the harmful effects of conversion therapy and to give Garrard's personal story its true justice on screen.

As a child, my greatest fears and foundations for my early nightmares was any situation that took away my freedom: War, prison, cults, alien abduction or being separated from my parents. These prospects also became the foundation for my simple prayers as a young boy introduced to Catholicism.

As a film watcher and maker, these stories still strike their chord in me. That fear of loss of freedom was the thing that drew me to Boy Erased when my producer Kerry Kohansky-Roberts suggested I read it. And sure enough, it was all there - but there was something more. That something more made me want to take on Garrard's story and bring it to the screen.

His story of injustice, this memoir that laid out the catalogued his loss of freedom, the judgments he faced, and his struggle for acceptance was infused with so much love, the pain that came from deep love, and a great confusion. The very real life drama that exists when people's agendas are completely opposed and confused. And, yet, among it all an incredible predicament lay at its center… no-one who opposed Garrard was trying to be a bad person. Everyone believed they were doing the right thing.

So, driven to visualize Garrard's story I tasked myself with honoring it truthfully. I was determined to take into consideration every characters position and beliefs. No painting people as villains where they were not. It felt too easy and dishonest. No doubt, given the events framed in Boy Erased certain days were going to be difficult and emotional for cast and crew but it was important for us to stay in the space of honesty and its truth. The journey would be worth it because, ultimately, Garrard's real life story landed in a place of hope. Foremost was his own evolution and drive to forge his own identity and future, despite opposition… and as a result, those around him were forced to face an evolution in a positive direction. He in his own right has converted opinion. As part of my early interior world as mentioned above, it made sense that One Flew Over the Cuckoos Nest became one of my favorite films. Interesting to note that while the film was made in '75, the book was written in 62, five years before the banning of lobotomies in the United States. That novel, like Garrard's memoir was shining a light on questionable practices. We have made the film at a time when the unsanctioned practice of conversion therapy still exists across the country.

If we do our job with this movie, we have the chance to create a bigger discussion about something that needs awareness. Conversion therapy, in general, takes many different forms. It's in hundreds of different countries. There are many different iterations of it. Some of them are religious-based, some secular. Some of them combine psychotherapy. The one constant in all of this is that conversion therapy is incredibly harmful.

But like all prison stories and institution films, at its core, it is about the desire to be free. For freedom itself in all forms is about acceptance. It's not just for those that have been exposed to conversion therapy in their life but also their families. I hope that this message really resonates with parents who are dealing with their own problems of acceptance towards their children. Sexuality is not a choice or something that can be fixed or learned, fortunately acceptance is something that can.

This process has taught me so much about loving others and in turn about myself. It brought me in contact with the most incredible amount of passionate, open-minded and loving people. It has opened my eyes and heart to different worlds that I didn't know existed. It made me reevaluate my sense of faith and reinforced my commitment to acceptance. As audiences watch Boy Erased, I hope they can physically feel how much passion went into this project. That even though we may be different from one another, the one intrinsic human emotion we share is love. Love will always prevail, love will always win and that is what this film is all about.


About The Production
"I love God and God loves me. And I love my son. That simple." -Nicole Kidman "Nancy Eamons"

It took almost a decade for Garrard Conley to face his fears and start writing about his personal relationship with conversion therapy. Not unlike many survivors of traumatic experiences, Conley was held hostage by feelings of guilt, embarrassment and remorse for something he had no control over. With the help of new forms of social media, Conley began reading countless personal accounts of other conversion therapy survivors. Conley knew then and there that sharing his story was no longer an option but a necessity. Taking control of his fears, Conley channeled that energy into completing his story Boy Erased: A Memoir of Identity, Faith and Family. Published in May 2016, the response from the LGBTQ community was immediate. Garrard was able to do something that had yet to be accomplished. He put a face, name and voice to the atrocities of conversion therapy and in doing so, helped throw out a lifeline to other LGBTQ youth and adults who were also experiencing the same struggles.

Unbeknownst to Conley, his memoir also began a journey of its own. The book first found its way into veteran producer Kerry Kohansky-Roberts and Anonymous Content's founder Steve Golin's hands. Kohanksy-Roberts recounts "finishing the book in what seemed like seconds" and immediately recommended the read to Joel Edgerton. Edgerton was intrigued enough to give the book a read and just like Kohansky-Roberts, he quickly found himself unable to put the book down. "It was like peeking into a window you weren't supposed to reach and then seeing things you had only heard whispers about," says Edgerton. Like many of us, Edgerton hadn't been personally exposed to conversion therapy. Veiled as a safe space and religious enlightenment experience, conversion therapy is closer to a cult-like detention center, a place where children and adults are told that there is something wrong with them and that they can be "cured" from their sinful ways.

Within a few weeks, Conley found himself sitting across from Joel Edgerton at a café in Brooklyn. Not knowing if he was the right person to adapt Conley's memoir for the big screen, Edgerton decided to give himself some time to think about the right thing to do. Before he knew it, he had written his first draft of the screenplay. Edgerton found himself sharing early drafts of the screenplay with Garrard for feedback and advice. With Conley's constant support, advice and suggestions the film was green-lit and ready to cast.

The filmmakers were adamant about not painting any of the characters as heroes or villains. They knew that in order to portray this film accurately, the characters had to represent what they were in real life – complex people struggling with their own beliefs. In order to do so, the filmmakers put together a wish list of sensitive actors" Lucas Hedges, Nicole Kidman, Russell Crowe, Joel Edgerton – not realizing that their wish list was kismet.

When reading Conley's memoir for the first time, both Kohansky-Roberts and Edgerton couldn't get Lucas Hedges out of their minds. Both knew that Hedges was a beautifully sensitive actor and saw him as someone who had the ability to hold the screen, even without words. A perfect Jared. Before officially taking the role, Hedges reached out to Conley. They talked over the phone and decided to meet for a leisurely walk around Dumbo in Brooklyn. Conley recalls that Hedges immediately connected with the material and genuinely sought to understand his experience. Hedges even showed Conley his copy of Boy Erased which was completely marked up - sentences had been underlined, words highlighted and his own personal notes penned in the margins. Conley knew Lucas was going to take great care of his story.

Once the filmmakers had their Jared, they needed to find his parents – Martha and Hershel. Finding two people that could portray such strong, polarizing characters was not going to be an easy feat – or so they thought.

Jared's mother Nancy, played by Nicole Kidman, holds a pivotal role in this film. As the wife to a Baptist minister and mother to a child she loves very much, Nancy finds herself stuck in the middle of the very difficult decision to do what she thinks is right for her son. Within the film, Nancy silently allows the men to decide what to do with Jared, even though she knows in her heart that it isn't right. When she sees the turmoil, confusion and depression that this therapy is imparting on Jared, she knows she has to take a stand. Through this conversion therapy process, Nancy grows from the role of chaperone to Jared's accomplice in escaping. Leaning into this maternal role, Kidman beautifully portrays the agony that Nancy is going through with a simple maternal love, uncomplicated nature and real dignity. Edgerton says, "I love when a parent protects their child, regardless of they physical stature. Both Martha and Nicole shared that similarity. Watching Nancy's strength emerge from her fragility is extremely empowering."

Making sure the dynamic between Nancy and Marshall read organic was crucial. Marshall Conley, lives a godly and sheltered life. As a Baptist preacher who cannot see past what he considers a literal interpretation of the Bible, Marshall struggles with the "choice" he thinks his son is making to be homosexual. Playing Marshall, Russell Crowe brings an authenticity that is often hard to watch. He has an incredible sturdiness and yet a real sensitivity. Crowe approached the role with a level of compassion and a personal foundation stemming from his love for his own son. He brings a sense of empathy to Marshall's position, regardless of whether you believe he is right or not. In order to prepare for this role, Crowe made an unannounced visit to Conley's church in Mountain Home, Arkansas. Sitting in the back row, Crowe listened to Conley's entire sermon and methodically took notes. Connecting on a deeper level allowed Crowe to become Marshall, rarely coming out of character even during cuts. Both Crowe and Conley grew up with similar belief systems and backgrounds. Doing what he thinks is right, Marshall is the driving force behind Jared's decision to attend conversion therapy.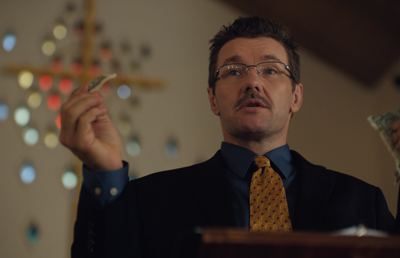 Aware that Sykes was going to be the hardest character in the movie not to villainize, Edgerton wanted to do a fair amount of research before he began playing him. He set up lunch with John Smid, the head of Love in Action (LIA), the program Garrard attended. Although Smid ran LIA for many years, his initial introduction to Love in Action was as a student. John quickly moved up through the ranks and became the central figure of conversion therapy. The irony that someone identifying as ex-gay controlled therapy sessions for other LGBTQ individuals was not lost on Edgerton. "When I first realized that many of the staff identified as ex-gay, it fascinated me. It was a cycle of abuse," says Edgerton. The filmmaking team went back and forth on possible options for actors to play Sykes, but they always came right back to Joel Edgerton. Tackling directing and acting was a huge feat but Joel did it without skipping a beat. As Sykes, Edgerton manages to walk the fine line between a man who was responsible for heinous actions and someone who was also a victim. Joel seamlessly and beautifully shows what the reality is really like within conversion therapy.

In order to help carry out Edgerton's vision of Conley's story, piecing together the right creative team was imperative. Months prior to casting, artistic collaborations were already in full swing between the producing team and veteran creatives, Eduard Grau (Director of Photography), Chad Keith (Production Designer), Trish Summerville (Costume Designer), and Kim Santantonio (Department Head – Hair). Giving justice to the film adaptation of Boy Erased meant that the creative team had to take inspiration from both Conley's memoir and Edgerton's screenplay in order to give audiences the truest representation possible. Using real family photographs and lengthy discussions with Conley and family also helped guide the team in the right direction.

On a project such as Boy Erased, the entire creative team needs to be emotionally connected to the material. Director of Photography, Eduard Grau's vision was to keep the film raw and realistic, beautiful in its simplicity. Grau used natural night whenever possible and also utilized stain glass lighting in many of the group therapy scenes. This realistic and often uniform vision was carried on throughout production design, location selection, hair & makeup and costume design. In regards to production design, Chad Keith was tasked with creating the impossible – natural, neutral, uniform sets that also allowed the audience to physically feel the uneasiness of the location. Having only a handful of different sets to work with, Keith brought a naturalistic/muted color pattern allowing for the story to be at the forefront.

Adding to the cinematography and production design aesthetic, costume designer Trish Somerville's first hurdle was how to distinguish the conversion therapy students from staff. Knowing that the color blue was going to be a consistent theme throughout the film, the costume department fitted both "Sykes" and staff in varying shades of blue. Edgerton's character "Sykes" is almost entirely seen in button up shirts, various ties and sports coats – outwardly portraying a non-threatening energy yet not enough to cover up his hatred of himself and others. Staff costumes continue this uniformed theme with blue polo shirts accompanied by khaki pants for the men and long skirts for the ladies. The students, in their own version of uniforms of white crisp shirts, had a bit more visual leeway – each student was given small nuances that helped portray them as individuals. For example, "Cameron," the jock of the group, is always seen wearing sneakers whereas Jared is always buttoned up and wearing his church shoes. These differences, albeit small, help visually show audiences that a uniform cannot hide individuality. The most drastic transformation is that of "Nancy Eamons" played by Nicole Kidman. Trish Summerville, Kim Santantonio (Department Head – Hair) and Kim Jones (Department Head – Makeup) collaborated to transform Kidman seamlessly into "Nancy". Summerville re-created "Nancy's" signature look of perfectly matched outfits, often hand adorned with rhinestones and studs. Adding to her already distinctive look, Kidman was fitted with a custom blonde wig, designed by Santantonio, and her final look enhanced by her bold make-up designed by Kim Jones.

Within nine months from Kohansky-Roberts opening Garrard Conley's memoir – Boy Erased was optioned by Anonymous Content, Edgerton had finalised the screenplay, casting was completed, and production had wrapped in Atlanta, Georgia.

As cast and crew set onward to new challenges, Edgerton was beginning a new challenge of his own - piecing together 38 days, over 400 hours of footage, to create the film adaptation of Boy Erased. With editor Jay Rabinowitz by his side, Edgerton stayed true to his initial promises to Conley – Boy Erased was going to shine a bright light on conversion therapy and justice was going to be brought to Conley's story. As the editing process continued, the soundtrack and music composition process began. Edgerton reached out to Troye Sivan, who also plays "Gary" in the film to see if he had any ideas for a title track. Like many things throughout production, the music fell into place perfectly. The title track Revelation is a collaboration between Troye Sivan and Jonsi from the Icelandic rock band Sigur Ró. "Revelation is about self-discovery, self-exploration and finding inner peace. The song wrote itself in a matter of hours," says Sivan.

For all involved, telling this story became a necessity, not a choice. With lives still at stake, every member of the cast and crew knew they were part of something important and bigger than just a movie. Everyone has a duty to help shine light where darkness lay. We are all masters of our own fate and as human beings have the responsibility to right wrongs. We get to choose how we love, when we love and what we do with our own lives - we don't, however, get to choose the fates of others.

With all the uncertainty in our world, this film aims to change minds, open hearts and ultimately save lives. Boy Erased is a love story to everyone who chooses to show love and kindness despite their differences.

Boy Erased
Release Date: November 8th, 2018