Introducing actress Jennifer Sears, who will be seen on the big screen later this year in the highly anticipated "Coming 2 America" (set to release March 5th, 2021), where she shares scenes with the comedic geniuses Eddie Murphy, Arsenio Hall and Tracy Morgan. As fate would work its ways, Jennifer's casting was a dream come true, as her favorite movie and the one that made her want to be an actress was 1988's "Coming to America." Sears also joined OWN's acclaimed series "Greenleaf," the drama about the unscrupulous world of the Greenleaf family and their sprawling Memphis megachurch, dark secrets and lies, for the final season. Sears portrayed 'Tara,' the sister of 'Rochelle Cross' played by Destiny Child's LeToya Luckett, who holds a large part of the Greenleaf family's fate in her hands when a buried secret is discovered. Jennifer enjoyed the challenge of taking this new character being introduced to the "Greenleaf" franchise and breathing life into her. Jennifer Sears was born in Douglas, GA, and raised in Paterson, NJ. While still relatively young, she moved to Dublin, GA, blending her previous inner-city environment with that of her new southern hometown, hence, providing her with a cultural mix on which she would unwittingly rely in her future career. Growing up in Dublin, Jennifer excelled in both scholastics and athletics such as track and field, as well as cheerleading for which she was awarded NCA All-American. Following graduation, Jennifer moved to Atlanta to attend the prestigious historically black university, Clark Atlanta University, where she studied and attained her Bachelor of Arts in political science/pre-law with her sights set on a future in law, specifically entertainment law. Unbeknownst to her, entertainment was certainly destined, just in a different capacity.

Shortly after graduation, while at the proverbial crossroads like many college graduates entering young adulthood, Jennifer was invited to audition for a role in a film by a friend who was working as a production assistant on the project. Equipped with no professional acting experience, no headshot, no representation and no cares, Jennifer went to the open call with nothing more than optimism and confidence and booked the role immediately. That film was none other than Tyler Perry's box-office hit "Madea's Family Reunion." To have an acting debut in an unforgettable scene in Tyler Perry's directorial debut is what many may consider sheer luck, but Jennifer took this as a sign at the crossroads to detour from law and proceed into acting. That, she did, never looking back. Several years later, this time properly equipped with years of training and experience, Jennifer has worked alongside some of the industry's most astounding talent and production teams with roles in the award-winning and Golden Globe nominated film "Bessie" alongside Queen Latifah and Mo'Nique, "The Best of Enemies" starring Taraji P. Henson, VH1's "Daytime Divas" alongside Tichina Arnold, Bounce's "Saints and Sinners" and FOX's "Star," to name a few.

While Jennifer has no intention of slowing down anytime soon career-wise, she always makes time for philanthropy and social activism; lending her voice, resources and influence to countless worthy causes, remaining true to her political science roots and being a true maverick in all walks of life.


Interview with Jennifer Sears
Question: Can you tell us about your role in Coming 2 America?

Jennifer Sears: Oooh… I'm sworn to 'double secrecy' so no spoilers. But what I can tell you is that there's A LOT of comedy in my scene. I guess that's a no-brainer… after all, it is 'Coming 2 America'. (haha) This comedic role was a far cry from my recent role of Tara James in the hit television drama series OWN's 'Greenleaf' which was filled with suspense, secrets, and heavy plotlines. This role took me back to my days of sketch comedy and allowed me to spread my comedic wings and soar uninhibited, so expect to see me in my element and true form. All of my friends know how silly I am IRL so this wasn't at all 'acting' for me.


Question: Without giving too much away, what's your favourite part of Coming 2 America?

Jennifer Sears: Are you kidding? Just the fact that I was working on 'Coming 2 America'! I couldn't believe I was even there. I kept pinching myself every second of every day I was on set. If I had to choose something specific that stood out as my favorite part of working on the project, I'd have to say the freedom to improv. Huge thanks to the director Craig Brewer for giving me that freedom to push the envelope each take and go even bigger. My goodness, it was a comedic actor's DREAM! My scene had a lot of improv which was so much fun because you never knew what was going to come out during each take, especially with the comedic geniuses I was blessed to work alongside. Well, you can't even categorize that as "work", more like play. It was like playing on a playground with some of the coolest kids in school and here I was, the new kid, playing amongst the greatest of the greats. It was unbelievable… still is!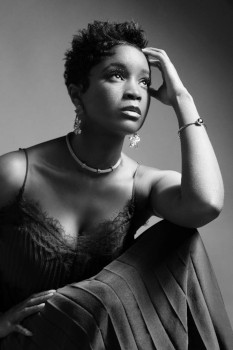 Question: Tell us about working with Eddie Murphie, Arsenio Hall and Tracy Morgan?

Jennifer Sears: Everyone who knows me knows that 'Coming to America' is my favorite movie of all time. At the age of 6, I remember watching for the first time in utter amazement at how Eddie and Arsenio were able to transform into these multiple characters, leaving behind no trace of themselves. I knew then that I wanted to become an actress, with the hopes of entertaining and inspiring others through my art. And, Tracy Morgan, is Tracy Morgan. He's a force all on his own. I've been a huge fan of Tracy's since his days on the hit series 'Martin' and then 'Saturday Night Live'. Since I have a background in sketch comedy, I would study Tracy's comedic timing and how he'd infuse bits of himself into each sketch. Also, when you talk sketch and SNL, of course, you must mention the iconic Eddie Murphy. The man is legendary. Just witnessing these greats doing what they do, being great, was truly an out-of-body experience. From 6-year-old me watching 'Coming to America' and studying SNL from childhood to now, I really couldn't believe how my life had come full circle.


Question: What was your first performance?

Jennifer Sears: My first acting role ever was in the 2006 box-office hit Tyler Perry's 'Madea's Family Reunion'. I'm extremely fortunate to say that my acting debut was alongside the iconic Ms. Cicely Tyson, the late great Dr. Maya Angelou, and the incomparable Ms. Lynn Whitfield (who I would go on to work with again 14 years later in 'Greenleaf'). I understand my journey is not the traditional path for most actors, and I don't take it lightly or for granted. I have truly been blessed in my acting career and life which is why I work tirelessly on my craft to prove to myself and the industry that my career isn't a 'fluke' and that I belong here.


Question: You managed to get your first role without any experience, do you have any tips for aspiring actors?

Jennifer Sears: I'd tell aspiring actors to respect the craft by putting in the work and to trust the process. If you put in the work (studying the craft), the work (booked jobs) will come. Although I ended up booking my first acting role with no previous experience, it was almost 6 years before I booked my next film role. During that time, I had to earn my keep my becoming a student of the art and honing my craft. My passion for acting grew to the point where I couldn't see myself doing anything else more fulfilling. If you love it, it will love you. Also, the love for acting will keep you going during the dry spells and when things get hard. Your love for the craft will help you remember why you got into it in the first place. Always remember your 'why' and you'll figure out a 'how'.


Question: What moment in your career stands out the most?

Jennifer Sears: In my 15-year career thus far, I can honestly say I've had a lot of memorable moments. They all stand out as special and life-changing, but I have to say that being able to look out across the C2A movie set at the icons that awakened the actor within my 6-year-old self bears its own significance for sentimental reasons. I will never forget the chills I felt on set and going back to my trailer and crying tears of joy and gratitude.


Question: If you could work with any other actor or director, who would it be?

Jennifer Sears: Oh wow, my list is endless! But since I'm shooting my shot (haha), I'd love to work with and learn from legends such as Denzel Washington, Viola Davis, Angela Bassett, Meryl Streep, Alfre Woodard, Delroy Lindo, Robert De Niro, Al Pacino, Spike Lee, Ava DuVernay, Jordan Peele, Barry Jenkins, Steven Spielberg, Martin Scorsese… I mean, I could go on and on. Also, how amazing would it be to act alongside and be directed by the queen Regina King?! Talk about a double blessing!


Question: What's a typical day like?

Jennifer Sears: HA! What's typical in 2020? No, I'm kidding. I guess you could say a 'typical' day for me would be a bit of chaos mixed in with an attempt at stillness. The average day starts with prayer and Bible study to ground me and prepare me for the hectic day ahead. The rest of the day would consist of several business calls, emails, press (depending on the project I just wrapped), audition tapings, studying for the next auditions lined up, and a bit of yoga, meditation, fitness, and maybe a show or movie in my downtime to unwind, laugh, feel, but somehow subliminally study the art. Oh yeah, and food… lots of yummy food somewhere in there.


Question: What's next for you?

Jennifer Sears: I just wrapped a TV movie in which I'm blessed to star as one of the leads amongst an incredible star-studded cast. I'm really excited about this role because it allows me to showcase both my dramatic and comedic side. Speaking of comedic side, I also booked a role on a hilarious TV comedy series on BET that allowed me to once again dive back into improv and play. Since we're still filming, I'm not sure how much I can share right now. I have some other things lined up that I can't speak on just yet, but let's just say, 2021 is looking pretty bright!


Interview by Gwen van Montfort
Photo credit: Neta Zuk