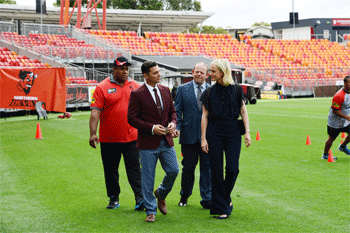 Janet King Series 3
Selected to spearhead the National Crime Commission's investigation into the role of organised crime in professional sport, Janet King uncovers a world of match fixing, performance-enhancing drugs, money laundering and murder. Aided by Federal Sergeant Bianca Grieve (Anita Hegh) and reporting to mentor Tony Gillies (Peter Kowitz), Janet has an otherwise new team at her disposal.

However, that is not all that has changed in her world - with her former righthand, Richard Stirling (Hamish Michael) now a top barrister for several of the athletes under suspicion, and the opportunistic Owen Mitchell (Damian Walshe-Howling) now the head of the DPP.

When a ghost of Janet's past returns in the form of a suspect in the NCC investigation, Janet's relationship with those closest to her is professionally and emotionally strained. As ethical and personal dilemmas collide, Janet witnesses the price that professional athletes are prepared to pay to compete at the highest level, whilst risking the life of one of those closest to her to bring down the kingpin of sporting crime.