An Uplifting Comedy
Cast: Jacki Weaver, Diane Keaton, Pam Grier, Charlie Tahan, Alisha Boe, Celia Weston, Rhea Pearlman, Bruce McGill, Phyllis Somerville
Director: Zara Hayes
Genre: Comedy
Rated: PG
Running Time: 90 minutes

Synopsis: Screen legend Diane Keaton picks up the pom-poms and proves it's never too late for second acts – and the chance to have the time of your life – in POMS, a comedy about staying forever young and the everlasting power of friendship.

When we meet Keaton's Martha, she's a far cry from the fun-loving, life-embracing, pom-twirling dynamo she's destined to become. Martha has retreated to a sprawling retirement community, Sun Springs, where residents are promised to "have the time of your life for the rest of your life." Martha has other ideas; she's there to live out her days – and, she hopes, be left alone by the community's many distractions: ubiquitous golf carts and walkers, and acres of shuffleboard courts, golf courses, bowling alleys, and 100+ "clubs" addressing the residents' varied interests.

Martha's neighbor, Sheryl (Jacki Weaver), is her polar opposite. Where Martha is withdrawn, Sheryl is irrepressible. Martha's quest for peace and quiet is upended by Sheryl's party-hearty ways – "My only talents are poker and poking," she informs the now totally beleaguered Martha. And forget Martha's loner status; Sheryl will stop at nothing to ensure they become instant best pals.

Their friendship finally cemented, Martha comes out of her shell, confiding in Sheryl that she was once a cheerleader, but life got in the way and Martha never got the chance to perform. That leads to a life-changing brainstorm: they'll form a cheerleading club – to cheer for themselves – and do their thing at a cheer competition for ages 18 and up. As Sheryl points out, they are all 18-plus – "18+50!"

Martha and Sheryl hold auditions, where they experience the unique "talents" of their fellow seniors, including Olive (Pam Grier) and Alice (Rhea Perlman), and the squad finally begins to solidify. The eight ladies who have come together practice incessantly, despite their various conditions (sciatica, knee replacements, dizziness, aching muscles … chlamydia) and community official Vicki (Celia Weston), who is determined to curtail the squad's journey to cheerleading glory. But Martha, Sheryl and their fellow "poms" prove that it's never too late to follow your dreams, and that even when the odds – and the years – are stacked against you, it ain't over till it's over.

POMS
Release Date: 9th of May, 2019


About The Production
After helming the award-winning documentaries, The Battle of the Sexes and Dian Fossey: Secrets in the Mist, acclaimed British filmmaker Zara Hayes came up with a story that had actually been percolating since her childhood. "I've always been fascinated by the idea of cheerleading," she explains. "Growing up in England, with a passion for dance, it was exotic and so very American – the ultimate female archetype."

Hayes was further inspired by some photos of women who had set up cheerleading teams later in life. "These women were clearly loving the fact that they were cheerleaders, despite it being something that's apparently reserved for younger women. They looked empowered, and I decided that's a message I wanted to put out into the world – that you can be whatever you want to be at any stage in life, regardless of what society tells you. I was initially thinking about making a documentary about senior cheerleading teams, but as I researched it further I realised that this idea could be movie-worthy. I've rarely seen movies with older women dancing and being free with their bodies. It felt rebellious, almost revolutionary, to develop that into a story".

Working with Shane Atkinson, Hayes drafted a story and, ultimately, a screenplay. She immediately thought of Diane Keaton to embody Martha, and her expectations were fully realized when the two got together. "From the day I first met with Diane, she has been an invaluable and fearless creative partner in making the film, from script development to post production. She's one of the most inspiring collaborators you could ask for, and consistently amazed me both in front of and behind the camera" says Hayes.

"I was really moved by Martha's journey, which is transformative, fun and emotional," says Keaton. "I was equally impressed with Zara's passion for these characters, who are so special and relatable. Working with her and the entire group of ladies was a dream! And wait, Charlie, too!"

Once Keaton was aboard, putting together the rest of the cast was relatively easy, due in large part to Keaton's participation. "Everybody wants to work with Diane," Hayes explains. The Oscar-winning actress was joined early on by Jacki Weaver, who was cast as Sheryl. Although best known for her dramatic and darker roles, in Animal Kingdom among other films, Weaver brought a special comedic touch to the role. "Jacki is a brilliant and versatile actor at the top of her game, and I have been a fan for years. She has this mischievous, cheeky glint in her eye that I always felt was perfect for Sheryl," says Hayes, who adds that both Keaton and Weaver were the essential building blocks into making POMS a reality. "Their insights and commitment made this film possible," she enthuses. "It's impossible to imagine a version of POMS in which Diane and Jacki were not Martha and Sheryl. I'm so grateful to them, in so many ways."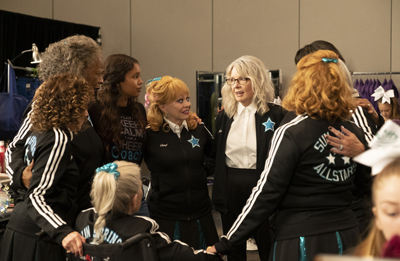 Weaver notes that Hayes approached her for the role of Sheryl almost two years prior to the start of production. The actor's roster of dramatic characters led her to think she might be offered a different part. "At first I thought that Zara would want me to play Martha, the sad and lonely one," she recalls, "but instead she wanted me for the cheerful gregarious one, Sheryl." In addition, she says that, "The film's interesting narrative appealed to me, as well as the idea that life, for all its setbacks and disappointments, is still worth living to the fullest, no matter what your age or circumstances happen to be."

The growing friendship between Weaver's Sheryl and Keaton's Martha is the beating heart of the movie. "It's a yin and yang between the two characters," Hayes explains. "They're a real odd couple."

Accompanying the comedic tension between the disparate women is a strong emotional core. "In the end, this movie is about the transformative power of friendship. Sheryl changes Martha's life, which is Martha's way into connecting with the other women. The final dance competition is really a celebration of this group of women who found each other," adds Hayes.

"Sheryl and Martha are completely different personalities and yet they forge an unlikely bond that becomes a firm and supportive relationship," confirms Weaver, pointing to one of her favorite scenes between the two characters, which brings humor, pathos and warmth to a major moment in their now unshakable connection. "Sheryl has impulsively settled herself into Martha's hospital bed to keep her company and give her comfort," Weaver reveals of the powerful sequence.

"It wasn't difficult to love Diane's Martha," she continues. "Diane herself is adorable: warm, generous, and sometimes slightly diffident, which only adds to her enormous charm." "I couldn't have asked for a better partner, collaborator and friend – on and off-screen," adds Keaton. "Working with Jacki to develop the friendship between Martha and Sheryl was an unforgettable experience. She was a tremendous partner in this film. She is the one who helped me."

With Keaton and Weaver aboard, the filmmakers turned their attentions to filling out the rest of the cast, including the six other women who join the cheerleading team. "I wanted to cast great actors whom audiences could relate to," says Hayes.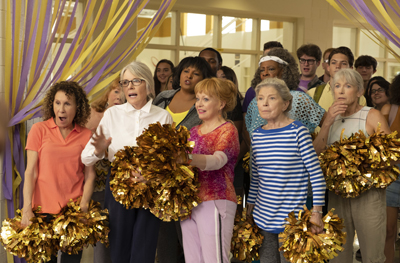 Rhea Perlman relished the chance to play a woman who emerges from her own kind of shell to pursue her cheerleading dreams. Alice's shell comes in the form of her unseen husband, a micro-manager who "doesn't really let Alice do anything," notes Perlman. "She really wants to try out to be on the squad, but she's reluctant to go against his wishes. He tells her she can be a cheerleader over his dead body – and then he dies a short time after that!"

Perlman shares that one of her favorite, hilariously unexpected moments in the film comes during a scene depicting the funeral of Alice's not-so-dearly departed hubby. She walks by the other mourners, including Martha and Sheryl – and informs them, with a wink, that she'll be at cheerleading practice the next day. "Alice is ready to embrace the fact that she can now do what she wants and become her own, free person," says Perlman, with a laugh.

The iconic Pam Grier, who has been celebrated as the first female motion picture action star, plays Olive, another aspiring senior cheerleader. Grier brings her distinctive talents to the character, whose spouse, unlike Alice's, is not only accepting of her new passion, but kind of turned on by it.

Olive's cheerleading audition for Martha and Sheryl is a sexy rendition of the tango, a dance Grier calls "beautiful and romantic. It lets you be feminine and exotic – and you get to put a flower in your hair!" Grier had fun executing the moves and appreciated the fact that the rest of the cast was laughing along with her. She also embraced the film's focus on "women of a certain age who still have a wonderful energy."

"And working with Diane Keaton was always on my bucket list," Grier adds. "She has such spirit and light." But even before working with Keaton on POMS, Grier says she felt connected to her. "DK and I are joined at the hip and separated at birth; we're so much alike and have that same kind of energy," she explains.

Taking on key supporting roles, as members of the cheerleading troupe, are Phyllis Somerville (Diane), as Helen, who twirls a mean baton; Carol Sutton as aerobics enthusiast Ruby Jenkins; Ginny MacColl as Evelyn, who auditions via a series of yoga poses, including an impressive set of splits; and Patricia French as Phyllis, who is among the first to join the team. A major thorn in the side of the newly-minted cheerleaders is the community's smiling but controlling leader, Vicki, who'll do anything to thwart the ladies' plans to participate in a cheerleading competition. Veteran character actor Celia Weston mines comedy gold from the role, which she understood immediately. "As the queen bee of the Southern community, I knew I could bring an authenticity to that kind of alpha Southern belle, who's a sugarcoated evil killer of joy," she laughs. But Weston was equally committed to giving a truthfulness to the larger-thanlife and dominating figure, who's an iron fist in a velvet glove. "These eight women are a threat to Vicki, and she won't have her preeminence in the community challenged," she explains. "Her dessert every day is to rule the domain."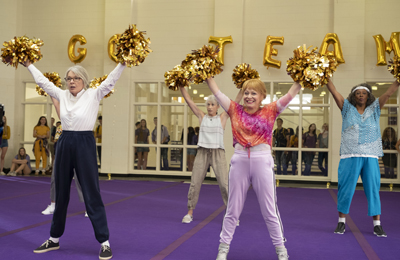 Weston was thrilled by the opportunity to reunite with Diane Keaton, with whom she had previously worked on the films Unstrung Heroes, which Keaton directed, and Hanging Up, starring and directed by Keaton. "Diane can do anything; she can run the gamut from heartbreaking to hysterically funny, all of which we see in POMS," says Weston.

There's also a cross-generational storyline encompassing the character of Chloe (Alisha Boe), a high school cheerleader who helps train the neophyte cheerers – and identifies with the ladies more than she does with her peers; and Sheryl's grandson, Ben (Charlie Tahan), who develops a close bond with Martha, which facilitates the blossoming of both figures. "I don't think there's enough interaction between the generations, in today's world, and that's a loss for everyone," notes Hayes. "It's enriching and comforting to learn from other women. For Chloe, it's a chance to learn from these eight ladies who have lived through major social changes and experienced different life stages. And of course, their dance moves really develop under Chloe's training."

"Alisha Boe brings so much to the role," she continues. "It's no small feat to be playing a high-schooler who goes from laughing at these women to being charged with training them, but Alisha has a timeless spirit that shines through and you almost forget the 'old versus young' thing and just see people connecting with each other, which is what it's all about." For Ben, Hayes notes that Charlie Tahan, makes the most of a challenging role of the young man who helps soften Martha's prickliness. "Charlie is a class act - he really holds his own with Diane and Jacki, and he's the one who melts Martha's heart," she says.

Boot Camp

Prior to the start of production, Hayes and noted choreographer Marguerite Derricks (The Marvelous Mrs. Maisel, Westworld) held a "boot camp" to rehearse and experiment with the dance and cheerleading moves. Equally important, says Hayes, was that "We started to form a team before we got to set. There's something about movement and dancing that really breaks down any shyness or barriers. This added a lot of camaraderie and team spirit."

None of the actors were dancers, but all embraced the opportunity to learn the skills necessary for their characters' cheer routines. "No stunt doubles in this film!" Hayes attests. Hayes and Derricks offer special praise to Keaton, who had begun training before the boot camp. Initially, says Derricks, the acclaimed actress and filmmaker wasn't confident she could pull it off. "Upon meeting Diane, I was convinced she would be a great dancer and love it," Derricks remembers. "But she was nervous about learning the choreography and the dance. I had such a good feeling about Diane, that I tried to reassure her that by the end of filming, she'd love dancing so much that she'd be calling me to dance. By the end of our first session, it all changed for Diane. She loved it and was fantastic from the start. She's always totally committed and dedicated. I didn't have to alter a single move for Diane; she was down for it all."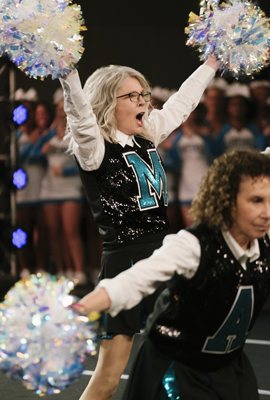 "Marguerite was a force. She remained dedicated and patient with me," says Keaton. "I am a slow learner and she never gave up. The cheerleading and moves are so important to who our characters became!"

After working privately with Keaton for almost a month, Derricks trained Weaver, who like Keaton, was a little nervous, at first, but then proved to be an eager and apt pupil. Still, the sessions weren't without their challenges. "It was fun but hard work, especially for those of us a bit creaky and out of condition," Weaver admits. "However, we had a genius choreographer in Marguerite Derricks, and her fabulous dance captain Kelly Allen, who were enthusiastic and very patient."

When boot camp commenced with all eight actors, Hayes and Derricks worked to make them feel relaxed and confident and, notes Derricks, "trust in me that I was going to help them get there. Zara and I watched everyone come together and begin to move in synchronicity, which was an amazing experience. They were all into it."

While Keaton already knew the moves, she was happy to start at the top with the rest of the team. Moreover, she continued to impress everyone with her newfound dancing and cheering skills. "Diane was so brilliant in the dance scenes, especially when she is teaching and demonstrating the moves to the other women," says Hayes, while Derricks recalls, "It was magic when Diane, as Martha, was dancing for the crowd; it made my hair stand up!"

Derricks also has praise for the natural abilities of Alisha Boe. "She came in after boot camp, but on the first day I worked with Alisha, I instantly saw an incredible, earthy vibe. She's a natural mover."

Rhea Perlman says the experience made her feel like she was part of a dance company, "though we weren't doing anything remotely gymnastic," she says with a smile. "But it was intense and a lot of fun." She adds that the principal challenge came from having to learn many different moves. "I had to practice them, over and over again, in my hotel room," she remembers.

Even with all that rehearsal, a few minor mishaps did occur. "I tripped over my own foot, but was unhurt," Perlman notes with irony, because in the story, "I cause Phyllis Somerville's character to fall and hurt herself, but here I did it to myself!"

"It was a boot camp all right – it got your booty!" laughs Grier, who also notes that as research she watched what she calls the "feminine and sexy" moves of the famed Los Angeles Lakers cheerleaders, the Laker Girls. Grier, too, discovered some challenges in mastering the routines. "At one point, Diane came over to me and said I should straighten my leg – and then my other leg popped out," she recalls.

The eight actors coming together to perform these moves with laughs, discipline, heart and unwavering commitment, was only one aspect of their impressive work in POMS. And it all left a lasting impression on the filmmaker whose idea, born decades earlier, has come to fruition. "This has been such a dream to work with true legends," says Hayes of her cast. "Watching them collaborate, seeing how open and gracious they were about working together, was incredibly inspiring for me."

Together, the cast and filmmakers have created a film, Hayes adds, "about being your best self, no matter what your age, and still putting yourself out there – whether it's picking up a pom-pom or opening yourself up to a new friendship. As we say in the film, it's scary to take risks … but sometimes you've gotta look that shit in the face and tell it to go to hell!" Keaton adds, "It's all about friendship that is discovered at any age. It's both inspiring and empowering.

POMS
Release Date: 9th of May, 2019