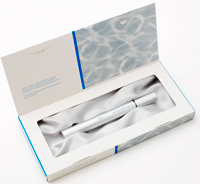 Intraceuticals Influsion
Intraceuticals Infusion is the must-have treatment of the stars and beauty enthusiasts alike. Unique to any other treatment on the market, Intraceuticals Infusion uses therapeutic-grade oxygen and Hyaluronic Acid, an ingredient naturally found in the skin, to deliver specialised active serums to the skin. The unique technology and specially formulated procedure of the Intraceuticals Infusion leave skin looking noticeably brighter, firmer, and more flawless immediately following treatment. Even more lift and lustre can be seen as results intensify in the following hours post treatment. Depending on individual skin types, treatments can also be focused to address individual issues such as wrinkles, hyper-pigmentation, or blemishes.

Exceptional results following the initial treatment will yield noticeable improvement to skin's appearance and texture, however a regular treatment course is recommended to build upon these results and ensure their staying power.

Skincare Products designed for at-home use complement the Infusion treatment and complete the regimen. By providing the moisture and nourishment necessary to seal in treatment results, these products help skin retain results longer.

Intraceuticals Infusions are available in four different courses; Rejuvenate, Opulence, Atoxelene, and Clarity, each specially formulated address commonly faced skin issues.

The Intraceuticals Infusions are every celebrities best friend with Eva Longoria, Justin Timberlake, Katy Perry, Fergie and Molly Sims referring to Intraceuticals as the fashion brand of skincare:
Eva Longoria: "The treatments are a necessity before every major event"
Katy Perry: "I use Intraceuticals oxygen skin treatment to hydrate my skin and give me that fresh, well slept glowing look before any performance or appearance"
Justin Timberlake: "It makes my skin look dope"
Naomi Campbell: "Thank you Intraceuticals. When constantly travelling I get dehydrated and Intraceuticals is an absolute necessity to replenish my skin."
John Galliano: "I am in the business of beauty and perfection and this is the ultimate secret weapon."
Miranda Kerr: "Intraceuticals facials leave my skin glowing and radiant! Thank you."
Mezhgan Hussainy: Leading Makeup Artist American Idol "Intraceuticals Infusion treatments do what no other product on the market can do! I've watched skin's look and feel change right before my eyes. The infusions instant results make it a must have backstage at American Idol."
Fergie: "Thank you Intraceuticals. When I'm on the road it's important to take care of my skin."
Molly Sims: "Thank you Intraceuticals for a flawless and glowing appearance every time."
Robin Thicke: "For a smooth soulful performance every time. I dig Intraceuticals!"
Jessica Stam: "Intraceuticals infusions makes my skin glow and look perfect without make-up."
Steven Klein: Creative Photographic Artist "The Intraceuticals Infusion helps capture the very essence of the most beautiful subjects."
Michelle Peck: "In just one 30 minute treatment, skin looks and feels rejuvenated, radiant, moisturised and fresh."
Gina Brooke: "The Intraceuticals Infusion is the most effective way to achieve beautiful skin and flawless results."
Katherine Jenkins; Welsh Soprano "After a long haul flight from the UK to New York last year, my make-up artist introduced me to the Intraceuticals Infusion treatment. My skin looked dehydrated and tired but after a 30 minute treatment with Gina Brooke, I looked like I had had a weeks rest and I was amazed by the results. Everyone complimented me on my glowing skin and the results lasted. I would highly recommend this to anyone in a heart beat, I love the fact that this is a non invasive natural, easy to use and very pleasant way to look my best."
Bob Harper: The Biggest Loser USA Personal Trainer; "After having one treatment, I realised that I can't live with out it!! My schedule with traveling and working out, and sometimes a lack of sleep, I start feeling and looking a little worn out and this treatment puts the life back in my face. It's a miracle!!"
Kristy Hinze: Australian Model, Actress and Television Host; "I just received a beautiful gift from Intraceuticals, I just wanted to thank you very much, I love the facials that Meg gives me, it really does help my skin stay vibrant during the long hours of filming on a TV set. The box that it arrived in is absolutely gorgeous too. Thank you very much."
Rachel Zoe: Fashion Stylist to the Stars "Travelling and keeping my hectic schedule can be exhausting, but an Intraceuticals Infusion keeps my skin looking well rested and glowing. I can't live without it!"