Errol Flynn's Incredible Pre-Hollywood Life
Cast: Thomas Cocquerel, Corey Large, William Moseley
Director: Russell Mulcahy
Genre: Action

Synopsis: Adventurer, opium smuggler, gambler, street fighter, buccaneer, gold prospector and lover…

The remarkable early life of one of Australia's most famed sons will captivate moviegoers when Umbrella Entertainment releases the adventure biopic, In Like Flynn across cinemas nationally on 11 October 2018.

Directed by Russell Mulcahy (Highlander 1 & 2, Resident Evil: Extinction, Teen Wolf) with rising star, Thomas Cocquerel (Kidnapping Mr. Heineken, Billionaire Boys Club, Red Dog: True Blue) in the titular role, In Like Flynn transports audiences to 1930, before Errol Flynn became a legendary matinee idol of Hollywood's Golden Age.

Whilst serving as a guide for a Hollywood producer in the jungles of Papua New Guinea, young Flynn discovers a trail that will lead to a fortune in gold. Back in Depression-era Sydney, he recruits a motley group of fellow opportunists with whom he sets sail in a yacht stolen from Chinese opium smugglers. What follows is a mythical and satirical coming-of-age story about four men on a journey to find hope, adventure and fortune at a time when the world was spiralling into despair.

Shot entirely on location in Queensland's Gold Coast and co-starring Corey Large, William Mosely, Isabel Lucas, David Wenham, with Dan Fogler and Clive Standen, this is the story of a man whose real life exploits were arguably more colourful and outrageous than any he depicted on the silver screen.

A 308 Enterprises Presentation and ILF AU FILMS Production, In Like Flynn is produced by Corey Large and James M. Vernon, with a screenplay by Marc Furmie, Corey Large, Steve Albert and Luke Flynn - Flynn's grandson - who also served as executive producer alongside Gary Ousdahi, Felipe Dieppa and Joan LeSeur.

Lensed by DOP Peter Holland A.S.C., with an original score by David Hirschfelder, International sales will be handled by Blue Fox Entertainment.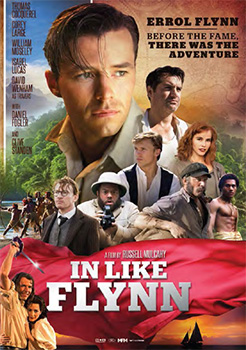 In Like Flynn
Release Date: October 11th, 2018
Trailer
ERROL FLYNN
Errol Flynn is a wildly entertaining protagonist. Not simply because of his cool, effortless masculinity, but his sardonic wit and impeccable sense of timing. The real Flynn had a huge appetite for life. He was an explorer who loved adventure and romance. He couldn't get enough of either. He was also a man who relied just as much on his talent as a wordsmith as he did on his irresistible good looks. Flynn was fairly well educated despite being kicked out of some of the best schools. His father was a biologist who taught him to respect the complexities and mysteries of nature and his mother was a socialite whose had a caustic relationship with her son that ultimately resulted in casual indifference. As a result, Flynn spent most of his life chasing intimacy with women. Flynn's sense of adventure was instilled in him by his father, and came to maturity as he escaped Australia as a teenager, heading for the untamed shores of Papua New Guinea. The promise of fame and fortune eventually beckoned him to Hollywood, but before he was Errol Flynn, the Prince of Mulholland and one of the most beloved stars of the Golden Age of Hollywood, he was Flynn, the treasure hunter. As our story begins, Flynn is passionate, self-seeking and lacking in empathy, but by the end of this journey, he will learn a thing or two about friendship, loyalty and perhaps even love.


DIRECTOR'S STATEMENT
Russell Mulcahy
This is a movie about friendship, ego, and the pursuit of something bigger than yourself! A true journey of the soul for a legendary Flynn. What I wanted to bring to the screen was Flynn's unapologetic and uninhibited desire to experience a full adventurous and spectacular life and reveal his deeply rooted belief in himself and an ability to survive on charisma and bravado.


PRODUCER'S STATEMENT
James M. Vernon
Gritty, fast-paced and inspirational. A honest seat of your pants true life action adventure about a group of guys lead by Flynn, who barely made it through some incredible situations. Everyone trusted him, they had faith in him and he had this incredible faith and trust in himself.