A story to open hearts and minds…
Rated: PG
Running Time: 95 minutes

Synopsis: Emu Runner is the directorial feature debut from Imogen Thomas, who wrote the film in consultation with Aboriginal Ngemba woman Frayne Barker, from Brewarrina NSW where the film is set and shot. Thomas and Barker had previously collaborated on the award-winning short film Mixed Bag (2008).

Emu Runner tells the story of nine-year-old Indigenous girl, Gem Daniels (newcomer Rhae-Kye Waites), who lives in a remote Australian town. As she copes with her mother's unexpected death, Gem finds solace in the company of a wild emu, unwittingly connecting with her mother's traditional totem animal.

Gem is a child full of wonder and intrigue, anchored by the deep cultural roots of her Ngemba people and country, and thus her sense of belonging is implicit. Told from Gem's perspective of the world, this heart-warming and ultimately triumphant story plays out against the pressing issues and challenges that come from living in this isolated community.

Emu Runner
Release Date: November 7th, 2019


Director's Statement
Gem is the driving force of Emu Runner. It is through her eyes that the story unfolds. She is a child full of wonder and intrigue and anchored by the deep cultural roots of her Ngemba people and country, and thus her sense of belonging is implicit. Her remote country town may struggle to exist, and yet, it is a place that ofers great freedoms and a way of life where time slows and simple pleasures are found. At the same time Emu Runner presents the fragility of this world and how quickly it can change. The unexpected death of her mother puts Gem and her family's lives into a state of fux as they contend with their sorrow.

Emu Runner is about Gem's search for meaning at time when nothing makes sense. Rather than turning her gaze inward she looks to nature for the answers. The emu is Gem's connection with her mother and its arrival after her death cannot be ignored. The emu is Gem's past, her present and her future. Flightless these birds may be, but ultimately they are a symbol of speed, agility and grace. They are always moving forward, as Gem must. They hold other valuable life lessons for Gem and her family, as it is the male emu that is fully responsible for raising the young, just as Gem's father finds himself fully responsible for his children. Like the male emu, Jay Jay Daniels is fiercely protective and is prepared to step up to meet the challenge he has been dealt.

Eleven-year-old Rhae-Kye Waites, from the remote New South Wales town of Brewarrina, plays Gem in this family drama of loss and redemption, acting alongside the celebrated actor/director Wayne Blair, who plays her father Jay Jay Daniels. Waites and Blair deliver emotionally charged and honest performances at the centre of a dynamic ensemble of Brewarrina locals, augmented by Logie award-winning actor Rob Carlton and emerging talent Georgia Blizzard in small key roles.

Premature death is an issue that repeatedly touches the lives of Indigenous Australians. It is a reality I have become more aware of through my longstanding association with the Indigenous community of Brewarrina. I believe story-telling offers an accessible way to shine the spotlight on this pressing issue, hopefully creating a greater awareness and understanding about the profound impact loss and grief has on others. Stories have the power to engage audiences on so many levels, touching their hearts and minds and by transporting them into the worlds and lives of people that are often far from their experience. It has been a privilege to create a story in partnership with the Brewarrina Indigenous community.

Emu Runner invites audiences into Gem's world as she faces the hardest test of her life. My aim is to paint a positive and uplifting story for Gem. I hope audiences come to understand the adversities which arise from living in a remote community as well as marvel in the richness of our First Nation's culture and the beguiling beauty of the Australian landscape.
- Imogen Thomas 2018


Producer's Statement
The opportunity to produce Emu Runner has been as rewarding as it has been challenging. The unconventional processes involved in making the film have seen the complete range of human emotions laid bare and approaches to 'doing things' tested to the limit but… we have got there.

Emu Runner is a film about many things. The most important aspect of the film is the commitment given to it by all the people of the Brewarrina community; without their unshakeable support, it just would not have happened. The film tells the story about one family's strength in recovering from terrible loss. The loss that the character of Gem, the film's protagonist, struggles with throughout the film is taken back at the end through the catharsis of many characters in the film and how their experience strengthens their spirits and enables them to move beyond the pain of losing someone close, of losing someone's respect and taking charge of their lives.

This story is everyone's story. Emu Runner belongs to the Brewarrina Community. The film starts and stops with the Brewarrina Community. The only outcome that Imogen and I hope to achieve in making this film is that it can, in some way, provide the people of Brewarrina with a strong foundation to stand fast and be very proud of who they are, where they are from and where they are going. Brewarrina is a positive community where positive things happen. It is time to show the world.
Victor Evatt 2018


Inspiration
Imogen Thomas wrote Emu Runner in consultation with Frayne Barker, an Aboriginal Ngemba woman, from Brewarrina, a small town in northwestern NSW, Australia. Frayne has brought to this project her knowledge of the pressing issues and challenges that come from living in this isolated community.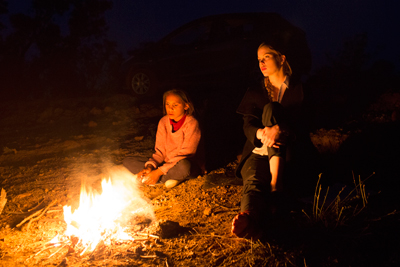 Positioned near the banks of the Barwon River, Brewarrina is home to a large Indigenous community. It is the traditional land of the Ngemba, Murrawarri, Ualari, Weilwan and Baranbinja people. Brewarrina was where these tribes came together to partake in important ceremonies as well as to enjoy the abundant fish that the river offered, while utilising the stone fish traps that have been there for over 40,000 years. To this day the river continues to hold great significance as well as nourish its community.

In 2003, Imogen Thomas worked on an arts initiative with the Ourgunya women's shelter in Brewarrina. This experience introduced her to a large number of women and children from the community and placed her in a unique position to listen to their stories and gain a very real sense of their lives and personal struggles. She was confronted by the effects of unemployment and poverty on the health of the community and the lives of its members cut short. What was apparent to her was the resilience and strength of the women who had to manage the many social problems arising from these conditions. It was during this engagement that Imogen was introduced to Frayne Barker, director of the Gainmara Birrilee Pre-school. Friendships and subsequent visits to the area inspired Imogen to make a film set in this special place.

Before embarking on a feature-length project with the Brewarrina community, Imogen made Mixed Bag, a short film about racial stereotyping and prejudice. From the film's inception Frayne Barker was involved. The production also engaged the support and participation of the broader community who made up the majority of the cast and also worked behind the scenes.

Mixed Bag was completed in 2008 and went on to be screened at both national and international film festivals, receiving many nominations and awards. For Imogen, the real mark of the film's success was the community's response, which was overwhelmingly positive. Mixed Bag was a vital stepping-stone in her journey to making a feature film.


Visual Style
Emu Runner presents a child's perspective of life in an Australian outback town and this is reflected in the cinematic language. The mood and tone is visceral, honest and immediate, instantly engaging the audience in Gem's world.

Following in the cinema vérité tradition, the film was shot on location in Brewarrina, and as much as possible, was cast from within the community.

The camera style in Emu Runner has an observational quality, with a readiness to capture and respond to the impulses of the performers. A lightweight camera was used, predominantly hand-held, to allow for mobility and flexibility during the shoot. The camera framing was mindful of the inherent relationship between the characters and the landscape as well as the animals that inhabit that country.

Overall, the visual design of the flm sculpts from the textures and colours that exist in Brewarrina. The colour palette is informed by the outback landscape, with its black and burnt-red soil, the sandy yellows of the grassy plains and the muted ashen greens of the scrubby bush. Washed-out, sun-bleached colours of the weatherboard houses and shop signs are reflected in the townscape. The character of the social worker, Heidi, sits outside this colour spectrum. She stands out in stark whites and steely tones, reflecting the textures and contrast of the city she has come from.

Films that have been seminal in the development of Emu Runner include Rene Clément's Forbidden Games, Carol Reed's Fallen Idol, Peter Bogdanovich's Paper Moon, Tony Gatlif's Swing as well as the Dardenne Brothers' film The Kid with a Bike. In each of these films the director invites the audience to experience the raw truthfulness of child's point of view and their imaginative spirit when faced with the dramas of their lives.

While Emu Runner is grounded in a distinct social realist style it strives to capture the inherent lyricism of its characters and their world.

Emu Runner
Release Date: November 7th, 2019