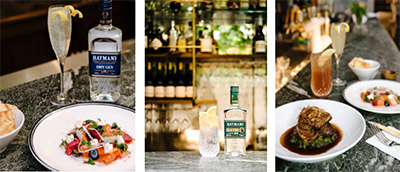 Introducing the Hayman's Gin Supper Club
A taste of London at Sydney's The Lord Dudley Hotel
Bringing their traditional English gin to Australian shores, Hayman's Gin, England's longest serving Gin distilling family have teamed up with The Lord Dudley Hotel to bring Sydneysiders the 'Hayman's Gin Supper Club', a unique gin and food pairing collaboration taking place from 1 – 31 October.

Set to bring together food and gin lovers alike, the family owned and operated duo have together curated the perfect blend of gin cocktails expertly paired to English style fare which will be on offer in the Dudley's newly renovated Garden restaurant – a whimsical English garden oasis set within the basement of this iconic British pub.

From a French 75 cocktail with Cured Salmon, to a Lamb Rump with a Sloe & Tonic or a Negroni with a Pork and Veal Terrine, diners will be invited to explore the menu and choose from food and drink combinations ranging from $25.00 for an entrée and cocktail, $40.00 for a main and cocktail and the Supper Club Special featuring one entrée, one main and two cocktails for the pretty price of $60.00.
According to James Hayman, co-founder and fifth-generation distiller, it's an exciting time to be rolling out this collaboration to Sydneysiders as Australia's love of gin continues to soar to an all-time high.

"The Australian gin category has grown by 20% over the last three years1, testament that there is a real appetite and thirst for knowledge about this great tipple. It is one of the fastest growing spirits in Australia in the past 12 months2, with 97% of all gin consumed in Australia imported from overseas distillers.

"With a desire to build on this trend we are excited to be partnering with The Dudley - an iconic family run pub that, like Hayman's, is stepped in English heritage. Diners will have the chance to try our award-winning range and see how versatile gin can be. That is, you can have a lamb roast with a Sloe and tonic or a pork and veal terrine with a Negroni, just as you would consider ordering a wine alongside your meal."

Since 1863 five generations of the Hayman's family have acted as custodians of the English Gin style – providing an unbroken lineage dating back to the original gin boom. Throughout this 150 years, they have been perfecting the art of distilling traditional English Gin styles using family techniques and processes handed down through the generations. The family's story is entwined with history of gin itself – from the current family-members' great-great-grandfathers' origins as a 19th Century pharmacist-distiller through to the more recent introduction of their flagship small-batch London Dry and Old Tom gins.

Today the Hayman family are the longest serving Gin distilling family in England headed by 5th generation family members, James and Miranda Hayman. Their range includes Australia's bestselling Sloe gin made from a long-standing family recipe along with London Dry, Old Tom, Family Reserve and Royal Dock which are available at independent bottle shops nationally and Dan Murphy's online (Sloe only).

Hayman's Supper Club
Location: The Garden Restaurant, The Lord Dudley Hotel, 236 Jersey Road, Woollahra
Dates: 1 – 31 October, 2017
Bookings: 02 9327 5399 or www.lorddudley.com.au
Pricing: Entrée + cocktail for $25.00 Main + Cocktail for $40.00 Supper Club Special: one entrée + one main + two cocktails for $60.00
Socials: @HaymansGin @LordDudley #HaymansSupperClub
Tasting Notes:
Hayman's London Dry Gin
Available from independent retailers nationally, RRP $54.99
Fresh, crisp and elegant, with a lively citrus finish. Just the way it should be. The perfect partner for tonic and a must-have in your favourite gin cocktail. And the twist? We recommend a curl of fresh lemon peel.
Hayman's Old Tom Gin
Available independent retailers nationally, RRP $64.99
With Hayman's Old Tom Gin, you'll enjoy a rich, rounded profile and a beautifully delicate finish. Hints of citrus and juniper piney notes provide a delicious, smooth taste. And the subtle sweetness keeps it true to the original style of English Victorian gin.
Hayman's Sloe Gin
Available from Dan Murphy's online and independent retailers nationally, RRP $59.99
You really do have to taste Sloe Gin to believe it. Ours has intense plummy aromas, hints of almond nuttiness, and delicious fruity flavours all come together in perfect balance. Leaving you charmed by the complex finish and a delightful warmth that stays with you. We steep sloe berries with Hayman's Gin carefully for several months before blending with natural sugars. Always by hand, of course. It's this refined process that ensures your experience will be one reminiscent of drinking the traditional Sloe Gin that was popular in cocktails and as a winter warmer in the 1800s.Try neat with a wedge of lime as an aperitif. Or with sparkling wine for something a little more special.
1 AZTEC
2 IRI MarketEdge to 5/2/2017