Thanks to Spin Master here is your chance to Win of 3 Toy packs valued over $200.00.
Pack 1: Gabby's Dollhouse "Gabby' Cat Friend Ship - RRP: $84.99
Pack 2: Bakugan Battle Pack Asst RRP: $54.99 & Bakugan Core Ball Asst RRP: $12.99
Pack 3: PAW Patrol Trend 12" Assort RRP: $24.99 & Hedbanz Light Speed RRP: $25.99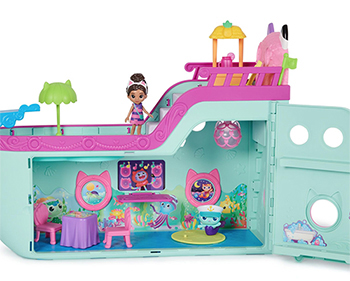 Pack 1:
Set Sail for purr-fect adventures with Gabby's Cat Friend Ship! (RRP $84.99). This imaginative playset, featured in DreamWorks Animation's hit series, expands the enchanting world of Gabby's Dollhouse. Join Gabby Girl, complete with two outfit options, and Captain MerCat on the upper deck, where you'll find a colour-changing pool and a thrilling diving board.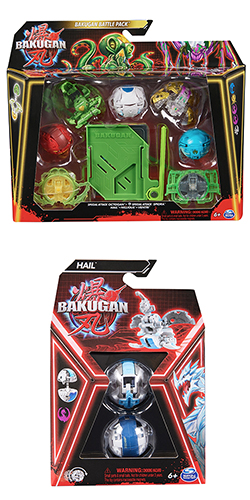 Pack 2:
Assemble your Bakugan Army with the Bakugan 3.0 Battle Pack (RRP $54.99). This set includes two Special Attack (Spinning) Bakugan, three Core Bakugan, a rip card, XL rip cord, and numerous trading cards. Use the XL rip cord or rip card to initiate a spinning Special Attack or roll your assembled Bakugan onto the Gate Cards to witness their iconic pop-open transformations. Leverage the Character and Special Attack Cards to gain new stats and enhance your gameplay.
Explore Bakugan like never before with the all-new customisable Bakugan 3.0 Core ball (RRP $12.99). Combine and clash with your beloved characters to dominate the Bakugan Battle Brawlers. Easily snap the top character portion onto the bottom half and prepare for thrilling launches into action. Bakugan injects excitement with fresh and returning characters, intricate detailing, and new Bakugan Clans, just like in the NETFLIX show!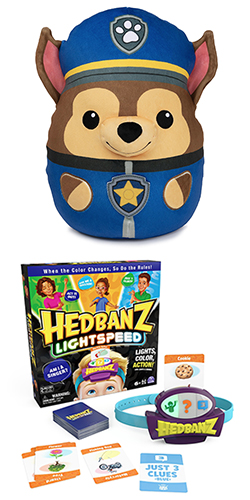 Pack 3:
Warm hugs and snuggles with these cutest kid companions
The paw-tastic PAW Patrol pups are back in a super-squishy format! Bring home your favourite cuddly PAW Patrol pups (RRP $24.99) for playtime rescue missions at home. These huggable 30cm plush toys feature the classic uniforms and adorable designs, making them perfect companions for children aged one year and up. Available at Big W and all good toy retailers.
A fun and classic rapid-action family guessing game – with a new twist! With Hedbanz Lightspeed (RRP $25.99), two teams face off to try and guess the most cards, but the hints given are determined by the randomly changing color of the light. Through play, kids will develop deductive reasoning and problem-solving skills in a fun and thrilling way. Available at Amazon, Big W, Kmart and all good toy retailers.