Starring Michelle Pfeiffer, Lucas Hedges, Valerie Mahaffey, Imogen Poots, Danielle Macdonald, Tracy Letts
Directed by Azazel Jacobs
Classification: M
Run time: 113 minutes
"My plan was to die before the money ran out," says 60-year-old penniless Manhattan socialite Frances Price (Michelle Pfeiffer), but things didn't go as planned. Her husband Franklin has been dead for 12 years and with his vast inheritance gone, she cashes in the last of her possessions and resolves to live out her twilight days anonymously in a borrowed apartment in Paris, accompanied by her directionless son Malcolm (Lucas Hedges) and a cat named Small Frank"who may or may not embody the spirit of Frances's dead husband.
Official Selection – New York Film Festival
"Michelle Pfeiffer delivering a role for which she will be remembered." " Variety
#FRENCHEXIT
IN CINEMAS MARCH 18, 2021


INVENTING THE PRICES: WRITING, ADAPTING, DIRECTING

Subversive Canadian novelist Patrick deWitt can't always say where the ideas for his occasionally dark stories come from, but sometimes, he explains, it's a matter of listening.

"I tend to follow the characters' lead," he says, "and the ones that want to speak are allowed to speak. When that happens, it bodes well. And Frances wanted to speak right away."

Frances is Frances Price, the Manhattan socialite, widow and central character of deWitt's FRENCH EXIT. Impossibly glamorous with the gravitational pull of a black hole, she's imperious, confident and more than a handful of drama. People still whisper about how she went on a ski weekend right after she found the corpse of her lawyer husband in bed. That was years ago, and now the money's running out.

"I do admire her," deWitt says of a character he had no autobiographical underpinning for, only an unlikely affection once she barged into his imagination. "I think she possesses grit. She's tough and yet, there's something ultimately very soft and loving about her. She's any number of things. She's not who you think she is. She's more herself than most people are. She inhabits herself to the maximum, in a way that most people only inhabit maybe half."

FRENCH EXIT's director Azazel Jacobs also admits to having a strange fascination with Frances, one he can't wholly rationalize. Born and raised in New York City (he's the son of longtime Tribeca bohemians Flo and Ken, the latter a noted experimental filmmaker), Jacobs has never traveled within Frances's exclusive circles.

"Those socialite pages of the New York Times, I never understood who they could possibly be for," he says. "It took me a long time to realize that they were for each other, for a very small world. They weren't famous but they had their own section in the Times. It felt so far removed. They couldn't be any more different from me if they came from Mars. I'm not lying when I say I saw this as science fiction"I saw these types of people in Fellini films, and it gave me that warped, circus-like perspective."

Regardless, Jacobs found himself compelled by the book, even by its exoticism.

"I suddenly found myself very curious about these people," he says. "I had never thought about them in terms of their struggles or their humanness or their day-today existence and fantasy of living in such a bubble. But through Patrick's humor, which is very similar to mine, it was endearing."

In deWitt's view, empathy is one of Jacobs's signature strengths. His features, notably Momma's Man and The Lovers, do a delicate job of bridging urban sophistication to a distinctly nonjudgmental openness.

"Aza approaches the characters"and then his attitude toward an imagined public"with all due respect," deWitt says, "which I appreciate, because sometimes you come up against a filmmaker who has an agenda or seems to be telling the story from on high. Aza approaches the viewer head-on, as a peer."

The writer and director share a friendship that's closer than most professional collaborations. They met as young, hungry artists in Los Angeles almost 20 years ago, a meet-cute that could give hope to even the most jaded cynic. Even as they retell the story, they laugh at the familiar turns.

"I was washing dishes in a bar in Hollywood," deWitt recalls, "and our girlfriends were friends. So he would come by the bar where I worked from time to time just to say hello. On slow nights, he and I would sit and drink together and tell stories. Just get to know each other."

"I wound up going quite a bit," adds Jacobs, "not because I was such a big drinker but because I really enjoyed talking to him. He told me he was a writer. I think everybody in Los Angeles, especially back then, was writing some kind of screenplay or something."

According to Jacobs, deWitt had a printed-out manuscript behind the bar, at the ready.

"I knew that he was a struggling filmmaker," deWitt says, "and he knew that I was a struggling writer, and that's a dangerous equation because you come to like somebody and then you have to witness their work. And often times, the work isn't as charming as the person, let's just say. But this was not the case with Aza. I saw a short of his that I really liked. It was just clear from the moment we began sharing our work that there was just a real easygoing, natural affinity"a mutual appreciation society."

The exchange, which predates their career breakthroughs and continues to this day, grew over the years into a proper project, Terri, Jacobs's 2011 indie, for which deWitt wrote the script. (As deWitt remembers it, "I told him, 'I don't know how to write scripts.' And he said, 'Well, I'll walk you through it.' And he did.") The film cemented their friendship: Even when later novels weren't quite a match with Jacobs's directorial sensibility"including deWitt's celebrated 2011 Western, The Sisters Brothers, later made into a film by Jacques Audiard"he still read the early
drafts and offered enthusiastic feedback.

FRENCH EXIT, though, was "really something very different," according to Jacobs, who was invited to weigh in on a work-in-progress draft in March 2017. "I read it in one sitting and called him up afterward and asked Patrick if I could make a film of it."

Why did Jacobs care so deeply for this one? Even he can't pin it down, but the plot kept him guessing, which, he thinks, may have been enough. Also, deWitt's novel features a fairly unconventional parent-child relationship, that between Frances and her son, Malcolm, all but abandoned at boarding school until he was a teen, then swept up into his mother's whirlwind as a gloomy young man. Jacobs has an affinity for parental tales touched by unusual notes of egalitarianism and power reversal.

"It's been a longstanding obsession," he admits. "I think I tried to wrestle with it as much as I could with Momma's Man, in terms of having parents who were unwilling to compromise their art. That fascination also carried through into The Lovers. FRENCH EXIT was one more variation on this idea: how even as an adult, you can be your parents' best friend, enemy, child, parent. That complexity seems very true to my own relationships, especially at my age. Part of the new film is a coming-of-age story, and it's really Frances's coming of age."

Faced with news of their impending insolvency, Frances, Malcolm and their pet cat (more on him later) head to a friend's vacant apartment in Paris, via cruise ship. It's a place where Frances, struck by a sense of moroseness, has always imagined her endgame, but their time turns out to be the opposite of lonely: Joining them over the days and weeks ahead are a childhood confidante, an occult medium, a private investigator, Malcolm's ex-fiancée, her new boyfriend, a rabid fan and several strangers.

Their unannounced escape from New York is partly responsible for deWitt's poetic title, though he says the book's name fell into place at the last minute, through unexpected circumstances.

"I didn't really know what I was going to call it," the author recalls. "I was at a party here in Portland, Oregon, where I live. I don't go out often. I don't particularly relish socializing. But I was at this party and I decided to leave without saying goodbye to anyone, which is what a real 'French exit' is. And the next day, my friend called me and left a message chastising me, saying, 'I suppose you think you got away with performing that French exit last night, but I know you did it.' He was razzing me. And it was the precise week that I needed to come up with my title. And suddenly there it was, and it was such a nice fit. So I have him to thank for the title."

Jacobs, for his part, sees the Prices' move to Paris as potentially redemptive, a moment for a widening perspective. To him, it feels like a metaphor for the very act of moviemaking itself.

"I saw a lot of Pirandello in the book and the script," the director says, addressing this metafictional level by evoking the brilliant Sicilian creator of 1921's Six Characters in Search of an Author. "It's that sense of lonely people finding each other"that's definitely a part of making films. We gather all these people who are willing to do amazing things that look so hard. They come to play. Ultimately what it comes down to is playing. I know paying our bills is part of it, but really what it comes down to is everybody is still up for playing make-believe."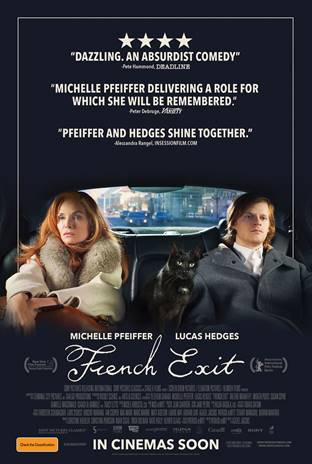 #FRENCHEXIT
IN CINEMAS MARCH 18, 2021