freezeframe with Inhibox
Relax Australia, there's now an alternative for a nation addicted to Botox.
Australian's are the biggest users of Botox in the world, spending around $300 million on muscle relaxing injections per year. With the introduction freezeframe with Inhibox, the world's most powerful topical wrinkle reducing product, Australian women can now relax these wrinkles without costly and expensive injections.
In an unprecedented breakthrough, cosmetic chemists have finally discovered a complex that literally freezes wrinkle upon application with results lasting up to eight hours. freezeframe with Inhibox is the world's first instant Botox alternative, instantly erasing expression wrinkles within minutes of application. freezeframe also provides clinically proven long term wrinkle relaxing.
Myer is proud to be the home of the world exclusive launch of this breakthrough anti ageing product. "freezeframe is a global first and we are thrilled to be launching this exciting new product at Myer. The high-tech beauty category is a growing phenomenon, with more customers coming in-store looking fro at-home alternatives to costly salon treatments. freezeframe retails under $100 so it will be accessible to a wide range of customers," said Rob Gregory, Myer Business Director- Cosmetics.
freezeframe with Inhibox is the first topical formulation to provide both instant and long term results; users don't have to wait months to see results. The exclusive Inhibox complex contains a specific blend of ingredients that cause an instant tightening, freezing and smoothing effect.
One of the active ingredients in freezeframe is an amino acid called Gamma Amino Butryic Acid (GABA), which is also the amino acid produced by Valium. GABA exists naturally in the human body as the major inhibitory neurotransmitter in the central nervous system and is responsible for the regulation of muscle tone and this is thought to be the reason it has such a dramatic effect on skin; effect of freezeframe can be seen within minutes of application.
Advances in peptide technology have enabled the chemists at freezeframe to push the boundaries and move beyond and instant effect. Containing Snap-8, the most significant cosmetic peptide ever discovered, freezeframe is clinically proven to reduce wrinkles by 63.13% in just 28 days.
Discovered by the biotech engineers behind Argeriline, the world's first topical muscle relaxing peptide, Snap-8 is an octopeptide (an eight chain link of amino acids). Superseding Argereline, Snap-8 is now the most powerful wrinkle relaxing peptide producing a long term wrinkle relaxing effect in freezeframe which is 13.13% more powerful than Argeriline (meaning it is 26.6% more effective overall).
The power of Inhibox, which instantly freezes wrinkles, combined with the long term benefits of the most potent, cumulative wrinkle relaxing techinolgy ever discovered (Snap-8), is now available in a single product which can be applied in the privacy of home.
With the long term side effects from Botox and similar products still unknown, women of all ages can now successfully treat the visible appearance of wrinkles without needles, doctors, pain or inconvenience.
Review: Impressive instant results, freezeframe relaxed and gave a tightening feeling.
Available exclusively at Myer stores nationally.
RRP: $89.00
freezeframe
: is a revolutionary new product that erases the appearance of wrinkles within minutes of application. Developed in Australia, freezeframe uses an exclusive new complex called Inhibox, which has an immediate wrinkle erasing effect, and Sanp08 a powerful wrinkle relaxing octopeptide, which is clinically proven to reduce wrinkle depth by 63.13% in 28 days. It can be used at home and is seen as a topical alternative to Botox.
www.freeze-frame.com.au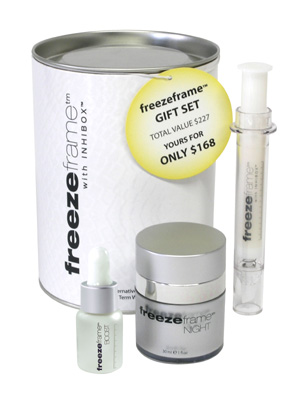 freezeframe Gift Set
Includes freezeframe with INHIBOX, freezeframe night and a bonus freezeframe boost (worth $59)
freezeframe magically erases wrinkles upon application (with results lasting up to 8 hours) and is clinically proven to help reduce the appearance of wrinkles by 63.13% in 28 days
RRP: $168 (valued at $227)
Available through Myer