Do you want a professional, flawless, golden tan in less than 5 minutes, seriously.
Magic Tan has been in Australia for several years now, is the expert in automated spray tanning booths, and is used in over 60 countries worldwide. www.magictan.com.au
Not happy to rest on their spray tanning laurels, Magic Tan are constantly innovating and introducing fabulous new tanning solutions such as the VespaSpa booth. Which provides a private spray tanning service, which preps you, spray tans, then moisturizes you to make sure your spray tan is flawless and lasts longer. For locations see www.magictan.com.au/locations
Do away with the home fake tanning, with an automated service you can tan safely without dark patches, uneven skin tones and orange stains on you bath towels.
MagicTan is unique in that the sugar beet based solution reacts with your skin type to give you the tan you would get if you went to the Gold Coast for a holiday. You can choose between light, medium and dark tans and for the tanorexics amongst you, you can even try the "double dip" which produces a tan like you have been to Bali for three months.
MagicTan have locations all over Australia and these range from VersaSpa salons, MagicTan automated spar tan booth salons and handheld spray on tan operators who use MagicTans amazing tanning solution, to book visit www.magictan.com.au
Here are what famous Aussie models and beauty editors have to say about our spray tan:
Erin McNaught's (former Miss Universe Australia, model and TV personality)-
"Absolutely unbelievable - perfect colour and the most even coverage I have ever had from a spray. It doesn't come off in patches because of the prep spray they use, it fades like a natural tan. I will definitely be going back."
LOVING my tan. LOVING it. have recommended to 23-0858345893703485 people...awesome awesome... actually considering getting it done regularly...
Sarah Tarca - Beauty Editor - Girlfriend Magazine
Hey Andy, James & Catherine,
It's Sarah here; I was your 3pm spray tan model at the Beauty Expo last Saturday.
I hadn't had a spray tan in months till your demonstration last weekend, previous spray tans I had always went patchy on my skin 2-3 days after. Today is day number 6 and I'm still a lovely colour (you can still see my white patch where the playboy sticker was).
I've been using the tube of cream you gave me twice a day and have no patchy marks on my body at all. I think it's just slowly fading. I had a great time working with you all last weekend and looking forward to my next Magic Tan.
Kind regards - Sarah Smith J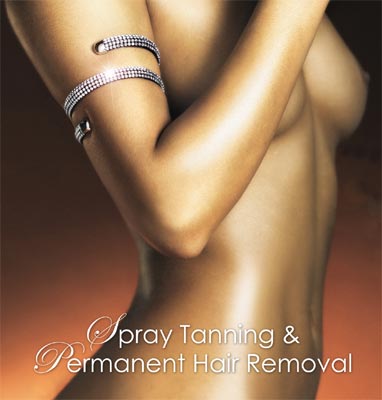 Wear Nothing except your Tan... and forget waxing for years with permanent hair removal
Wear Nothing the company the brought you the worlds best spray tan - MagicTan, now bring you MagicSkin for permanent hair removal. Why wax when for about the same price you can get rid of your hair for several years and not have to bother waxing again.
MagicSkin salons can also treat the following conditions:
Hair Removal
Spider Veins
Ace
Sunspots
You only need from 1 to 6 treatments for these conditions and you will be amazed at just how effective a MagicSkin IPL treatment really is, and is fantastic for both men and women of all ages.
IPL stands for Intense Pulse Light. Simply the light focuses in on the problem area and only "zaps" that area, leaving the rest of your skin looking younger and smoother. After IPL treatments, sun tanning should be avoided, so book a MagicTan spray tan in, for a safe, hair free summer.
Feel confident with MagicSkin, their machines are all up to the minute technology, with trained professionals who do the zapping. According to experts IPL is safe when done by professionals. That means for us, don't scrimp by going to a cheap operator because you just won't get the results.
MagicSkin have salons across Australia - see www.magicskin.com.au for locations and for Magic Tan spray on booths and tanning salons go to www.magictan.com.au
You know it makes sense!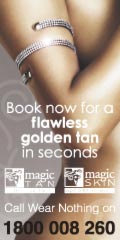 Watch the VersaSpa Demo
http://www.versaspasystem.com/businessowner/instructional-video.html