Did you know that not all spots are created equal?


Estee Lauder introduces Cyber White EX
A Comprehensive Skin Brightening System Targeted for Every Spot


Estee Lauder recognizes that Asian skin is one of the most delicate skins in the world - a thinner, more fragile stratum corneum makes the skin more prone to irritations which can lead to an over-production of melanin.
Building on over 20 years of whitening expertise, the Estee Lauder research and development team have been hard at work developing a deeper understanding of Asian skin and the cause of dark spots. Based on new findings and the knowledge that "not all spots are created equal", Estee Lauder brings you Cyber White Ex - our most comprehensive brightening system ever - with three highly targeted, breakthrough technologies, to help correct and prevent three different types of spots responsible for clouding your complexion: Stubborn Age Spots, Small Surface Spots and those Barely Visible Spots just below the skin's surface.
"Estee Lauder's first approach to whitening was to look at irritation as a primary cause of melanin release" says Dr. Daniel Maes, Senior Vice President Estee Lauder Research and Development Worldwide. "Since then, new research has given us a better understanding of the multiple pathways that lead to the formation of different types of dark spots and hence the need for different technologies to address each type of spot. This is a completely new way of thinking when it come to whitening products. With the new Cyber White Ex Skin Brightening System, we have used the best and latest whitening formulas and technologies, with results that reduce the look of age spots by 50% after 8 weeks! It also reinforces our continued belief that whitening is not a seasonal event - it needs to be addressed 365 days a year to help prevent and correct dark spots and discoloration all year around."
CyberWhite EX boasts new technology and a customized and targeted approach to address three types of spots most commonly found in Asian skin:
EXtra Protection to help prevent Barely Visible Spots


New insight shows that a lifetime of repeated irritation can initiate a chronic release of histamine in the skin. Chronic histamine release is a new pathway directly linked to increased tyrosinase activity, which leads to increased melanin production.
New! Melanin Interception Technology, derived from a concentrated extract of turmeric, helps skin naturally counteract the skin-darkening effects of histamine release. As skin is kept in a continuous state of comfort, it helps prevent future spots from surfacing. This technology provides some of Estee Lauder's most advanced whitening benefits to date.


---

FACT: After decades of studies, published articles, and patents, Estee Lauder Research has continued its search of pathways that link to melanin production. Today, Estee Lauder scientists have discovered the link between chronic irritation to stress and histamine release - an entirely new pathway that contributes to the hyper proliferation of melanin.
---

EXtra Re-Surfacing to eliminate Small Surface Spots

New insight shows that melanin clusters within dead skin cells in and around the pore openings, can result in numerous small surface spots all over the face - creating a dark shadow of dullness across your skin.

New Cyber White Ex targets darkened pores with a concentration of N Acetyl Glucosamine which starts working immediately to help speed the shedding of darkened dead skin cells and surface debris for a more radiant, even-looking skin.

This process also helps the active ingredients of Cyber White EX penetrate deeper into the skin for more effective results.


---

FACT: Estee Lauder was the first cosmetic company to discover the importance of N Acetyl Glucosamine on skin. This gentle, non-acid sugar derivative helps to normalize the skin's natural cellular turnover without causing irritation. Recently, Dr. Hideya Ando's research at the Kobe Institute in Japan supported a Harvard study's findings that N Acetyl Glucosamine helps inhibit the melanin producing signal tyrosinase, thus helping prevent the formation of future surface spots.
---

EXtra Correction to fight Stubborn Age Spots

New insight from Estee Lauder R&D show that repeated exposure to stress creates a localized inflammatory reaction in the skin which can weaken the inner skin and cause a collapse in the skin's natural support structure (basement membrane). When this happens, the natural "distance" between each melanocyte (where melanin is produced) no longer exists. The Melanocytes become more clustered together, thus creating the appearance of a darker, bigger cluster of melanin. This is what we call an Age Spot.

Exclusive New! Third Generation Melanin Dissolving Technology, derived from yeast bio-fermentation, penetrates deeply into the pockets of melanin that populate the surrounding skin cells accentuating the appearance of age spots. The appearance of melanin pigments is dispersed into smaller particles, becoming virtually invisible to the naked eye.

Cyber White Ex Skin Brightening System

Estee Lauder research discovered that it in order to achieve maximum results, it is important for each product to have targeted benefits and different functions. In the NEW Cyber White Ex Skin Brightening System each product has been specifically formulated to address different dark spots in a targeted and synergistic way. Developed in close partnership with our research centers in Japan and China, the new Cyber White Ex Skin Brightening System has been developed specifically for delicate Asian skin. It carries a beautiful scent created in Japan, which embodies the purity, tranquility and peacefulness of the color "white". The first impression is of apple and juicy apricot. The floral accord includes iris, rose and lily of the valley. The base comprises sandalwood, mosses and musk notes.

All Cyber White EX products were tested on Asian skin in Asia for efficacy and safety.Dermatologist, Non-Acnegenic and Opthalmologist tested
All Cyber White EX formulas are covered by granted and pending US and International patents.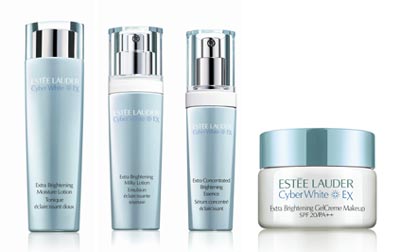 NEW CYBERWHITE EX Skin Brightening System lineup will be available from March 2nd 2008 at selected Estee Lauder counters.

EXTRA BRIGHTENING GENTLE CLEANSER 125ml RRP $52.00

EXTRA BRIGHTENING MOISTURE LOTION 200ml RRP $65.00

EXTRA CONCENTRATED BRIGHTENING ESSENCE 30ml RRP $136.00

EXTRA BRIGHTENING MILKY LOTION 100ml RRP $79.00

EXTRA BRIGHTENING MOISTURE CRÈME 50ml RRP $79.00

Stockist no: 1800 061 326
www.esteelauder.com.au