Essentially Innoxa
Innoxa celebrates gift giving this season with beautiful gift packs to suit everyone. Incorporating the three Essentially Innoxa ranges; Enrich, Restore and Exhilarate, these scented bath & body products are ideal for the relaxing holiday season.
Starting at $9.95 these gifts are the perfect pampering present. We hope you have an enriching break and return feeling restored and exhilarated. Happy Gift Giving!
Essentially Innoxa Provides three collections of essential home pamper products for every occasion: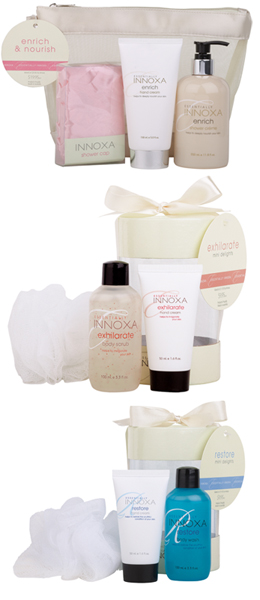 Innoxa Enrich Collection
: is a luxurious range with scents of Cocoa and Shea Butter
Innoxa Enrich and Nourish Pack
This pack includes:
enrich shower crème 350ml
enrich hand cream 150ml
shower cap
reusable mesh bag
RRP$19.95
Innoxa Exhilarate Mini Delights Pack
: exhilarate is a revitalising range with scents ofMoroccan tangerine, melon & bamboo.
This pack includes:
exhilarate body scrub 100ml
exhilarate hand cream 50ml
bath & body sponge
RRP$9.95
Innoxa Restore Mini Delights Pack
: restore is a calm soothing range with scents of Bora Bora & Sweet Almond Oil
This pack includes:
restore body wash 100ml
restore hand cream 50ml
bath & body sponge
RRP$9.95
www.innoxa.com.au