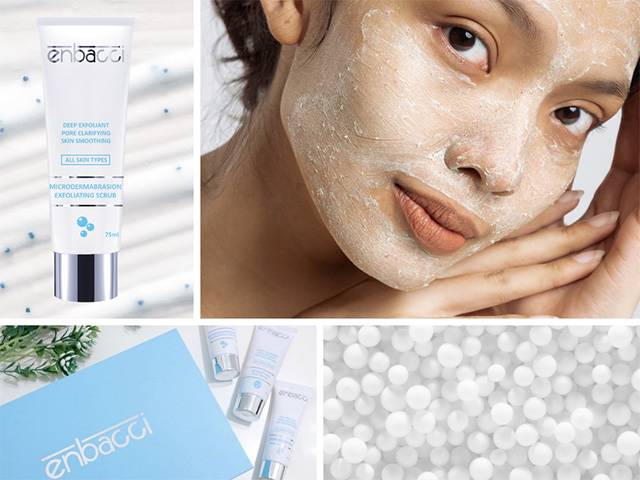 When it comes to exfoliation, chemical options, such as alpha and beta hydroxy acids, are often considered a superior and eco-friendly alternative to physical scrubs for their ability to dislodge dead skin cells and reveal a smoother, more radiant complexion. However, documented studies reveal the potential dangers of acid-based ingredients as consumer misuse is leading to higher counts of skin damage, including irritation, inflammation, and scarring.
Pioneering the future of at-home physical exfoliation, Australian skincare brand, Enbacci, tackles the stigma associated with traditional face scrubs by formulating an ocean-safe and skin-friendly Microdermabrasion Exfoliating Scrub made from a naturally occurring compound called alumina.
Extracted from a sedimentary rock called bauxite and measuring as small as 8 microns, the rounded and densely packed spheres serve as a superior alternative to traditional fruit pits and nut shells, and safely removes dead skin cells without causing micro-tears on the skin's surface. Developed with nature in mind, alumina is non-toxic to wildlife and won't contribute to oceanic waste as reported with more commonly used plastic micro-bead face scrubs.
Formulated at a skin-friendly pH of 4-4.5 and containing a host of naturally derived ingredients including shea butter, glycerine, and vitamin E, this twice-weekly treatment unclogs pores, improves skin smoothness, restores radiance, and prepares the skin for the penetration of other active ingredients. Rich in moisturising humectants, antioxidants, and essential fatty acids, the creamy formula improves skin barrier function while targeting commonly experienced skin concerns such as discolouration, acne, and loss of firmness.