Keep Up Energy Levels Staying At Home
In a new time of social distancing and closure of gyms and sport centres, many people are at home and forced to reconsider the non-essential outings. Even with restricted access and a slower social calendar, we have plenty of options at our disposal to boost our immunity and make sure our energy levels aren't impacted.


Interview with Eloise Wellings, two-time Olympic runner and three-time Commonwealth Games athlete and Ubiquinol ambassador
Question: How are you managing during the COVID-19 self-isolation period?

Eloise Wellings: It's definitely been challenging. I'm sure I'm like a lot of people in that I have days that I feel sad about the whole situation, people hurting all over the world, friends losing jobs and livelihoods. On top of that not being able to hang out and hug the ones closest to us. Then there's also the challenge of home-schooling!!! I do have good days where I feel a lot of hope and a sense of peace that we're all going to come out of this stronger and with a greater sense of appreciation for what really matters most.


Question: What's a typical day like for you, currently?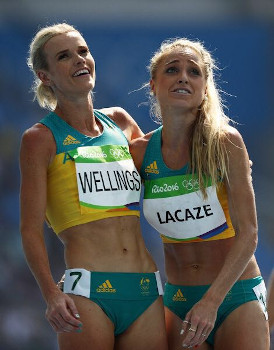 Eloise Wellings: Typical days are really a thing of the past at the moment given the current climate but here is what I did yesterday.
Woke at 6am and feed my 5-month-old boy Sonny.
7:00 Coffee
7:15 Stretch and do mobility exercises before training
7:45 Put Sonny down for a nap and make breakfast for the rest of the family
8:30 Feed Sonny and handover to my husband
9:00 Have a Revvies energy and go training- today was a 17.5km run at an easy pace
10:30 Gym strength session in garage
11:30 Feed Sonny Midday Lunch
12:30 - 4pm Home-school activities/Love Mercy work
4:30 - 20 mins training on lifespan fitness XT-44
6:00pm Dinner time
7:00pm Bath kids
8:30 Netflix and or zoom calls with friends.


Question: How are you maintaining your energy during this period of isolation?

Eloise Wellings: Maintaining a healthy diet is more important than ever to build a strong immune system. Of course, I've been through phases of boredom and stress eating during this uncertain time, it's really normal and human to react this way in a time like this. But for the most part, I have a strong focus on unprocessed foods and good quality complex carbs, which is my main energy source for long distance running, and lean protein like meat and fish to help my muscles recover. Even though I have a pretty well-balanced diet, I also take two supplements to support my body on a cellular level. The first is Ubiquinol, which is the active, more readily absorbed and effective form of CoQ10, which I take daily. Ubiquinol, the active form of Coenzyme Q10, is a potent antioxidant responsible for energy production in each cell of our body and is vital for supporting optimal health and energy levels . It helps with recovery and fights feelings of fatigue. I also take Magnesium on a daily basis which is a great option for inflammation and achy muscles.



Question: How are you continuing to exercise during the COVID-19 self-isolation period?

Eloise Wellings: Given the Olympics has been postponed by 12 Months, we have gone back into a base building phase, which means lots of steady long miles of running. I run on reasonably isolated running paths and maintain social distancing guidelines and also have the option of doing a lot of my weekly mileage from home on my lifespan fitness marathon treadmill.


Question: What can Australians, working from home, do to stay energised?

Eloise Wellings: I would say prioritize exercise somewhere in your day, whether it be an online Pilates class or a brisk walk or jog a couple of time's around the block with some body weight exercises thrown in at the end such as squats and lunges. Doing some form of exercise even if just 20- 30 minutes a day will not only help you physically stay in shape but help you clear your head, relieve stress, be more productive and reduce feelings of anxiety in this time of uncertainty.
Always read the label. Use only as directed. If symptoms persist consult your healthcare professional. www.ubiquinol.net.au


Interview by Brooke Hunter