El Tee Reveals Introspective Single
Californian-Melbournian artist Lauren Tarver has been writing and recording material under the moniker El Tee for a mere 12 months now, but is already building a name for herself amongst Melbourne's thriving indie community. Releasing her debut single 'Hold On' and B-side 'Inside' to a reception of open arms in March 2018, El Tee's distinct textural subtleties have been met with applauded Angel Olsen comparisons and immediate community radio support. Now, she is thrilled to reveal the next anticipated installment with her latest single 'How I Like It'. Set for release Friday 9 August, the new track will be launched with an intimate Melbourne single launch alongside very special guests Bad Bangs and Tamara and the Dreams (solo) this September.

Tinkering with nuanced folk and deeply introspective pop, 'How I Like It' navigates the space between identity, self-fulfillment, love, and loss – threatening the very existence of their distinctions at all. Blurring the lines of storytelling and journaling, El Tee's honest refrains are embedded in warm, nostalgic, and punchy notes that listeners can just as easily be lost in as they can be found. Recorded and mixed by Andrew McEwen, 'How I Like It' is a love song for the self-determined and a breakup song for the sheepish, delivered through a hopelessly sanguine lens that will resonate long after the final strum.

Listen to 'How I Like It' here.

"Coming off the back of a toxic relationship where self-worth was put into the hands of another, 'How I Like It' was written as both a protest against and an acknowledgement of losing yourself to someone else. 'How I Like It' captures the surrender of identity in fear of disapproval and rejection, while holding on to just enough self-respect to voice your needs and desires." – El Tee

Laying her roots in Melbourne, Lauren Tarver is a prolific songwriter and captivating live performer whose bedside lyricism truly takes on a new life on the stage. Alongside her work in local five-piece outfit Club Med, Tarver is known for her narratives that saunter through chilling, intimate moments, and then drive hard and fast straight into the pit of your heart – all within the same few minutes. Now equipped with a four-piece band, El Tee has supported the likes of Ryan Downey and Clea, and has played a string of Melbourne venues and festivals including Leaps and Bounds Music Festival and the inaugural Dancer In The Dark concert series, quietly gathering a wake of dedicated music lovers in tow. Launching her new single Thursday 12 September, El Tee will play a full band show at Melbourne's Gasometer Hotel in the intimate upstairs performance space with Bad Bangs and Tamara and the Dreams (solo).
Come get cosy, just how you like it.

El Tee 'How I Like It' single launch
Thursday 12 September
The Gasometer Upstairs
Doors 8pm
With special guests Bad Bangs, Tamara & the Dreams (solo)
Tickets $10 +BF via http://eventbrite.com.au/e/66088192563



Interview with El Tee
Question: How would you describe your music?

El Tee: Introspective pop, intimate rock; genres aside, I'd compare my music to a metaphoric grab of the shoulders or pat on the back – sometimes jarring, other times gentle, but whichever it is, it's an embrace nonetheless. These days, I tend to write about the duality and contradiction of things " addressing themes such as empowerment and disempowerment, or heartache and recovery. I want my music to be confronting and honest, but also comforting and reassuring.


Question: What inspired the track, How I Like It?

El Tee: Specifically, an incident where a person I had been seeing commented negatively on what I was wearing. It may have been an insignificant moment, but that interaction felt like an accurate snapshot of how felt at that time of my life. I felt shamed by this person, like I wasn't good enough. But looking back I feel more shame in the fact that I would let someone make me feel at all inferior for being authentic. 'How I Like It' is also a nod to any experience where you let someone else be the keeper of your value and worth.


Question: What motivates you most when writing music?

El Tee: The act of writing music itself motivates me. It's cathartic. When I sit down and write, I feel like I'm excavating songs rather than creating them. The songs feel like they're already there, it's just about finding those chord progressions or discovering those bits of melodies. Although I may come with some preconceived ideas, there's an element of uncertainty and discovery in writing. It's exciting to not know what I'll find next.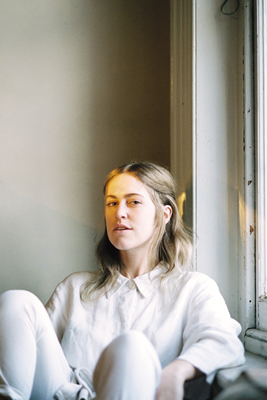 Question: Which music/artists are you currently listening to?

El Tee: I'm a huge supporter and fan of local music – there is so much incredible stuff coming out of Melbourne. Right now, I've been listening to Gena Rose Bruce's debut album, 'Can't Make You Love Me'. It's a really great album - it feels complete and like a really solid, cohesive body of work, both in terms of songwriting and production. Merpire also just released a beautiful new single, 'Habit' and I am hoping to hear more music from her soon. There's just too much good stuff! Besides local stuff, I've been listening to FKA Twigs, Quin Christopherson, and Faye Webster.


Question: Do you prefer performing live or recording?

El Tee: Each strikes a different chord. I enjoy each aspect of making a song and bringing it to life, from its inception, to performing it solo, to recording it, to playing it with the band, and even all the creativity and work that exists around making a song and bringing it to life – artwork, concept, videos, even stage banter. But if I had to choose, I would rather be performing every day of the week than recording.


Question: Which is your favourite song to perform live and why?

El Tee: I always love performing newer songs because frankly, new songs are always the most exciting to me as a songwriter. My new favourite to perform is the new-ish song 'Everything Is Fine' – specifically, I love performing it with the band. It encompasses the two main things I like about the kind of songs I make – being intimate and soft, and also driven and powerful. I also love playing songs that the crowd know and are familiar with, so I'm excited to play our 'How I Like It' now that it's released.


Question: What should we expect from your upcoming shows?

El Tee: A bit more than the audience has experienced before. The 'How I Like It' single launch will be El Tee's first ever headline show, so I'll be able to put a little more into our set. Expect a full band, but also some solo moments. It'll be the full spectrum – from soft vocals to some fast, driven guitar. We also have some great supports – some of my favourite acts in Melbourne at the moment.


Question: If you could have anyone, in the world, attend a show, who would it be?

El Tee: Patti Smith.


Question: What or who was your inspiration to go into the music industry?

El Tee: My inspiration to get into music first came from my love of singing, which began at a very young age. I think that my love of singing has just grown, morphed and developed into a love for songwriting and performing. I've played guitar for many years, but it wasn't until three or four years ago that I ever performed or played music in a band.

What really inspired me to pursue writing and performing as El Tee was an experience I had in late 2016. Just the week before I moved to Melbourne from Paris, I was in the countryside in France recording an EP with my then-band (Gomme). We spent a week there recording at our friends' family farmhouse, cooking together, making music, drinking wine – it was special, and I felt a sense of accomplishment in music for the first time. After that experience, I remember telling myself "I need to do music."


Question: If you could collaborate with another artist, who would it be?

El Tee: Patti Smith or Stevie Nicks, meeting them would be enough, really.


Question: What's a typical day like?

El Tee: At the moment, busy. I do a lot of different things – too much, really. I usually wake up early so I can have some time to myself before the day demands anything of me. I'm currently studying a Master of Social Work, so University and work placement takes up a lot of my time. Between that, paid work, and managing El Tee, my next priorities are seeing my friends and going to bed early enough to get a solid eight hours of sleep. Music always finds its way in there – I will at the very least pick up the guitar every day.


Question: Can you share your socials?

El Tee: @elteeeee/
www.facebook.com/elteemusic/


Interview by Brooke Hunter