Winner of The Voice 2019
Winner of The Voice 2019, Diana Rouvas has added three more dates to her already sold-out winner's run of shows, taking her Live show to Sydney, Melbourne and Brisbane this November. The magnificent vocalist won the hearts of music fans and judges alike this year with her powerful performances. This is a chance to for audiences to see the soulful spirit that took her straight through to the Grand Final and saw the songstress awarded with the top accolade of the acclaimed talent show.

Diana Rouvas is comfortable on the stage and it shows. She has been actively working in the music industry in Australia and overseas for the past two decades. She paid her dues on and off the stage before her well-deserved 2019 win. Her debut original single, Wait For No One, which was released on the show's Grand Final night, is an ode to always going for your dreams, and that is exactly what this talented performer has done, since a very young age.

She was only four when Diana started vocal training. She comes from a musical family and made her onstage debut when she was only little. In fact, she was writing her own material by the time she was eight. When she was 16, she travelled to the United States to work on her songwriting skills and by the time she was 17, she was working as Tina Arena's backing vocalist, touring internationally. She has become one on the most in-demand singers in the industry and has performed alongside some of the country's most well-respected names.

One of the things that sets her apart, is that Diana is not just an incredible vocalist, but also a consummate songwriter. Her sound is an authentic as it is soulful. Her debut single is a testament to that. Audiences attending her Live shows will have the chance to experience these songs – and more, including some of her favourites from her time on The Voice. Throughout the years, many musicians have asked to record her music, but she has saved the songs for her forthcoming debut release.

In 2012, Diana made her first appearance on the first series of The Voice, one of eight contestants in Keith Urban's team. Her return in 2019 to join Boy George's team followed years of hard work for the Sydney-born performer.

A self-confessed perfectionist, she has always lived and breathed music and she felt she was at the right time in her life. It certainly was the right thing to do, and music fans and critics alike can attest that Diana Rouvas is the epitome of what The Voice stands for – a true talent. When not on stage, Diana is currently working on material for her debut album to be released through EMI.

Tickets for Diana Rouvas 'Live' tour are on sale now. Diana's debut single Wait For No One is out now via EMI.

Saturday 9th November 2019
Paddo RSL, PADDINGTON NSW
www.paddorsl.com.au

Thursday 14th November 2019
Memo Music Hall, ST KILDA VIC
www.memomusichall.com.au

Friday 15th November 2019
Old Museum Concert Hall, BRISBANE QLD
www.oldmuseum.org


Interview with Diana Rouvas
Question: Do you prefer performing live or recording?

Diana Rouvas: It used to be the studio but as I have gotten older, the stage has caught up too! The reason for the studio is because it is forever. It's on record, a moment frozen in time; a body of work/art or an audio photograph. Live has caught up because I now recognise its something sacred you share with an audience and I get to connect and deliver my life's work and craft live. Energetically and vocally I have worked hard and I love the challenge of the moment.


Question: What should we expect from your upcoming tour?

Diana Rouvas: Lots of original music and extended versions of the songs I did on the show! Hopefully to have fun, laugh and connect with those who come to share their time with me.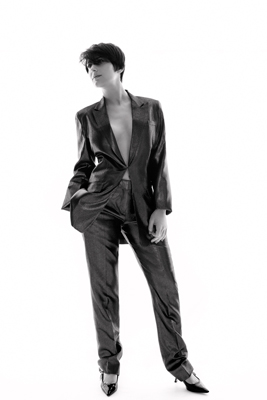 Question: Which is your favourite song to perform live and why?

Diana Rouvas: A Song For You, Donny Hathaway (which I did on The Voice this year, the short version; he is one of my favourite voices of all time. The song is brilliantly written, by Leon Russel. And it's something a singer can sink their teeth into that isn't necessarily a 'love' song, it's a life song; it can resonate on so many different levels.


Question: If you could have anyone, in the world, attend a show, who would it be?

Diana Rouvas: Obviously great artists before us would always be an honour, to learn from them (laughs); "tell me... what can I do better?" But to be honest, I really just love anyone to come who is genuinely there to enjoy and connect; everyone is relevant. You can share, love, connect and learn from everyone. Filling seats with all walks is a great compliment and filling a seat at all is a great honour.


Question: How did it feel to win The Voice?

Diana Rouvas: Shocking! After 20 years in the business, it was a win for many losses and I felt proud mostly as a 35-year-old woman, to stand in my light and to be there, in my prime, winning a TV show. Maybe some of us give up before our time begins. I want to show, you just never know when that is if you remain true to yourself and be resilient.


Question: What did you learn from your time on The Voice?

Diana Rouvas: That I am stronger, wiser and more capable than I thought I was. It was nice journey in self-love for me. Also that my life experience in the industry to date is always going to prove useful (laughs)!


Question: Which music/artists are you currently listening to?

Diana Rouvas: It's been such a busy time I haven't been listening as much as I'd like to! There are some amazing new artists out there and I would love people to send me their favourites to be honest, teach me things I haven't heard.


Question: What or who was your inspiration to go into the music industry?

Diana Rouvas: I don't remember this being a moment as I was so young when I knew in my bones what I came here to do. I started training vocally as a little kid, at 4 or 5 years old and writing when I was 8. I don't remember knowing anything else for me. I didn't know I "wanted to be in the industry" as it is brutal and coming from a musical family I knew this but I simply cannot live without music, simple. It's all I have known for myself.


Question: If you could collaborate with another artist, who would it be?

Diana Rouvas: John Mayer, what a songwriter, guitarist, musician, lyricist and vocalist. I could learn so much and I think we'd jam out big time.


Question: What is the biggest challenge you have faced along the way to your musical success?

Diana Rouvas: Self-belief and keeping your head up through a hurricane of life lessons, ones you will always be grateful for.


Question: What's a typical day like, now?

Diana Rouvas: All over the shop, there are many different aspects to what we do as artists; between the creative aspects, the physical, the vocal, the training that still takes place. And the business and the little things - I could be at a gig one day, studio another, or on my laptop all day doing little things that need doing.


Question: What has been your favourite part of becoming a music artist?

Diana Rouvas: That we get to speak our truth in such a creative way and that others will connect to their truths through listening to you and sharing their company with you in the space of music, it's a great honour.


Question: Can you share your socials?

Diana Rouvas: https://www.facebook.com/dianarouvas/
@dianarouvas

Interview by Brooke Hunter