Blue Light Protection: The Holy Grail Ingredient in Dermaenergy's Moisturisers

Our skin is up against a lot: dehydration, pigmentation, ph imbalance, irritation from sulfates or fragrance, not to underestimate the digital pollution and dangerous exposure to blue light from exacerbated screen-time. Ongoing subjection to blue light pollution from devices has severe consequences for your skin, from hyperpigmentation to redness and early-onset wrinkles.

Overexposure to blue light wreaks havoc on your complexion. To combat this Dermaenergy have developed their trail-blazing blue light protection formula found in all their moisturisers.

Blue light penetrates the skin more deeply than UV light, contributing to inflammation, redness, dull skin and discolouration. Through breaking down collagen production and prolonging oxidative stress, blue light is a contributing factor to premature ageing of the skin.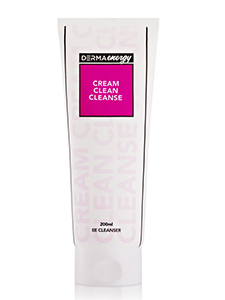 If your skin is crying out out for a soft and gentle cleanse, meet your new saving grace. Cream Clean Cleanse is a decadently creamy cleanser that is perfect for all skin types, especially those prone to sensitivity. Energising your skin, day and night, Cream Clean Cleanser deeply soothes and relieves the skin thanks to ginger, licorice and a nourishing blend of oils.

Rather than just working on the surface, Dermaenergy's aim is to nurture lustrous complexions, for a lifetime, bringing back your skin's bounce factor. Their three blue-light protection moisturisers: Light As A Feather, A Happy Medium and Filthy Rich help to strengthen the skin barrier protecting it from excessive screen time, promoting healthy, hydrated, comfortable skin.

Blue light protection skincare is a simple preventative anti-ageing step you can take each day and we think your skin deserves a drink.

Light As A Feather: A lightweight and energy-enhancing moisturiser for oily or acne prone skin, it is formulated to reduce oil shine and the addition of Silver helps to fight future breakouts. It's the essential hydrator for oilier skin types with a great, lightweight, non-greasy feel.

ACTIVES
● Natural extracts of Mango, Melon & Cucumber for scent
● Silver, an antibacterial agent to help reduce future breakouts.
● Mattifying Complex which absorbs skin oil.

A Happy Medium: An energy-enhancing moisturiser for combination skins, this medium bodied formulation is an everyday. go-to. Water soluble serums are locked in with an oil base to create the perfect, comfortable hydrator for most skin types.

ACTIVES
● Natural extracts of Raspberry and Vanilla for scent.
● Hyaluronic Acid – super skin hydrator.
● AquaRich (2.5%) – reinforces skin's own NMF.
Filthy Rich: This luscious, rich-bodied, oil replacement moisturiser is a perfect product to help replace lost lipids, drenching thirsty skin with moisture, leaving it
feeling soothed and comfortable.

ACTIVES
● Natural extracts of Coconut and Vanilla for scent.
● Hyaluronic Acid – A super skin hydrator.
● AquaRich (5%) – reinforces skin's own NMF.

Dermaenergy is a medical-grade Australian made and owned skincare line aimed at preserving the longevity of skin health. Founded by Cosmetic Chemist, Sean Abel, every Dermaenergy product activates the skin directly at the source through the exclusive combination of their secret Adenosine Triphosphate (ATP) Complex and active ingredients.

ABOUT DERMAENERGY
Dermaenergy is proudly Australian made and owned, it was started by Cosmetic Chemist, Beauty Therapist and Beauty Editor, Sean Abel. Dermaenergy believes in a holistic approach that encompasses and powers up the skin as a whole, rather than applying a single ingredient stimulator that targets just the fibroblast.
dermaenergy.com.au
I can totally get behind the science of this, A Happy Medium smell reminds me of playdough at first but fades quickly. It's light, easy to spread providing you great coverage. Use it on you face, hands and neck area for the most effective results. It's non greasy, and I can feel the coverage without it smothering my skin.