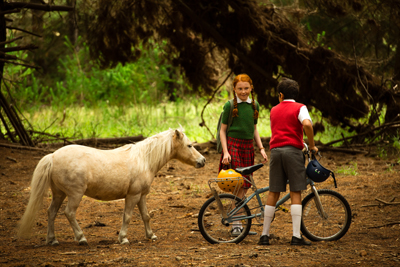 H is for Happiness
The theatrical release of H is for Happiness has been announced with the heartwarming Aussie film coming to cinemas on Thursday, 6th February 2020. Taking out the top prize at CinefestOZ 2019, H is for Happiness, produced by Julie Ryan (Hotel Mumbai, Red Dog), premiered globally at the Melbourne International Film Festival to a standing ovation and roaring reviews.

The feature debut of long-time theatre director, John Sheedy (Mrs McCutcheon), H is for Happiness is led by young Aussie newcomers Daisy Axon and Wesley Pattern, with a stellar supporting cast including Richard Roxburgh (Moulin Rouge, Hawke), Emma Booth (Once Upon a Time) and Joel Jackson (Jungle, The Boy Next Door). Also in the film is Miriam Margoyles, best known for her role as Professor Sprout in the Harry Potter franchise, as well as award-winning actress Deborah Mailman (The Sapphires, Total Control, Offspring), 2019 winner for AACTA's Best Lead Actress in a TV Drama.

Based on the young adult novel My Life as an Alphabet, by Australian author Barry Jonsberg, adapted for the screen by writer/producer Lisa Hoppe, H is for Happiness follows Candice Phee, an unflinchingly honest and optimistic twelve-year-old who is determined to bring her dysfunctional family back from the brink. Her exploits will inspire and delight anyone who has faced the trials of adolescence and the heartbreak of family tragedy.

Set to become an Aussie family favourite, H is for Happiness is a coming of age film that explores themes of first love, family relationships, loss and grief in a truly unique and lighthearted way. H is for Happiness releases in cinemas 6 February, 2020.


Interview with Daisy Axon
Question: Can you tell us about H is for Happiness?

Daisy Axon: H is for Happiness is based on a young adult novel called My Life as an Alphabet by Barry Jonsberg. The story is about 12-year-old Candice Phee who has a unique view of the world and she has a lot of optimism. Candice Phee meets a young boy named Douglas Benson at school who is similar to her and together they try to figure out her family and find happiness.


Question: What made you want to audition for H is for Happiness?

Daisy Axon: I knew My Life as an Alphabet as my sister read the book in primary school and loved it so much she recommended I read it, I loved it too especially because I could relate to the characters. I laughed through My Life as an Alphabet months before the H is for Happiness audition. When the audition email was sent I was gob-smacked that one of my favourite books would be a film that I got a chance to audition for.

It's crazy to think back to a few years ago when I would visit the library to borrow the My Life as an Alphabet book and now I can pick up a copy with my face on the cover!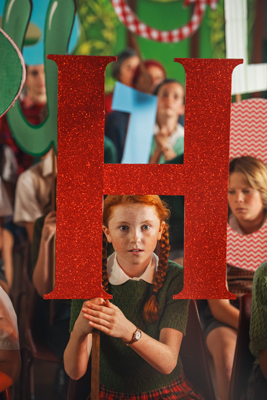 Question: How did you prepare for the role of Candice Phee before filming?

Daisy Axon: The fact I had read the book helped a lot to get into character as the book and film are similar. I knew Candice Phee before the film which allowed me to understand her clearly. I followed a lot of the books direction whilst also allowing myself to present her slightly differently.

I found it easier to get into character, when in costume. Costumes help a lot as when you physically see yourself in a characters costume, that matches the scene, you can get into the characters shoes, easily.


Question: How are you similar to your character, Candice Phee?

Daisy Axon: Candice Phee and I have a lot of similarities as we are both optimistic with a unique view of the world. I was able to relate to Candice when reading the book and filming. I learnt a lot from Candice's vocabulary, too. We are two different people but I feel like I have a bit of Candice, in me, now.


Question: What did you enjoy most about playing the role of Candice Phee?

Daisy Axon: The role of Candice is very unique whilst also a lot to handle as you never know what she will do! I love what she does do because I got to do it throughout filming; for example in the book she jumps off a pier in the hopes her parents will get along with her Uncle to save her in the water and I got to do that during filming. Candice is crazy but very honest, a good honest.


Question: How does it feel when you see yourself on the big screen?

Daisy Axon: I can't describe what it feels like as I never knew I'd be here, in this point of time, doing these amazing things. I will see the film for the seventh time, tomorrow night but I never get bored of H is for Happiness as it is a beautiful film and every single time I see something new. My favourite part about watching H is for Happiness is seeing it with someone new and watching their reaction.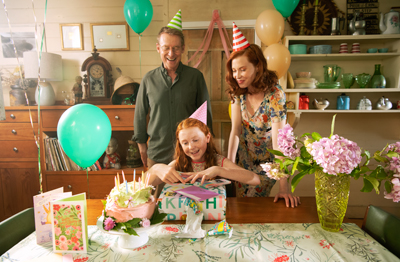 Question: What excites you most about the theatrical release of H is for Happiness?

Daisy Axon: It is crazy to think that H is for Happiness is showing in over 150 cinemas, Australia wide!


Question: What makes you most happy?

Daisy Axon: I enjoy being with my friends and family; I especially missed them during filming. I enjoy playing with my dog, crocheting (a hobby I picked up on set) and riding my bike. I like school and I am thankful how supportive they were when I was filming H is for Happiness. I enjoy school especially this year as I have been able to choose subjects such as sowing.


Question: What's next, for you?

Daisy Axon: I am currently rehearsing for the school music which is Seussical and I play the role of Mrs Mayor, it is so nice to be a part of the production especially because I haven't been involved in a lot of acting or performing since H is for Happiness finished filming.


Interview by Brooke Hunter