Thanks to Warner Bros. Home Entertainment here is your chance to win one of 5 x The Hobbit: The Desolation of Smaug on DVD Double Play.

THE HOBBIT: THE DESOLATION OF SMAUG
A PRODUCTION OF NEW LINE CINEMA AND METRO-GOLDWYN-MAYER PICTURES,
BECOMES AVAILABLE ON BLU-RAYTM 3D, BLU-RAYTM, DVD AND DIGITAL DOWNLOAD FROM APRIL 16th FROM WARNER BROS. HOME ENTERTAINMENT.

Adventures abound as Bilbo, Gandalf and the Company of Dwarves continue their Quest through Middle-earth in 'The Hobbit: The Desolation of Smaug," a production of New Line Cinema and Metro-Goldwyn-Mayer Pictures (MGM), arrives onto Blu-ray 3D, Blu-ray, DVD and digital download from April 16th from Warner Bros. Home Entertainment. 'The Hobbit: The Desolation of Smaug," the second in a trilogy of films adapting the enduringly popular masterpiece The Hobbit, is directed by Academy Award®-winning filmmaker Peter Jackson, who also produces together with Carolynne Cunningham, Zane Weiner and Fran Walsh.

SYNOPSIS

'The Hobbit: The Desolation of Smaug" continues the adventure of the title character Bilbo Baggins as he journeys with the Wizard Gandalf and thirteen Dwarves, led by Thorin Oakenshield, on an epic quest to reclaim the Lonely Mountain and the lost Dwarf Kingdom of Erebor.

Having survived the beginning of their unexpected journey, the Company travels East, encountering along the way skin-changer Beorn and a swarm of giant Spiders in the treacherous forest of Mirkwood. After escaping capture by the dangerous Wood-elves, the Dwarves journey to Lake-town, and finally to the Lonely Mountain itself, where they must face the greatest danger of all–a creature more terrifying than any other; one which will test not only the depth of their courage but the limits of their friendship and the wisdom of the journey itself–The Dragon Smaug.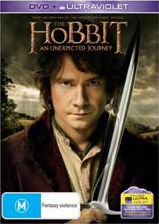 Special features:
New Zealand: Home of Middle-earth, Part 2 – Travel with Peter Jackson and his team across the stunning locations of New Zealand transformed by the filmmakers into Middle-earth

The Hobbit: The Desolation of Smaug
RRP: $39.95
Rating: M
Running Time: 154 mins