Win a Smooch VIP Ambassador card entitling you to a year's supply of Smooch Frozen Yoghurt valued at $1500.
FANCY A FREE SMOOCH EVERY DAY FOR A YEAR?


Start 2011in style and celebrate the summer sun, sea and sand with afree, daily SMOOCH on iconic Bondi Beach.
We've teamed up with brand new frozen yoghurt bar, SMOOCH in Bondi Beach, to offer one lucky reader the chance to win a VIP Ambassador card. As a SMOOCH VIP Ambassador, the lucky winner will be entitled to a free SMOOCH frozen yoghurt or signature waffle on a stick, every single day for a whole year with just a simple flash of their card!
SMOOCH Frozen Yoghurt will leave your tastebuds begging for more and with this fantastic prize, your wish is our command! A SMOOCH VIP Ambassador card is worth a massive $1,500.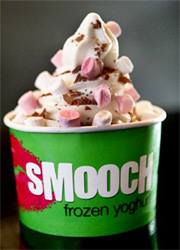 Leave no flavour untried and satisfy your every whim, 365 days in a row. Each day will bring a different tantalising experience as you indulge in thehuge selection available, including yummy original, chocolate, apple pie, mango, coffee, hazelnut, tiramisu, strawberry, banana, passionfruit, raspberry, mint, cookies and cream, white chocolate, coconut, lychee, pina colada to name but a few. With a treasure trove of tasty toppings you can create the exact combination to tickle your fancy, plus at 98% fat free, a SMOOCH frozen yoghurt is the perfect healthy treat too.
SMOOCH is open daily, from 9am - 10.30pm, 11pm at weekends. Visit SMOOCH at Shop 2, 40 Hall Street Bondi Beach, for the best that Bondi has to offer.