Thanks to Mattel Toys and their support of the National Breat Cancer Foundation, here is your chance to win one of 5 limited edition Pink Scrabble Boards.
Scrabble gets on board for breast cancer
Just as every dollar raised counts towards finding a cure for breast cancer, now every word counts too. After its incredibly popular release in 2007, iconic board game Scrabble returns in pink to assist in the fundraising effort for breast cancer research- a disease which will affect one in 13 Australian women by the age of 75 years.
Mattel has donated in excess of $260,000 towards vital research aimed at finding a cure, courtesy of the Pink Scrabble release in Australia and the UK. The inaugural release of Pink Scrabble in 2007 in Australia saw the limited edition run off shelves, selling out in a matter of months.
From the board, to the letters, the stands and the box, Pink Scrabble encourages you to think, and to think pink. Whilst you're searching for triple word scores, researches are searching for a cure. Breast cancer is expected to affect almost 13,700 people this year alone.
One of the most played board games all over the world, the creation of Pink Scrabble seemed fitting for Mattel with research showing that many women recovering in hospital play Scrabble each day.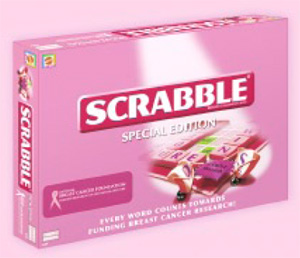 "For more than 70 years, Scrabble has been encouraging healthy minds. Pink Scrabble aims to take that one step further in helping to aid full body health, joining the fight against the most prevalent cancer in women today," explained Meagan Reay, Marketing Director at Mattel.
"We're incredibly proud of our support of breast cancer treatment and research in Australia, and applaud the absolutely incredible work done by the team at the National Breast Cancer Foundation."
Pink Scrabble is a limited edition release.
RRP of $54.99
Available in October from leading toy stores including Big W, Target, Kmart, Toys R Us and Myer.