Starring: Marion Cotillard (Big Fish, A very long Engagement), Gérard Depardieu (Tais-toi!, Green Card), Jean-Paul Rouve (A very long Engagement, Monsieur Batignole)

Director: Olivier Dahan
Genre: Drama
Rating: TBC
Running: Time: 140 minutes

Synopsis:
From the slums of Paris to the limelight of New York, Edith Piafs life was a battle to sing and survive, live and love. Raised in poverty, Ediths magical voice and her passionate romances and friendships with the greatest names of the period - Yves Montand, Jean Cocteau, Charles Aznavour, Marlene Dietrich, Marcel Cerdan and others- made her a star all around the world. But in her audacious attempt to tame her tragic destiny, the Little Sparrow - her nickname - flew so high she could not fail to burn her wings.

In Cinemas 12th July

www.iconmovies.com.au/lavieenrose/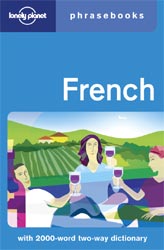 Lonely Planet's French Phrasebook

Phrasebook in hand, bus ticket secured, you discover the bus driver shares your passion for Monet and fromage. He invited you to meet his family over a long lunch - another language-inspired success.

extensive two-way dictionary & user-friendly sentence builder

pronunciation for every word

how to have fun with the French: food, wine and romance

travelling basics: transport, health and shopping

useful culinary dictionary for exploring gourmet options
RRP $11.95


Thanks to Icon Films and the release of La Vie En Rose, 4 lucky winners will run double passes to La Vie En Rose & a 'Lonely Planet's French Phrasebook ' book.
Plus 16 runners up will win double movie passes.
This competition is now closed