Christina Turner Mindful Eating Retreat Interview
In an Australian first, a luxury mindful eating retreat is being launched 13th - 16th October in Byron Bay, NSW.

Founded by a local nutrition counselling service, SOL health retreats offer participants the chance to explore their relationship with food without the need for restrictive diets all whilst having a well - deserved luxury break. Based on a foundation of mindfulness or 'being in the moment", retreat guests will learn meditation, yoga, mindful eating practices, mindful movement and ways to incorporate them into everyday life.

'Over the years there has been way too much focus on diets and quick-fixes. For many years we have watched clients struggle with weight loss diets. Not because they don't have the nutrition knowledge on what is healthy. It's because for many of us, focusing on specific foods and how much of them to eat just doesn't work. What diets don't -fix' is the reasons we eat. The great news is Mindfulness can help", said Christina Turner, Accredited Practising Dietitian from SOL nutrition.

The all-inclusive 4 day SOL health retreat includes airport transfers, luxury accommodation, all gourmet meals and workshops, daily yoga and meditation, pampering spa treatments and mindfulness take-home gifts.

Places are limited so it is advised to book early to avoid disappointment. Bookings can be made directly by ph: 0421 256 495 or web: Eventbrite. For more information on the retreat program visit www.solnutrition.com.au



Interview with Christina Turner, Accredited Practising Dietitian & Nutritionist
Question: What is mindful eating?

Christina Turner: Mindful eating is -eating with awareness'. It's not so much about what we eat but more about the how, when, where and why we eat.


Question: Why do diets not work?

Christina Turner: Being on a diet is a very physically difficult state for our bodies to be in. When we are on a diet we struggle to take in enough nutrients and start to seek and think about food more and more and well….the diet goes out the window!

On a side note, most people don't function too well and when told what to do and so being on a doesn't tend to last too long! In fact 95% of people who have been on a diet for weight loss will have regained the weight (and often more) within 1-5 years.


Question: How can we achieve mindful eating?

Christina Turner: Aaah. Where do I start?! There are so many strategies that make up mindful eating. I guess the core philosophy is basing our meals and snacks on the physical cues our body gives us rather than the emotional cues.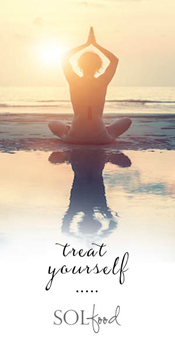 Question: How does mindful eating eliminate the need for restrictive diets?

Christina Turner: Mindful eating enables to learn to eat intuitively by learning to listen to our hunger, fullness and how satisfied from foods we are. This helps us to eat the 'right" amount of food for us without being on a structured meal plan.


Question: How does meditation and yoga work alongside mindful eating?

Christina Turner: Meditation and yoga are both awesome mindfulness practices. Mindfulness helps us to slow down, pause and learn to respond (not react) to unhelpful situations in our lives. When it comes to food, mindfulness helps to slow down and be totally 'in the moment" when we eat; making eating choices that are best for us at the time. A lot of the research also shows people who practice mindfulness are better able to manage stress, anxiety, depression and poor body image. As we know, a lot of us eat due to emotional reasons and so it's great meditation and yoga can actually help us with that.


Question: How can we incorporate mindful eating techniques into everyday life?

Christina Turner: There are some simple things we can start to do to begin eating mindfully straight away. The first thing is starting to eat our meals slowly. This helps us to pay more attention to when we are physically full. We can also cut out a lot of distractions when we eat. (like TV, phones and computers). Reducing unnecessary distractions helps to really give our full attention to our meals so we don't revert to eating in -auto-pilot'.


Question: Why did you choose to run the retreat in Byron Bay?

Christina Turner: Our nutrition practice is based in Byron Bay. We have had a ton of success with our local mindful eating courses and working 1:1 with clients. So we wanted to offer it for those lovely folks who live away and truly need a break to reconnect with themselves. And what a beautiful part of Australia! The landscape and climate is amazing for anyone who wants to get away from it all and simply chill out.


Question: What types of activities will be run for participants of the retreat?

Christina Turner: Each day starts with a beautiful meditation following by a yoga session with our retreat counsellor and Yogi, Fern. We then have 2-3 daily workshops centred on mindful eating practice skills along with chances to explore mindful movement.

Every afternoon our retreat guests can unwind by the pool or ocean and get some serious pampering like massage or spa treatments.

Being a mindful eating retreat we also get to enjoy some simply delicious local food at each and every meal. We actually visit quite a few of Byron's finest dining venues!


Question: What do you hope participants achieve from the mindful eating retreat?

Christina Turner: Above all, we want our retreat guests to go home re-energised and reconnected with nature, their body and mind. The retreat is also very practical in that we teach mindfulness strategies participants can actually incorporate back into their own lives once they get home.


Question: What other retreats does SOL health retreats run?

Christina Turner: We also run individually tailored workplace getaways and health retreats for people with specific health conditions like Diabetes and Irritable Bowel Syndrome (IBS).


Interview by Brooke Hunter