We Need To Talk About A.I
Film Producer Charlotte Larsen might be from Down Under but she's quickly rising to the top. The New Zealand born and Los Angeles based producer and actress is best known for her work as an Executive Producer for the NZ hit series "Auckward Love" (2015-present), as well as the popular films "Gloria" (2014) and "Great Expectations" (2012). Charlotte recently moved to LA to further expand her multi-faceted and enticing roster of films. With her unique palette for work that goes beyond the depths of just entertainment for the sake of entertainment, Charlotte yearns to generate a more meaningful message within her filmography as both a producer and actress. Her upcoming projects include the 1980's Australian sitcom "Legends," detective web series "Square Brains," and documentary "We Need To Talk About A.I".

Born in NZ but raised in English countryside, Charlotte eventually returned to NZ for college and gained a BA in Film and Theater. She then moved to LA for the first time to study at both USC's Producing and Directing Program and NY Film Academy's Acting Program. After graduating she moved back to NZ and began her own production company, Random Films, which expanded into the Random Groups of companies in NZ and the US. Continuing her passion, she created the Emerging Artists Trust in NZ, where she mentored emerging artists in film, theater and visual arts, as well as gifting small grants to emerging artists in these areas. Charlotte moved back to LA in 2011 to further advance her acting career, while still working as a Producer. While there, she attended the Stella Adler Academy of Acting, where she now sits on the Advisory Board having set up a scholarship for NZ students to study at the school.

Over the course of her career, Charlotte has been an Executive Producer for several films/series such as "Bella," "Born To Dance" (2015), "Orphans & Kingdoms" (2014), "Gloria" (2014), "Great Expectations" (2012), "Legends" (2018), "Born Racer" (2018), "Human Tracers" (2017), "Beyond the Known World" (2017), and the list goes on. She has worked as both an actress and a producer in the U.S., UK, NZ and Mexico. Charlotte enjoys getting to work on both sides of the camera, and input her worldly and creative twists on each. She is currently a member of the National Association of Professional Women, Women in Film and Television (WIFI NZ), Screen Producers and Directors Association (SPADA, NZ) and Australians in Film. She is additionally a member of SAG-AFTRA in Los Angeles, where she currently still resides.
Interview with Charlotte Larsen
Question: What originally inspired your passion for the film industry?

Charlotte Larsen: Being in the arts runs in my family! One aunt was a ballet dancer and one is an art dealer. I did theatre at school so I guess artsy genes and getting to be involved at an early age was what started it all!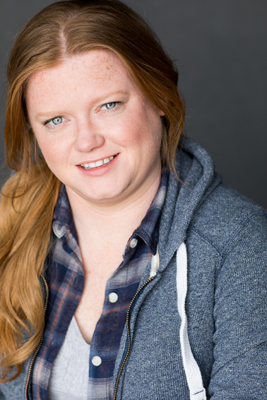 Question: You currently live in LA; what do you miss most from home?

Charlotte Larsen: Vogels toast and marmite, my friends and family and the fact that you can walk everywhere!


Question: What message do you hope to spread with your recent documentary We Need To Talk About A.I?

Charlotte Larsen: I can't say too much about it at the moment but I hope that it will get people thinking about A.I, society and life in general.


Question: Can you tell us about Legends?

Charlotte Larsen: 'Legends' is a 1980's sitcom set in Melbourne. It's a very funny take looking at three main guys who are reminiscing on their high school years. We shot the pilot and are now looking to go to series.


Question: What advice do you have for other aspiring film producers?

Charlotte Larsen: Be patient, work hard and get some sleep!


Question: What has been the biggest career challenged you've had to overcome?

Charlotte Larsen: Starting out, the biggest challenge was trying to get taken seriously, trying to get work because when you are fresh faced with not much work behind you people need to know who you are and what you can do. Trying to prove that can be very challenging!


Question: What's a typical day like, for you?

Charlotte Larsen: I don't have a typical day! My days can involve a lot of emails, the gym, phone calls, meetings and reading scripts and contracts. If I'm in production there's all the things that need to happen on set, which means I'm there making sure things go smoothly! Every day is different, which is what I love about what I do.


Question: What's next, for you?

Charlotte Larsen: I'm working on producing an Italian immigrant mini-series, and a few more potential acting and producing projects I hope to get off the ground!


Interview by Brooke Hunter