Caitlin Reid Papaya and Papaw Interview
Aussies are being inspired to take the pledge of healthy eating starting with red papaya and yellow papaw. Consuming these sweet, nutrient-rich fruits can have life-long benefits for one's digestive and immune wellbeing as well as skin hydration.

Leading Australian dietitian, Caitlin Reid, has partnered with local red papaya and yellow papaw growers to educate the public of the positive health effects of eating these two fruits.

'Red papaya and yellow papaw are loaded with inspired goodness. Eating them makes it easy to deliver essential nutrients to you and your family, plus, they are naturally low in energy (kJ) and fat," Reid explains.

Reid advises that red papaya and yellow papaw naturally contain a unique bundle of antioxidants including vitamin C and carotenoids, that can help bolster your body's defences. She explains that one cup of diced red papaya or yellow papaw provides more than twice adults recommended dietary intake for vitamin C, and nearly a third of vitamin A. Reid adds that they are also a good source of fibre, which helps with digestive balance and keeps you feeling fuller, longer.

'Your skin will thank you this summer after consuming these fruits because the nutrients within red papaya and yellow papaw can assist with skin elasticity, and the formation and repair of skin cells. Plus they have a naturally high water content, which helps keep your skin glowing and you hydrated," Reid insists.

'Red papaya and yellow papaw are also ideal for expecting mums as they contain folate, which is essential for normal cell division and growth in pregnancy," Reid states.

'With a soft texture, these fruits are a great addition for babies aged six to 12 months, who are getting their first introduction to solids. They can also chew on slices as a snack to soothe teething pains," Reid states.

'Red papaya and yellow papaw are everyday fruits, easy to keep on hand and quick to mix into meals. I can easily add them to any dish, from a simple snack of Papaya and Coconut Muffins to an elegant light lunch of Prawn, Avocado and Papaw Salad," Reid states.

To help Australians set good habits, Caitlin Reid has created three new recipes that are sure to inspire goodness:
Salmon with Papaya Salsa
Papaya and Coconut Muffins
Prawn, Avocado and Papaw Salad

'Red papaya and yellow papaw's year-round availability means you won't be caught short when your favourite recipes call for it. Any time of year, you can add a splash of summer to your meals by complimenting the rich flavour of salmon with a fresh red papaya salsa," Reid continues.

Red papaya and yellow papaw are predominately grown in the warmer tropical climates of Far North Queensland areas of Tully, Innisfail to Mosman, and Mareeba with new plantings in Lakeland as well as in the Northern Territories and Western Australia.

Daniel Mackay, a red papaya and yellow papaw grower, advises that people often mistake red papaya and yellow papaw as the same fruit, however they are quite different in taste and physical appearance.

'Red papaya is pear shaped with yellow-orange coloured skin and orange-red flesh. Not to be confused with yellow papaw which is larger, and has less of a sweet taste, with distinct yellow flesh and pale orange skin," MacKay explains.

'If fruit is ripe it will give slightly when pressed near the stem. Select fruits with a yellow-green skin and allow them to ripen for a few days at room temperature before cutting. If you are going to eat them straight away, choose fruit that is soft to touch with almost completely yellow skin and store them in the fridge," he says.

Red papaya and yellow papaw need to be handled carefully as they're fragile and will bruise easily. Despite some dark spots or blemishes on the skin, the fruit is still of great eating quality. If you are unsure, ask the produce staff to help you with picking up the fruit next time you are in store.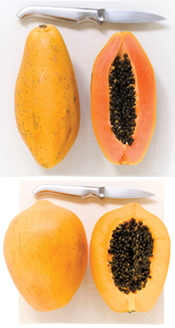 Selection and Storage
Ripe papaya and papaw will yield to pressure around the stem, similar to avocados and pears.

Dark spots or blemishes, do not necessarily mean that the fruit is of poor quality. Red papaya and yellow papaw are fragile fruits that need to be handled carefully to prevent bruising.

Choose red papayas and yellow papaw that are slightly soft to touch with skin that is almost completely yellow if you plan to eat them straight away and store them in the fridge.

If you choose not to eat them straight away, select fruits with a yellow to green skin and allow them to ripen at room temperature for a few days before cutting.

Characteristics
Red papaya
Orange-red flesh
Often pear shaped
Often yellow-orange coloured skin
Sweet flavour

Yellow papaw
Distinct yellow flesh
Often rounder and larger than Red Papaya
Often pale orange skin
Less sweet than Red Papaya

Preparing and serving
Red papayas and yellow papaw are often sliced and eaten on their own, and can be drizzled with fresh lime or lemon for extra flavour. Skin is always removed before consumption.

Red papayas and yellow papaw are also perfect as ingredients in a variety of sweet and savoury recipes.


Papaya and Coconut Muffins
Serves 12
Preparation Time: 10 minutes
Cooking Time: 20 minutes

Ingredients
2 cups wholemeal self-raising flour
½ cup shredded coconut, plus extra to top muffins
1 cup papaya, peeled, deseeded and mashed
¼ cup papaya, peeled, deseeded and finely diced (for decoration)
1 large egg, whisked
2 tbsp butter
½ cup honey

Method
Pre-heat oven to 180oC.
Over a low heat, heat butter on stove until melted. Allow to cool.
Combine flour and coconut in a large bowl and mix.
In a separate bowl, combine mashed papaya, egg, melted butter, honey and mix well. Add papaya mixture to flour and coconut bowl and mix well.
Place muffin cases into a standard muffin tin and spoon a heaped tablespoon of mixture into each one.
Bake for 20 minutes or until a skewer inserted into the middle comes out clean.
Cool for 10 minutes before removing from the muffin tin.
Top with extra shredded coconut and finely diced papaya.



Prawn, Avocado and Papaw Salad
Serves 4
Preparation time: 25 minutes
Cooking time: 15 minutes

Ingredients
1 red capsicum, cut into quarters, deseeded and membranes removed
2 avocados, diced
½ papaw, peeled, deseeded and diced
3 tbsp coriander, thinly sliced
2 tbsp olive oil
16 green prawns, peeled, deveined, tails left intact

Method
Place capsicum pieces under grill and cook until skins turn black. Remove from grill and allow to cool. When cold, peel blackened skins and finely dice.
Mix grilled capsicum, papaw, avocado, coriander and 1 tablespoon of olive oil in a bowl to make the salad.
Heat fry pan and add remaining oil. Cook prawns until golden on one side and then turn and finishing cooking.
Place papaw salad in the middle of the plate to create a bed for the prawns. Repeat with three other serving plates.
Place four prawns on top of each salad. Season to taste.



Salmon With Papaya Salsa
Serves 4
Preparation time: 5 minutes
Cooking time: 30 minutes Ingredients
2 avocados, diced
2 cups papaya, peeled, deseeded and diced
150g cherry tomatoes, quartered
1¼ cups brown rice
Olive oil
4 x salmon fillets

Method
Combine avocado, papaya and cherry tomatoes in a bowl and set aside.
Heat fry pan and add oil. Cook salmon skin-side down for 4-5 minutes before turning and cooking for about 4 minutes or until still slightly pink in the centre.
Meanwhile, cook brown rice in rice cooker or according to the directions on the packet.
Serve salmon on top of brown rice and top with salsa. Season to taste.


For more inspiring recipes and information about red papaya and yellow papaw visit www.australianpapaya.com.au and www.facebook.com/papayaaustralia

Share using #aussiepapayapapaw


Interview with Caitlin Reid
Caitlin Reid is an Accredited Practising Dietitian (APD) and an Accredited Exercise Physiologist.

Reid's areas of expertise are in healthy eating, fitness, weight loss, lifestyle management, sports nutrition and chronic disease management including type 2 diabetes, heart disease and osteoporosis.

She has written numerous articles for Healthy Food Guide magazine, Good Health magazine, Women's Health magazine, Weight Watchers magazine, Sydney Morning Herald, House & Garden and the Ninemsn website. Reid has also appeared on Kerri-Anne, TNT, A Current Affair, Today Tonight and Swish TV, ABC, 2GB, 2UE, Pulse FM and 4CC. Reid also has her own blog Flat Out & Still Fabulous. Reid is the founder of Health & the City, a company designed specifically to empower people to achieve healthier, happier and more fulfilling lives. As a mother with a keen interest in getting the most out of life, Reid has a strong understanding of how hard it is to juggle career goals, family and friends, a relationship and personal development, all while trying to make health a priority in life.

As a regular presenter on health, Reid inspires Australians to achieve the elusive work-life balance. Her passion for a healthy and fun lifestyle shines through in all of her work.

Qualifications and Memberships:
Bachelor of Nutrition and Dietetics at Deakin University
Bachelor of Applied Science (Health Science) majoring in Exercise Science at Deakin University
ISAK Level 1 Anthropometrist
Member of Dietitian Association of Australia
Member of Sports Dietitians Australia
Member of Exercise & Sports Science Australia
First Aid

caitlinreid.com.au/


Question: What inspired your papaya and papaw recipes?

Caitlin Reid: We were looking for recipes that brought out the delicious taste of red papaya and yellow pawpaw as well as the versatility. The recipes were designed to be quick and easy so everyone can make and enjoy them, particularly after a long day at work.


Question: What do you love about papaya and papaw?

Caitlin Reid: What's not to love! Red papaya and yellow pawpaw are available all year round and are so versatile, being the perfect addition to your favourite savoury or sweet dishes. They are also packed full of nutrients including Vitamin C, Vitamin A, folate and fibre.


Question: What nutritional benefits do papaya and papaw have?

Caitlin Reid: Red papaya and yellow pawpaw contain a unique bundle of antioxidants including vitamin C and carotenoids, that can help bolster the body's defences and assist with skin elasticity, as well as form and repair skin cells. They are also a good source of fibre, which helps with digestive balance and keeps you feeling fuller for longer. Red papaya and yellow pawpaw are also an ideal choice for expectant mums as they contain folate, which is essential for normal cell division and growth in pregnancy.


Question: How do you store your fruits?

Caitlin Reid: Red papaya and yellow pawpaw that are completely yellow, are ready to eat and should be stored in the fridge. If they have a yellow to green skin, allow them to ripen at room temperature for a few days before eating.


Question: What are your top tips for a healthier 2015?

Caitlin Reid: - Slow down - take time out for you.
- Nourish your body with delicious wholefoods so you look and feel fantastic.
- Sweat at least once a day.
- Practice yoga for a healthier body and mind.
- Live in the moment.


Question: What's a typical day's diet, for you?

Caitlin Reid: Breakfast: homemade muesli with Greek yoghurt, berries and skim milk with a green or peppermint tea
Morning snack: skim latte and banana
Lunch: Roasted vegetable, chicken and quinoa or brown rice salad OR leftovers
Afternoon tea: nuts and a piece of fruit
Dinner: Grilled Salmon with papaya and avocado salsa served with steamed vegetables
Piece of dark chocolate


Question: What food goals should we set, to ensure a healthier 2015?

Caitlin Reid: - Get organised - plan your meals for the week, set time to shop and keep your kitchen full of nutritious foods.
- Switch to more wholefoods and reduce the amount of processed, nutrient-poor food you eat.
- Sit down to eat. Make meal time a priority and make 2015 the year you stop eating at your desk, in the car, as you walk or on the couch in front of the television. Becoming more mindful with food will ensure you eat only what you need.
- Try something new. We're creatures of habit so we tend to eat the same foods, so aim to enjoy a new food or dish every week or so.


Question: How much water should we be drinking and how does Summer change this?

Caitlin Reid: According to the Nutrient Reference Values (NRV), women need about 8 cups of fluid a day (or 2.1L) while men need about 10 cups (or 2.6L). This fluid is from plain water, milk and other fluids. In summer, we may need more than this if we are sweating a lot and/or physically active. Drinking consistently through the day and replacing any fluid loses (from sweating or bathroom breaks) will help to maintain your hydration during summer.


Interview by Brooke Hunter