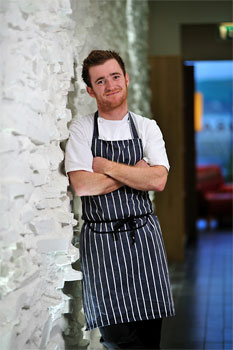 Born to Cook: Jack Stein Down Under
Jack Stein was born to cook and he's ready to prove it in Food Network Australia's upcoming original series, Born to Cook: Jack Stein Down Under, which will see the charming chef from Cornwall explore the culinary paradise that is Australia's South-West.
Jack is the young chef at the helm of the generation of Brits shaking up the restaurant scene. Quick, friendly and ever-so self-deprecatingly British, Jack has recently taken charge of the nine restaurants under the Stein brand conceived by his celebrity chef father Rick Stein.
The four-part factual series was filmed while Jack and his dad were in Margaret River for the annual pilgrimage to Gourmet Escape. With the weight of a restaurant empire behind him, Jack is on a mission to find fresh inspiration and unique ingredients from around the world, starting with South-Western Australia.
Reflecting on filming Born to Cook in Australia, Jack says 'Over time, and after spending time in different restaurants all over the world, I've realised that my core philosophy is that food should be produce driven, and that's what Western Australia is all about, simplicity and showcasing the ingredients. But what I really love about Australian producers in this region is that they don't let their work get in the way of their surfing!"
Jack visits producers in Augusta, Margaret River, Manjimup and Pemberton throughout the series. He is fascinated by the magnetic pull that the Margaret River region has over not only the chefs and food-personalities that return to Margaret River Gourmet Escape year after year, but the food producers that have come from all over the world to lay down roots in the region and develop their own methods of cultivation.
Back in the kitchen, Jack uses his skills to adapt local ingredients into dishes that reflect the different cultures he has experienced throughout his career. So, at the end of each adventure, the producers bring a slice of their farm to Jack's kitchen to inspire him to create a dish fit for his London kitchens, or simply to break bread with new friends. Throughout the series, Jack cooks with an exciting range of local ingredients from rock lobster to venison, saffron to truffles, and finger lime to figs.
Born to Cook: Jack Stein Down Under is a humour-driven philosophical feast of exciting natural produce, and an exploration of the unorthodox ways in which a rising tide of back-to-the-land food producers are working with restaurateurs to create a shift in the landscape of food consumption.
Born to Cook: Jack Stein Down Under will air Wednesday nights at 7.30pm and 8.00pm from June 28 on Food Network Australia (Channel 33).