Blackmores Dr Joanna McMillan Interview
Australia's most trusted vitamin and supplement company, Blackmores, has opened its first Australian flagship store at Westfield Bondi Junction.

The innovative flagship store will offer the complete wellbeing experience with rooms for private consultations with qualified naturopaths, a modern -Mindful Ocean' system to assess mindfulness, the Wellbeing Bar for food and drink tasting as well as offering the comprehensive Blackmores product range.

'As the most trusted name in vitamin and supplements, Blackmores aims to provide evidence based information about natural health care to our consumers," said Mr David Fenlon, Managing Director, Blackmores Australia and New Zealand.

'Our new flagship store will provide a personalised experience for our customers to take control of and further invest in their health. We know there is a lot of confusing information out there which is why we want to personally help Australians on their journey to wellbeing through advice and education."

'Featuring human, digital and tactile experiences the new flagship store is a unique prototype that takes retail into a new health space, offering the next-gen of interactive retailing whereby consumers are treated to an integrated offering of service and product."

One of the hero features of the flagship store is the -Mindful Ocean', designed in consultation with scientists at Swinburne University of Technology.

Using sensors that detect brain activity, the -Mindful Ocean' will provide a four-minute personalised session showcasing how the mind interacts between levels of relaxation and calm verses active thinking.

'The -Mindful Ocean' gives consumers the opportunity to assess their ability to find mindfulness, and as a result, begin to take control of their cognitive wellbeing," Mr Fenlon said.

The Blackmores Flagship Store will also feature zones for personalised conversations and advice, including an interactive B Bottle activation with weekly wellbeing questions for customers to physically answer, and Wellbeing Bar for customers to sample food products, starting with the newly launched Blackmores' Superfoods range.

The store will be staffed by qualified naturopaths and will provide an opportunity for customers to seek evidence based information, and book a 20 or 45 minute private consultations. The store layout is changeable and can also be used for health seminars, workshops and small yoga classes.

The Blackmores Flagship Store will be located on Level 5 of Westfield Bondi Junction, next door to Target.
www.blackmores.com.au



Interview with Dr Joanna McMillan
Question: Can you talk about the importance of personal health?

Dr Joanna McMillan: We know more and more about individual differences in health, and while there are key foundations that are important for us all, we can make our diets and lifestyles personalised to suit us best. It's so important that we do what's right for our own bodies, and not for others, because everyone is completely different.

I think the area of individualised nutrition and healthy living will grow. Genetic testing is becoming more common place, as are tests for allergies and intolerances, individual beliefs and so on. We can build on this and stop trying to give a generic one size fits all approach.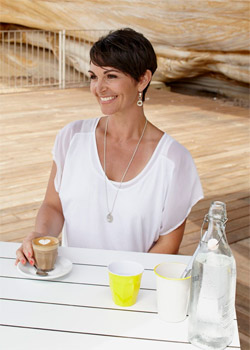 Question: What have you committed to in 2016 to ensure your best personal health?

Dr Joanna McMillan: My non-negotiables this year are exercise, eating real whole foods, including plenty of plant food, and finding joy in living a healthy lifestyle, which means including social time with family and friends.


Question: What do you like most about the Blackmores Flagship Store?

Dr Joanna McMillan: Blackmores have rolled out a fantastic piece of technology to assess levels of mindfulness – -The Mindful Ocean'. It's a headpiece that monitors your brain waves to detect your mindfulness and is a great way of encouraging people to slow down and pay more attention to their body.


Question: How important is ensuring we are buying the right health products, for us?

Dr Joanna McMillan: Variety is key, so in fact rather than eating the same old things day in day out, mix up what you have. It's not so much about buying the -right health products' but rather aiming for a minimum of 5 different vegies and including green leafy ones every day, a couple of pieces of fruit, 2-3 serves of dairy (or for those dairy free choose a calcium rich alternative). Also, choose seafood at least twice a week and more if possible, include at least one serve of legumes a week, choose fresh good quality meats over processed meat, and have a handful of nuts every day.


Question: Which Blackmore's products are your favourite?

Dr Joanna McMillan: I'm loving the new Blackmores Superfood range at the moment – these convenient powders are the perfect addition to any smoothie, yoghurt, porridge!


Question: What's a typical morning's routine, for you?

Dr Joanna McMillan: I really don't have a typical day and that's one of the things I love about my work! Exercise wise two mornings a week a friend and I train with our PT, I always find time for a brisk long walk with my dog and I try to fit in one yoga class in the week. I'd like to do more yoga but the week always gets away from me. Then I make lunches for my kids, eating my breakfast while I do that - the kids sit up at the kitchen bench to eat theirs. Then I get them off to school. My day then is either at my desk writing, heading out to meetings, shooting videos, presenting a TV segment, working on recipe development in the kitchen or traveling to deliver keynote presentations at conferences and events. The end of my day is almost always a family dinner around the table.


Question: Do you have a breakfast recipe, to share?

Dr Joanna McMillan: Coconut Nature Boost Smoothie
Blackmores Coconut Water + Nature Boost 1 teaspoon.
Frozen raspberry - 25g
Frozen banana - 1x frozen banana
Yogurt - 2 table spoons
Water - 200ml
Almond Milk - 200ml


Question: What are your top tips for someone who is looking at changing their health, for the better, this year?

Dr Joanna McMillan: I would really stress and encourage getting the balance right between work, play and family life. On my online Get Lean program I talk about the 6 pillars of Get Lean - food, drink, exercise, activity, stress and sleep - all built on a foundation of joy. That is essentially what being a wellbeing is.

So that's my top tip – to make sure you're giving equal credence to every area that really needs some work. For some people that might start with food and diet. But it's different for everyone.


Interview by Brooke Hunter