Anna Whiteside and Ewan Sprong Unit Nine Interview
Remember when you walked into yoga and the floor was a sea of black yoga mats? We then saw the rise of printed yoga tights from fluro to an array of prints. As our choice of activewear became brighter so did our need to constantly consume new tights. The motivation to work out is quickly heightened with a new pair of tights.

Fast forward the boom of activewear and now thanks to the clever duo behind UNIT NINE, our sports accessory gear has finally caught up.

UNIT NINE is the brainchild of friends Anna and Ewan who are shaking up the everyday sports accessories market by creating high quality, fun, unique and sweat inducing sports gear. 'We want to inspire people to start moving, get sweaty and have lots of fun while doing it," said Anna Whiteside, co-founder of UNIT NINE.

'We believe an active lifestyle can improve your state of mind and instead of rushing through life and being stressed all the time, use exercise as a meditation and to improve your everyday wellbeing, and it will also help improve your rig. Win win!"

While more people practice sports and outdoor activities than in the past, yoga, crossfit and marathon training have surged in popularity and sports brands have reinvented themselves as purveyors of a lifestyle choice.

The trends driving demand towards sporting goods are seen from an increase focus on health and fitness by individuals and influencers, innovative new products and technologies, the increase in direct marketing with sales more frequently directed at the individual customer and driving demand through limited edition products and customisation.

UNIT NINE came about from the co-founders love of training and addiction to buying sports gear. 'I have a lot", said Anna. However, she couldn't quite find any sports accessories she loved which were great quality so she set out researching products, designs, colour and manufacturers. UNIT NINE was born with the development of their own range of sports accessory gear and the yoga room has never look so bright!

Often asked where the name UNIT NINE comes from. Anna and Ewan are friends and flatmates and their apartment number is UNIT NINE.

The UNIT NINE product range:
Yoga mats
Yoga towels
Boxing gloves
Skipping ropes
Sweat towels
Turkish Beach towels

To view the product range visit www.unitnine.com.au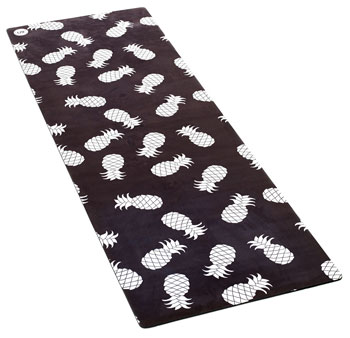 Review: After my cat mistook my last yoga mat for a scratching post, I was seriously on the hunt for a groovy yet natural yoga mat… enter Unit Nine.

Unit Nine have a huge range of adorable yoga mats for all types of yoga. Personally, I picked the Pineapple pattern because it's PINEAPPLES (no explanation needed) but also because it was suitable for Bikram/Hot Yoga as well as my morning yoga practice.

During my practice this morning, every time I glanced at the mat I felt like a Yoga Goddess. The mat has more grip than any mat, I've used before even though it's made of biodegradable, recyclable natural tree rubber - which is just insane! How this yoga mat is so good and doesn't contain any badies, is beyond.

And, you can MACHINE WASH the mats - necessary for Bikram practices (or you could grab a yoga towel).

If your mat is a little squeaky or slippery the first time you use it, just spray it with a little bit of water.
-Brooke Hunter


Interview with Anna Whiteside
Question: What inspired the creation of Unit Nine?

Anna Whiteside: There were three moments that ultimately led to UNIT NINE coming about:
1. I was trying to find a yoga towel to buy and all I could find was a drab coloured yoga towel that I didn't love and which was hideously expensive.

2. At yoga one night I was becoming super irritated (not ideal in a yoga class!) at my new yoga mat which had an exceptionally strong rubber smell. I didn't want to get close to it, which is pretty hard to do in a yoga class and left the class super annoyed and very un-zen like.

3. I recently started doing one on one sessions with a boxing trainer and I was looking for new boxing gloves and all I could find were gloves with huge brand logos slapped all over them, and I mean everywhere…. not my style at all!

You can see a theme here, basically I do a lot of training and a lot of shopping… haha, and so UNIT NINE came about as I couldn't find what I was looking to buy in the local market.


Question: Why Unit Nine?

Anna Whiteside: Its where I live and where the business was developed and products were designed.


Question: How do you aim to shaking up our workouts with your gear?

Anna Whiteside: We have changed boring everyday sports accessories into fashion forward, luxe, fun, unique and sweat inducing sports gear. There is so much emphasis on fun activewear, so why shouldn't the accessories be fun as well!?


Question: Can you tell us about the development of your yoga mat range?

Anna Whiteside: We wanted to create a luxe high-performance yoga mat with modern and cool designs which also did not contain any nasties like latex, silicon, PVC, phthalates, so at first, we spent all our time finding a manufacturer who could produce a mat to our quality standard before we even discussed the prints we wanted. Once we had the right quality yoga mat we then shifted our focus and started looking for the unique prints we desired.


Question: Are you able to share with us how you designed and chose material for the boxing gloves?

Anna Whiteside: We wanted handcrafted 100% premium leather boxing gloves as we believe this quality last much longer than synthetic gloves. Our gloves are constructed with high density padding which is a 3-layer foam system for our customers protection and comfort. Our gloves also have a full wrap around velcro wrist closure for added support as well as an attached thumb design for safety and to help protect from injuries. Essentially, our gloves smell great as they are real leather, very comfortable and look amazing!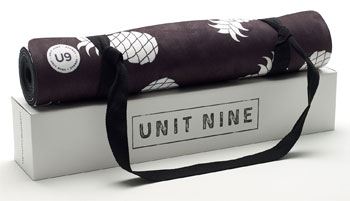 Question: Do you have a favourite in the current Unit Nine range?

Anna Whiteside: I am obsessed with our python print, so it is our black python boxing gloves and our white python yoga mat.


Question: What is it like working on a business, with your friend?

Anna Whiteside: It is amazing, I am very lucky to have someone who is like family to me to share the highs and the lows of having a startup. We have different strengths in skillsets that compliment each other, so we are a great team and balance each other out. Also, we get to train together a lot through owning UNIT NINE, so that keeps it fun and keeps us fit!


Question: What advice do you have for Australians wanting to implement a fitness regime into their schedules?

Anna Whiteside: Be disciplined and EXTREMELY organised with your time and schedule exercise in like you would with any other important appointment you have. Don't let exercise be the one appointment that always gets cancelled or traded out for something else.


Question: Do you have a morning routine?

Anna Whiteside: Yes, anyone who knows me will tell you I have a very disciplined approach to the start of my day as early morning is me time. I tend to get up every day at 5am drink a glass of water, meditate for 15-20 mins, answer some emails, check and respond to social media comments and then I go training at 6am. After training I then go and start my corporate job.


Question: Does Unit Nine have a motto? Can you share it with us?

Anna Whiteside: Yes, absolutely we do its "let's get sweaty". We want to inspire people to start moving, get sweaty and have lots of fun while doing it.


Interview by Brooke Hunter