How to Change Your Skincare Routine for Every Climate and Season
It's now Autumn; and although we all have our favourite products and beloved skincare routines to keep ourselves looking picture perfect all-year round, the colder weather and drier air can make clear, soft and nourished skin a serious challenge.

So how do we keep our skin happy as we move through the seasons?


Interview with Angelo Di Sapia, Health & Wellness Expert, Naturopath at HIVITA Health & Beauty
Angelo Di Sapia (Ba. App. Sci. Naturopathic Studies, Grad Dip Naturopathy – WSU) is a University trained Naturopath with a wide breadth of knowledge in the Complementary Medicine industry spanning 15+ years. He is a health and wellness expert with skills spanning clinical practice, product design and development, research, regulatory affairs, education, manufacturing, quality & laboratory testing.

Angelo's experience in the complementary medicine industry has seen him launch over 6,000 new products with leading global brands. With an insight into the entire supply chain, product quality and efficacy is his priority. With his vast experience and breadth of knowledge Angelo is a true leader in his field.

Question: How should you change your skincare regime based on the four seasons?

Angelo Di Sapia: Everyone's skin is unique and the changes in season can certainly affect our skin differently. Not only is the external environment changing but our eating habits change and this is equally effects the health of our skin. Summer means losing water so rehydration from the inside and outside goes up a notch; my trick is to simply increase the amount of Hivita Luminous white cream as needed. The key is to listen and look closely to your body as you will see signs that your skin needs some TLC very quickly - so give it some love. My skincare regime doesn't change much as I simply adjust the amount sunscreen, Luminous white cream and capsules I use as the weather changes and as my skin tells me what it needs. My last tip would be to increase the use of barrier products like natural lip balm and zinc cream as the wind gusts to protect and lock in that moisture!


Question: What do we need to do to take care of our skin from the inside?

Angelo Di Sapia: Diet is critical when it comes to the health of our skin - vegetables contain antioxidant carotenoids that nourish and protect our skin, high fibre foods eliminate pore clogging toxins, hydrating fruits and clean water keep our skin hydrated and good anti-inflammatory fats like omega 3 from fish boost skin glow. On the flip side avoiding over exposure to foods that over stimulate sebum production and put our skin out of balance like high glycemic foods including sugary foods (insulin over production) and dairy foods (have been linked to increased inflammatory skin conditions) is a must. The best way is to supplement with natural vitamins and carotenoids as found in HIVITA Luminous White – this gives our skin the best chance to thrive and glow.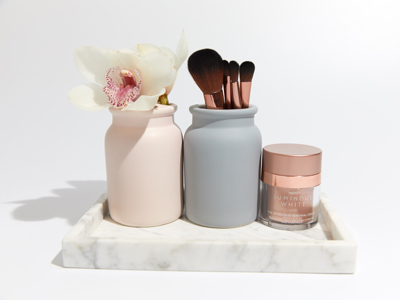 Question: Is it possible to keep our skin happy with one product, all year around?

Angelo Di Sapia: I would say 2 is better than 1 as research has shown that taking an internal supplement as well as topical cream boosts the results of skin nourishment and protection in half the time it would normally take to see results. Using Hivita Luminous White cream is my secret all year round solution which can be adjusted as needed deepening on the season and in summer I double my dose of the skin protecting capsules, it works a treat and everyone has and needs more antioxidants carotenoids!


Question: What are your favourite Autumn skincare saviours?

Angelo Di Sapia: Moisture and protection is the key, as we transition from summer to winter our skin is adjusting to varying moisture levels. Keep up the hydration with Hivita Luminous white cream and as our diet changes from bright summer fruits and vegetables to hearty meals supplement with Luminous White capsules to boost carotenoid levels naturally to protect and nourish our skin.


Question: Does our daily beauty routine need to be complex? What is a must and what skincare can be forgotten?

Angelo Di Sapia: Let's face it, if routines become overly complex it all becomes too hard and we end up giving up. That's why simple and effective routines work and last the test of time. As well as keeping away from toxins, stress and sun the easiest and best routine is an internal supplement everyday like Luminous white that contains carotenoids and essential vitamins as well as Luminous white cream which moisturises and protects naturally. My best tip is to forget about artificial or synthetic skincare as this contributes to skin problems, natural is always best when it comes to your skin!


Interview by Brooke Hunter
Photo by Holger Link on Unsplash