Cast: Angelina Jolie, Ed Skrein, Juno Temple, Elle Fanning, Chiwetel Ejiofor, Michelle Pfeiffer, Imelda Staunton, Lesley Manville, Harris Dickinson, Sam Riley
Director: Joachim Rønning
Genre: Adventure, Family
Rated: PG
Running Time: 119 minutes

Synopsis: The complex relationship of Maleficent and Aurora continues to be explored as they face new threats to the magical land of the Moors.

Maleficent: Mistress of Evil
Release Date: October 17th, 2019


About The Production
Once Upon a Time

Audiences first learned of the events that hardened the heart of Disney's most notorious villain with the release of "Maleficent" in 2014…events that drove her to curse a newborn baby princess to sleep forever. The film put a fresh spin on the traditional fairy tale with a villain as the story's protagonist, and went on to gross more than $750 million worldwide.

Director Joachim Rønning was a fan of the film and was especially drawn to the deliciously wicked character of Maleficent. "Angelina Jolie created something truly unique with the first movie and with this character," he says. "It was a bold move by Disney at the time, creating a sort of antihero who you weren't sure was good or bad."

The relationship between Aurora and her dark fairy godmother Maleficent obviously resonated with audiences, and while there was interest from the actors and the studio in doing another film, there needed to be a good reason to return. "I always wanted to come back because I loved doing the first one. I loved what it said about people and how they're not always what you think they are and not always what you assume," says Jolie ("Girl, Interrupted," "Wanted"). "We wanted to make sure we had the right story and knew what we wanted to say about this unique relationship."

Screenwriter Linda Woolverton is well versed in the world of Disney, having written "Beauty and the Beast," "The Lion King" and "Alice in Wonderland." It was Woolverton who created the backstory of the horned fairy which sprung from the characters in the 1959 animated film "Sleeping Beauty," and it was Woolverton to whom the studio turned once again.

Together with co-screenwriters Noah Harpster and Micah Fitzerman-Blue ("Transparent"), they crafted a screenplay that picks up several years after the events of the first film and continues to explore the complex relationship between Maleficent and Aurora. Their starting-off point was the realization that Aurora would now be a woman taking on adult responsibilities and embarking on a journey to find herself amid two feuding worlds.

Oscar® and three-time Golden Globe® winner Jolie liked the fact that the new story would address some big and still relevant issues as well. "What makes a family, and what is it that brings them together? Is Aurora better suited to a life spent running around barefoot in the Moors with fairies, where all creatures are treated as equals, or is she meant to be living in a castle in the human world with human problems and concerns?" queries the actress.

While it was important to Rønning that the film look visually spectacular, he wanted the story to be rooted by character. "With any story, I look at the emotional core, the heart of the story," he says. "One of the reasons the first 'Maleficent' was so successful is because it had a very strong and relatable emotional journey for the audience, and in our story Aurora is basically moving out, which is something all parents dread, and that's exactly how Maleficent feels."

"This movie is very much about human emotions," adds Elle Fanning, who was 14 when she first played Aurora and 20 when she filmed the sequel. "We are in this fantastical universe, but it really boils down to the relationship between Maleficent and Aurora, and that will always be what draws me to a story."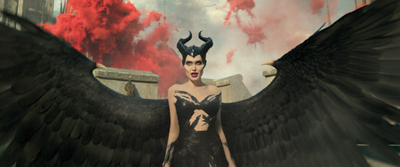 The Story Continues

The years have been kind to Maleficent and Aurora. Their relationship, born of heartbreak, revenge and ultimately love, has flourished. While the dark fairy's thirst for vengeance was the reason behind the original curse placed on the infant princess, it was also her love that broke it. She has raised Aurora as her own and bestowed her goddaughter with the title Queen of the Moors. Aurora's love for her godmother, in return, is unconditional.

While close, they are both strong willed and often butt heads, and together they are slightly dysfunctional. "Maleficent started out very girlish, very soft and very trusting," explains Jolie. "Then she was harmed and became hardened. Eventually she grows to love Aurora and to be soft again in that wonderful, warm way that a nurturing woman is, and she realized that wasn't a weakness but was actually a strength."

Aurora has a pure heart and, having grown up with the magical creatures of the Moors, is a free spirit. "Aurora embodies kindness and compassion, and her biggest strength is her good heart and wanting to do good, which is such a beautiful quality," says Elle Fanning ("Teen Spirit," "The Beguiled").

Jolie, a multifaceted actor who also has an impressive list of credits behind the camera as producer, director and screenwriter ("Unbroken," "First They Killed My Father"), finds beauty in the honesty of the relationship as well. "They may be messed up in many, many ways, but they have a very honest relationship," she says. "That's what I value most with my children is they are who they are with me and they know who I am, and they accept me, flaws and all."v In this story, Aurora and Maleficent spend a fair amount of time apart, giving them a chance to discover who they are without each other, where they are meant to be and what it's like to live without each other. "It's almost like the original story, where we go back to our own corners," says Jolie. "We go back to she's the beautiful, good princess and I'm the outcast that is evil and hunted."

Joining them in their progressive family is Maleficent's faithful companion, the raven Diaval, played once again by Sam Riley ("Pride and Prejudice and Zombies," "Control"). Diaval and Maleficent spent 16 years together watching Aurora grow up, and he has developed a fondness for Maleficent. He now serves as her eyes and ears in the human world, and, despite all the abuse he is subjected to, is incredibly tolerant and fiercely loyal. "They bicker with one another all the time," says Riley, "but there are important messages in the story about tolerance, acceptance, openness and friendship between races or species that are communicated through their relationship."

The pixies who cared for Aurora for those 16 years continue to reside in the Moors, and are as meddlesome as ever. Oscar® nominee Imelda Staunton ("Pride," the "Harry Potter" films) is Knotgrass. Her fellow pixies are Thistlewit, played by Juno Temple ("Wonder Wheel," "Atonement") and Flittle, played by Academy Award® nominee Lesley Manville ("Phantom Thread," "Topsy-Turvy").

Aurora is still in love with Prince Philip, played by Harris Dickinson ("Trust," "The Darkest Minds"), from the neighboring kingdom of Ulstead, and has agreed to marry him. This is cause for much celebration, as the wedding serves to unite the human and fairy worlds. While Philip's parents are thrilled with news of their son's engagement, Maleficent is hesitant to embrace the union, knowing all too well the pain that love can bring.

King John, played by Shakespearean actor Robert Lindsay, is married to Queen Ingrith, a cunning, conniving and selfish woman, and a worthy adversary to Maleficent. Seemingly good on the surface, she has a rotten core underneath her cultivated and poised exterior. When it came to casting the role, the filmmakers needed an actor who could hold her own opposite Angelina Jolie.

Golden Globe®winning, Emmy® nominee and three-time Academy Award® nominee Michelle Pfeiffer was that actor. With diverse roles in films including "Murder on the Orient Express," "Ant-Man and the Wasp," "Batman Returns" and "Dangerous Liaisons," Pfeiffer was quick to sign on.

When Queen Ingrith invites Maleficent to an intimate dinner at Castle Ulstead, Aurora gives her godmother a scarf to cover her horns, something she believes is innocuous at the time but in truth is quite hurtful. "That is her first mistake: trying to change someone into what they're not and molding them into the person she thinks she needs to be," says Fanning. "Then she doesn't believe her at the dinner which is the ultimate betrayal. That betrayal is something that weighs heavily on Aurora."

Queen Ingrith has orchestrated the dinner to cast Maleficent in a negative light and drive Aurora from her godmother and into the arms of her new mother-in-law. "It's always fun playing a villain," Pfeiffer says. "The challenge is finding the humanity in a character like Queen Ingrith, because there is always the option of just playing it all one color and just being pure evil, but my favorite villains always have a humanity about them so that you kind of feel sorry for them while hating them at the same time."

Pfeiffer continues, "Queen Ingrith is damaged and has been betrayed by a lot of the men in her life, but she's got her eye on the goal and nothing will get in the way of that…nothing."


Jolie is glad Pfeiffer didn't try to make the character too redeeming. "She went dark, and she went for it with no apologies," laughs Jolie. "Michelle is a very good person and a wonderful mother. Because she is the opposite of the queen and actually values who she is and how she holds herself, she is able to commit to playing the villainy with gusto…and it comes across with a nice icy elegance."

Following the disastrous dinner, which ends with King John in a deep sleep and Maleficent recovering from an iron bullet wound, the winged fairy is rescued by a mysterious figure. Conall (Chiwetel Ejiofor) brings her to a cavernous nest where she learns of the existence of the dark fey, a band of winged creatures with horns similar to Maleficent, who were driven away by humans years ago.

Having always believed she was the only one of her kind, it comes as a complete shock to Maleficent. While she does find the sense of community and pride they share appealing, there is animosity and dissension among the tribe. The dark fey are connected to nature and the environment, and they are determined to protect it the best that they can.

They are eco-warriors who have a more radical sense of being and of being kind to the land, but are at war with the human race. Some, like Conall, prefer pacification over fighting. "Conall is a wise warrior who has led the fey into battle with humans before, but has now come to a point where he's looking at a different tack," says the Oscar®, Golden Globe® and SAG Award®-nominated Ejiofor ("12 Years a Slave," "The Lion King," "Doctor Strange"). "He sees that this way of doing things is sort of finite and isn't going to have any useful solution in many ways, so he is looking for an alternative."

Others, like Borra, played by Ed Skrein ("Deadpool," "Game of Thrones"), believe the only way to act is through violence and are hoping to harness Maleficent's powers. "Conall and Borra are brothers in arms who have obviously fought on the same side against humans, and even though they have a deep respect for each other, they don't always see eye to eye on everything," explains Ejiofor.

Jolie was impressed with Ejiofor's ability to instill a sense of nobility in his character. "The way Chiwetel plays Conall is really impressive," she says. "He has a majesty and a grace to him, and the way he holds himself and speaks and what he represents is very powerful. What he brings to the story and what Chiwetel brings as an actor is a real gravitas and a real wisdom."

While the wall of thorns that separated the magical realm of the Moors and the human kingdom of Ulstead has come down, the conflict between the differing worlds continues, and Aurora and Maleficent find themselves pulled to opposing sides in a Great War, testing their loyalties and causing them to question whether they can truly be family.

Norwegian director Joachim Rønning ("Pirates of the Caribbean: Dead Men Tell No Tales," "Kon-Tiki") put together an accomplished creative team to help bring his vision to life, which includes: director of photography Henry Braham, BSC; production designer Patrick Tatopoulos; costume designer Ellen Mirojnick; composer Geoff Zanelli; film editors Laura Jennings and Craig Wood, ACE; visual effects supervisor Gary Brozenich; makeup designer Paul Gooch; special makeup effects designer David White; and stunt coordinators Simon Crane and Jo McLaren.

Sets & Production Design

"Maleficent: Mistress of Evil" is an action-packed story set within an epic, visually lush and picturesque universe overseen by Patrick Tatopoulos. The award-winning production designer, whose credits range from "Independence Day" to "Justice League," was drawn to the film because it is based on a fairy tale. "It's different from anything I've done before," he says. "I've done tons of science fiction and superhero films with characters like Batman and Superman and the like, but I've never designed a fairy tale."

While director Joachim Rønning had never worked with Tatopoulos before, he knew that he could sketch and draw, which he found very appealing. "Not because he wanted to provide input," explains Tatopoulos. "It was more about feeling that we could have a dialogue together very easily, sketching and talking together."

Rønning wanted to open up the story and make it more realistic and bigger in scope. "We wanted it to be bigger and better, but at the same time we needed to respect what audiences loved about the first film," he says. "But our goal was to create a universe and make it feel big and rich, where we can actually live in the movie and be in the movie."

"What was great about this film is that I could closely follow the design of the first movie but I also had the opportunity to design new things," says Tatopoulos. "The Moors were something we'd seen in the first film, so there was already an aesthetic for that, but the world outside the Moors is a very different one. There is a new castle and a new town, and the world of the dark fey is a new world, and this landscape, these environments, were a very big part of the script."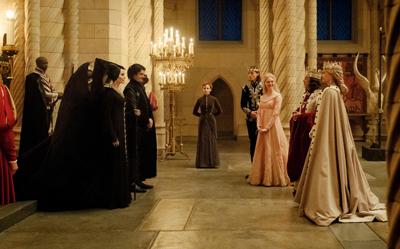 "We didn't try to keep the whole film in one look," Tatopoulos continues. "We actually define four worlds in this movie." They are: the fairy world of the Moors with Aurora's castle; the town of Ulstead; Queen Ingrith's castle; and the world of the dark fey.

Principal photography on "Maleficent: Mistress of Evil" took place at famed Pinewood Studios outside London from May to August 2018. The majority of the sets were built practically on six soundstages and on the studio's enormous backlot and were then supplemented with visual effects in post-production. The production also spent one week filming on locations in and around the U.K., including Syon House Lake, Burnham Beeches and Windsor Great Park.

The biggest set constructed on the backlot was the town of Ulstead and its town square, but the backlot was also home to sets for Castle Ulstead exteriors, including the main lawn, the main gate and the river surrounding the castle. Pinewood Studios' massive soundstages housed sets for Castle Ulstead interiors, including the main hall, royal chapel, king's chambers, queen's wardrobe, guest chamber and balcony.

Bringing these stunning worlds to life as practical sets enhanced the actors' surroundings and fully immersed them into this world. "It was such a luxury as a filmmaker to be able to walk around these worlds that Patrick created," says Rønning. "Of course we still had tons of blue screens and green screens and VFX shots, but I cherish the days we filmed on the big sets."

Sets for Castle Ulstead were spread out over five different soundstages due to its massive size. The castle is a monolith that symbolizes the human kingdom's desire for greatness and posterity. "We wanted it to be big and have an omniscient presence, and the scale really helped us create that," says Tatopoulos.

"We originally planned for it to be from the Gothic period, but then decided not to stick with a pure Gothic era of the 11th, 12th or 13th century, but to create a special aesthetic instead," continues Tatopoulos. "It is medieval with a slight Gothic, revival aesthetic, like something you'd see at the turn of the century."

The dining room is a massive, great hall with a 100-foot-high vaulted ceiling, a dining table 60-feet in length and a throne that is more than 25-feet high. "Everything had to be on a bigger scale to match the castle. You can't just have a normal table or a normal throne or a normal banner," Tatopoulos says. "In a castle this big, it's all got to be somehow representative of the scale of the overall castle. Queen Ingrith wants you to feel little because that makes her feel bigger and better about herself."

An army of carpenters and skilled artisans worked tirelessly, side by side, to help bring these worlds to life. "These Disney films are always big and beautiful. It's one of the reasons it's a privilege to be a part of them," says Angelina Jolie. "But on this one, Joachim saw it as an opera, like a big, intense opera. It is a very big scale, and there are very interesting new worlds to see."

There is a total of three castles in the film, the other two being Aurora's fairy castle of the Moors and Maleficent's castle. Maleficent created her castle herself, and Tatopoulos knew instinctively he would follow her aesthetic. As a result, it has no straight lines and was built from elements you find in the forest, like greens, roots and vines.

The Moors were built on a Pinewood soundstage and featured two rivers with waterfalls, live exotic plants and real flowers. Because everything was real, the temperature on the stage was controlled and precise, and everything had to be continuously watered. The practical set once again provided the cast with a sense of texture and realism, as you could actually feel and smell the elements.

Jolie appreciates the care that went into respecting the original look of the sets while expanding upon those existing designs to include new worlds. "The original film had a beautiful look, as does this one," says Jolie. "It was nice to step back into the Moors again; it felt like we went back six years to the same spot, yet new things had been built and they're all beautifully done. Their texture and quality is well made and so beautiful but it isn't just spectacle…it is grounded as well."

The production designer worked closely with director of photography Henry Braham, most often in regard to how the sets were lit. "With different lighting setups we were able to create completely unique atmospheres for the different worlds we were creating on screen," he says.

Through his collaborations with costume designer Ellen Mirojnick, Tatopoulos created an aesthetic for each character. "She designed something for Queen Ingrith that I thought was absolutely gorgeous and made me want to change where I was going with our world for the queen," he explains. "We have to be in harmony together, and when we were designing the queen's wardrobe room, the place where she gets dressed, the aesthetic and architecture needed to embrace the styles of her clothing."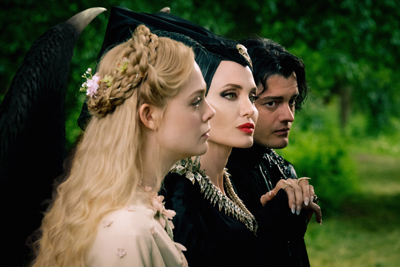 Costumes

Costume designer Ellen Mirojnick ("The Greatest Showman," "Behind the Candelabra") created distinct looks for each of the three beautiful, powerful and independent women at the heart of the story. Her department comprised some of the most talented crafts people working today, including cutters, agers, dyers, textiles artists, prop designers, jewelry creators and buyers. In addition to the numerous outfits created for Maleficent, Aurora and Queen Ingrith, her department was also responsible for dressing close to 600 extras as villagers.

From day one, Mirojnick envisioned the kingdom of Ulstead as a new, bustling and more citified kingdom. With that in mind, she asked herself what would a more modern fairy tale look like in a time period that is somewhere in medieval times but bordering on the Renaissance period with a fresh new spin on it? "With the freedom to create a new era, we broadened our use of fabrications, different colorations and silhouettes," she says.

She started with the character Maleficent, played by Angelina Jolie, with whom she had worked before. "Angie is really, really smart, and she has an overall vision and the ability to work through a story in ways that are truly exceptional," Mirojnick says. "Maleficent is a complicated character and a difficult one to define, and she has a huge story arc that ultimately brings her back to love."

As the strongest character in the film, Maleficent needs to rise above everyone else, never blend in and always have her own unique silhouette and shape. "Maleficent is iconic," Mirojnick explains. "So you have to be able to continue that idea and raise the stakes a bit. She is the black and white movie star of the fairytale world, and that's the image we started with. Her skin is very white, her lips are red and her body is totally silhouetted in a very strong shape. Her accessories start off as organic and evolve to include bone and gold and eventually black diamonds and emeralds."

She continues, "Her dress in the opening scene is a goldish, green color with a subtle reptile pattern. In this film she has wings the entire time, so her costumes are made from fabrics that were fluid and fluttered beautifully in the wind."

"Ellen finds the balance of moments when you're respecting the classic and want the characters to be familiar," says Jolie. "This is a sequel, so you want to keep what worked and what the audience responded to, but you want to evolve it, too. She was very good at doing that."

Aurora's wardrobe is ethereal with a touch of sophistication, perfectly suited for someone who reigns over a realm of mystical creatures. Hers is a more modern fairytale look with an impressionist color palette of predominantly blues and pale pinks. "I knew as Queen of the Moors it was essential that she begin her journey in a blue dress with an organic fairytale design made in the forest. The result looks like hand-tied leaves made by fairies," says Mirojnick. "We needed it to look totally different from her formal courtly dresses."

In severe and total contrast is Queen Ingrith, whose look is regal, yet somewhat modern and suggests an aire of wealth and privilege. She has eight different dresses, all relatively the same shape, but from different fabrics and with different accessories. "We used platinum, gold and champagne colors coupled with a lot of jewelry to really bling her up and make a bold statement," Mirojnick says. "She has a presence that is both soft and strong at the same time, and her colors do not give any hint of her being evil…in fact, it's quite the contrary."

The audience first sees Queen Ingrith in a dress that is the palest color of champagne and creamy white, which she wears with a whole mantle of pearls. For the in-law dinner scene she is in a platinum dinner dress with a bodice and skirt adorned with a massive panel of diamonds and pearls. When she goes to battle, her dress is stunning, conveying power, beauty and boldness. "It is an armor-like ensemble with gauntlets and shoulder pieces adorned with pearls and silver. It looks like it is made of metal, but it is a very special kind of platinum woven into the design," Mirojnick says.

Hair & Makeup

Hair and makeup designer Paul Gooch ("Dumbo," "Alice Through the Looking Glass") oversaw a department of 44 artists on "Maleficent: Mistress of Evil." In addition to doing hair and makeup for the principal and supporting cast, he and his team were tasked with getting hundreds of extras camera-ready as well.

Angelina Jolie's makeup was conceptualized by her personal makeup artist, Toni G., who also worked with the actress on the first film. The glamorously wicked look includes chiseled cheekbones, pale skin, perfectly arched eyebrows and one prominent feature from the animated film"the character's glam red lips"and required two to three hours in the make-up chair for Jolie every day.

Toni G. was going for a classic 1940s Marlene Dietrich movie-star look and tried a number of different reds before deciding on M•A•C Matte Lipstick Russian Red, which has an intense color and semi-matte velvety finish and was supplemented with matching lip gloss and liner.

Maleficent's eye palette included eye liner blended with a deep eye shadow and number seven lashes with a demi across half the eye. These were in addition to the cheek prosthetics, which were applied by Arjen Tuiten, a protégé of Rick Baker, the original mastermind of Maleficent's signature look.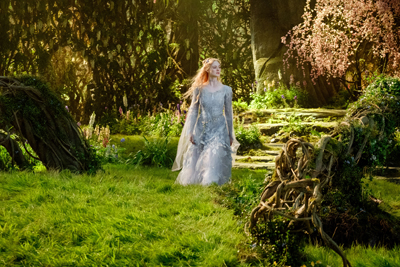 The look of the dark fey, the winged creatures with horns like Maleficent, is more primitive, as they have adapted and evolved in different ways based on geographical biomes (jungle, tundra, forest and desert). They build nests, as they are part bird, part human, but do not build tools or weapons, and they find everything they need in nature, which was cause for a unique approach in terms of props, set dressing and costumes.

"What was wonderful about this challenge was the simplicity and, subsequently, the elegance that was created by not being able to use anything man-made," says costume designer Ellen Mirojnick. "Everything, including their wings and their horns, was pure and natural and of the earth."

The cheekbones and definition that characterize Maleficent, carry over to the dark fey as well, as do their wings and horns. Says Mirojnick, "The palette for the jungle fey is comprised of lots of color. The desert fey look dry and crackly, and their wings are of a very dry-colored nature, as is their skin. The tundra are white, arctic-like and feathery with some pale blue and pale gray colors, and the forest fey are green and brown with very organic, treelike qualities."

"What's beautiful about the dark fey is they represent real diversity," adds Jolie. "Not diversity the way we think of it today as in splitting people apart because of their race, but by biomes. When you look at this group, young and old and representing different aspects of nature, what is so stunning is not what they look like, but what it feels like to look at the world in that way."

Production designer Patrick Tatopoulos began developing the morphology and culture of the dark fey in pre-production and created sketches of the fey and their environments simultaneously. He worked closely with Mirojnick, who took on the design and the build of the costumes, while special makeup effects designer and creator David White ("The Mummy," "Guardians of the Galaxy"), created the practical makeup effects.

White and his crew of 60 to 70 makeup artists, oversaw the laborious process of getting the dark fey camera-ready on a daily basis. Every facet of their look had to be fabricated, including their hair, skin, fur, wings and horns. And each one had their own unique look and personality, with individualized prosthetic pieces and colored contacts based on their different geographical biomes to help distinguish them.

White designed Conall, the forest warrior fey played by Chiwetel Ejiofor, to look dark and moody with the ultimate warrior horns. "Conall was the perfect balance," says White. "We gave him prosthetic cheeks and some tattooing that runs around his chest area and a fabulous wig, which gave him a nice framing and diamond-like shape."

With Borra, the desert fey played by Ed Skrein, the actor already had amazing bone structure. "We didn't create as much angle on the cheeks as Maleficent has, and his horns are extra special," says White. "He has the longest desert horns, and they are quite unique, to give him a bit more individuality, prosthetics that run across his forehead, down his neck to his shoulders and onto his body, and a lot of coloration on his cheeks."

Visual / Special Effects

Visual effects supervisor Greg Brozenich ("Pirates of the Caribbean: On Stranger Tides," "Clash of the Titans") had his hands full on "Maleficent: Mistress of Evil" due to the massive scope of the story and the quantity of magical creatures which were entirely computer generated. The film includes a total of 2,168 visual effect shots, which were created by MPC out of London.

According to Brozenich, the majority of the film's effects were for the enormous battle sequences taking place in and around Castle Ulstead, many which involved a secret weapon created under the supervision of Queen Ingrith. Her creation, a mix of fairy dust and iron which turns into a red powder-like substance that will destroy the creatures of the Moors, is brilliantly realized on screen as explosions of red smoke in the sky.

When visualizing the film, director Joachim Rønning pictured the red dust bombs exploding over Berlin during World War II. "Two years ago, those were the images in my head," he says. "That's what I was trying to create."

Stunt coordinator Jo McLaren ("Annihilation," "Spectre") was equally as busy. The script called for an enormous amount of flying work that involved the principal cast as well as the 40-some actors portraying dark fey. While the flying sequences used methodology similar to those employed on the first film in terms of how they fly, the intensity and difficulty of the stunt work on this film increased substantially.

The wings for Maleficent"who had three different looks"as well as for the dark fey, were created with CG effects in post-production, but the simulated flying was completed during principal photography. Working closely with stunt coordinator Simon Crane ("Rogue One: A Star Wars Story," "World War Z"), McLaren and team were determined to make all the flying sequences look as effortless and real as possible, while keeping the actors safe.

"We have a thing called a tuning fork that is attached to the actor's hips and is controlled by operators off set," says McLaren. "It gives the actors the ability to hover and dive and makes it look very fluid and natural. We also have tuning forks on dollies with wheels and on slack lines that allow us to keep the actors low to the ground for safety reasons and help them gain confidence for their flying sequences set against blue screens."

These endeavors involved considerable manpower, as crew members were needed behind the scenes to pull wires, push the tuning forks, etc., as well as a fair amount of physics knowledge. "If you've got 10 people on wires, that's a lot of truss up in the grids, which means a lot of pulleys," says McLaren. "And that involves a lot of physics in terms of working out weights and everything."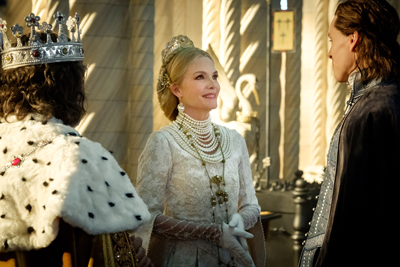 McLaren had worked with Angelina Jolie before and remembers that she was a natural. "You don't need a stunt double with Angie," she says. "She has great muscle memory from all the years she's been on wires, so you show her something once, then she pretty much nails it from that point on."

"I love flying. I love all the rigs. I love all the stunts," says Jolie. "We had some good wire work on this one. Ed [Skein] and I got to do some really fun wire work, which was nice."

Chiwetel Ejiofor has done his fair share of wire work in the past as well, so this was not his first time getting into a harnesses. "It's all about trying to find a way of doing it that looks organic and to keep it very natural, even if the rigs are slightly uncomfortable or cumbersome, and making sure there's a sense of elegance to it," says Ejiofor.

Score

Joachim Rønning brought Emmy Award®-winning composer Geoff Zanelli ("Into the West") on board to write the music. The composer sees his music score as the element in a film that bridges the space between the screen and the audience. "That is true in any movie, really, but especially with fantasy movies where the film relies on the audience being able to suspend their disbelief," Zanelli says.

Having previously worked together on "Pirates of the Caribbean: Dead Men Tell No Tales," Zanelli knew what the director was looking for. And because this is a sequel knew the score needed to take the reins from where the first story left off and expand on that. "In this movie the score is there to really push the boundaries out further, to tell a more epic story set in the world everyone loved from the first film," he says.

The score was recorded with a 102-piece orchestra at London's Abbey Road Studios in July, 2019.

Maleficent: Mistress of Evil
Release Date: October 17th, 2019