Active ingredients: What the hell are they and how you can incorporate them into your skincare regime?
Let's face it; skincare can be a total minefield for Australians, thanks to the combination of both individual and unique skin needs and an influx of complicated advice, products and services.

Leading expert in the industry, Clear Skincare, is striving to make skincare clear and dispel the common misconception that you have to make do with the skin you're in. The brand offers bespoke programmes for each client, led by expert doctors, nurses and therapists who offer clinical advice on the best treatments specifically for their skin.

As one of the country's most experienced anti-ageing, skin, acne and laser clinic specialists, the brand brings over 20 years' experience in over 50 clinics, having treated more than 420,000 Australians last year alone.

With more than 35 per cent of Australian women silently suffering from adult acne, one of the breakthrough treatments is Dr McCaffery's Acne Treatment – exclusive to Clear Skincare Clinics, the treatment eliminates acne, breakouts and pimples without using any drugs and has no side effects. Since it launched in 2012, clients have enjoyed a 95 per cent success rate.

Along-with the breakthrough acne treatment, Clear Skincare Clinics is delivering outstanding client results from Dermapen – a device that uses the world's most advanced skin needling technology to treat fine lines, wrinkles, acne scars and skin texture with minimal downtime.

Following high demand from clinic clients, Clear Skincare launched its cult product range into Priceline stores across Australia earlier this year – allowing clients greater access to enjoy clinic quality results focused products at home.

With anti-ageing, acne, hydration and everyday ranges available in more than 350 Priceline stores and 50 Clear Skincare Clinics, men and women are able to purchase affordable, tried and tested clinic products that have been formulated with the world's most active ingredients. The products continue to work on the skin after they've been applied - when you sleep, when you work and when you play.

Each Clear Skincare product has been directly informed by the thousands of clients that visit the clinics, and are continually adapted to ensure they treat the evolving needs of different skin types.

Clear Skincare Clinics' products are high performing, affordable, cosmeceutical and deliver clinic quality results at home.


Interview with Dr Philippa, Clear Skincare Clinics Founder
Question: What are active ingredients in relation to skincare?

Dr Philippa: Actives refer to the key ingredients in a product. These main ingredients are what provide the benefits to the skin, such as hydrating, soothing and firming properties. Ingredients such as Glycolic Acid and Aluminium Oxide, Hyaluronic Acid, Vitamin A and Copper Peptides are great examples of active ingredients. Here is the lowdown of what our active ingredients will do for the skin: Hyaluronic Acid – this ingredient is able to hold up to 1000 times its own weight in water and is responsible for keeping the skin hydrated, smooth and plump.

Glycolic Acid – can be obtained from many sources such as natural sugar cane, apples, milk, citrus fruits. When used on the skin it dissolves the bonds that hold our dead skin cells together, creating an exfoliating action, leaving the skin hydrated, soft, smooth and supple.

Vitamin A (or Retinol) – when used on the skin treats a number of conditions such as fine lines and ageing as well as pigmentation. Products that contain Vitamin A encourage skin cells to behave in a more youthful state, leaving the skin feeling refreshed and smooth.

Peptides – Peptides are molecules containing amino acids that make up a large proportion of the cells in our body. When used in skincare products they reduce the appearance of fine lines and wrinkles.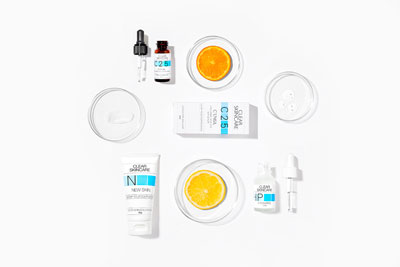 Question: Why are active ingredients so important?

Dr Philippa: Whereas most skincare products will work to moisturise, cleanse or tone skin - active ingredients are crucial to address anti-ageing, acne and hydration. The great thing about active ingredients is that the products continue to work on the skin after they've been applied - when you sleep, when you work and when you play. Vitamin A is a fantastic anti-ageing ingredient, whereas Vitamin C and Glycolic Acid, Lactic Acid and Copper Peptide serums are also important for skin maintenance and hydration.


Question: How can we incorporate active ingredients into our skincare?

Dr Philippa: Clear Skincare have tried and tested clinic products that have been formulated with the world's most active ingredients. We recommend Clear Skincare Smooth Skin with Glycolic Acid, New Skin Vitamin A, Gel Cleanser with Glycolic Acid and C'Ensil 25% Vitamin C Serum. These products will help transform lines, wrinkles, skin tone and texture to leave the skin feeling firmer, brighter and nourished.

If you are looking for a stronger active ingredient, we also recommend treatments such as a regular Skin Peel. Our skin does not exfoliate as efficiently as we age, leading to the skin appearing dull. A low strength Skin Peel is a quick and easy pick me up that improves the appearance of most skins.


Question: What is Dermapen?

Dr Philippa: Dermapen is Clear Skincare's No 1 Anti Ageing treatment that uses the world's most advanced Skin Needling Technology. It creates micro-punctures in the skin's surface to stimulate collagen production and renewal – resulting in regenerated skin that's smoother, more even and ultimately more youthful looking.


Question: What are the benefits of Dermapen and why is it becoming more popular?

Dr Philippa: Believe it or not, Dermapen Skin Needling has become hugely popular among skincare fanatics" known as the next big thing in anti-ageing. The primary appeal is its ability to stimulate growth of collagen and elastin, which is the key to new, youthful-looking skin. Plus, the endless concerns that can be treated including: fine lines and wrinkles, visible signs of ageing, dull skin, uneven skin colour and tone, scars and stretch marks, pigmentation, enlarged pores, rosacea, premature skin ageing, skin laxity, acne scars & chicken pox scars. Other studies have found skin needling to be particularly effective in tightening and toning the skin. Is there anything that this treatment can't do?


Question: Can you tell us about Clear Skincare?

Dr Philippa: Clear Skincare is a leading expert in the industry. We strive to make skincare clear and dispel the common misconception that you have to make do with the skin you're in. We offer bespoke programmes for each client, led by expert doctors, nurses and therapists who offer clinical advice on the best treatments specifically for your skin.

We're proud to say we're one of the country's most experienced anti-ageing, skin, acne and laser clinic specialists, bringing over 20 years' experience in over 50 clinics. Just last year alone we treated more than 420,000 Australians!

Following high demand from our clients, we launched our cult product range into Priceline stores across Australia earlier this year – allowing clients greater access to enjoy clinic quality results focused products at home.


Question: Are skincare clinics safe and can they give you a natural look?

Dr Philippa: Clear Skincare Clinics is doctor developed and results driven, we are one of the country's most experienced skin & acne, cosmetic injectables and laser hair removal clinics. For more than 20 years, we have made the most advanced, clinical treatments accessible to millions of people. Last year alone we treated more than 420,000 Australians and Kiwis in our 50+ clinics. From our highly trained doctors, nurses and therapists, to our skincare developers, we care about one thing: helping you feel confident in your own skin. We will guide our clients to achieve natural looking results that last.


Question: Which of the Clear Skincare treatments would be best for spring skin?

Dr Philippa: As we come into the Spring months, it's time to shed all of the dry skin from the cooler season. We recommend Clear Skincare Clinics Signature Peels as the perfect start to give the skin a much needed exfoliation.

Skin Peels are the most affordable and effective solution to improve skin texture, exfoliate dead skin cells and refine open pores – allowing you to achieve incredibly smooth and younger looking skin fast. Clear Skincare Clinics offers a unique range of Skin Peel treatments to target your skin concerns and leave you with a smoother, tighter and brighter complexion.


Interview by Brooke Hunter