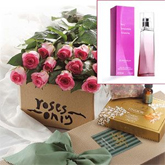 Roses Only's 'Very Irresistible' Mother's Day gift!
What Mother would not love a gift of stunning long stemmed roses and a beautiful bottle of perfume? Delight her with a delivery of Givenchy's popular fragrance Very Irresistible (30ml) nestled amongst Lindt chocolates (60g), rose oil, pot pourri and amazing long stemmed roses in the Roses Only box. Full of delightful aromas to dazzle Mum's senses!Femail.com.au members receive $15 off this gorgeous gift!
Delivered for only $134 (RRP $149)
To take up this special offer visit Roses Only
*Available for delivery in Melbourne, Sydney, Adelaide, Brisbane, Canberra, Hobart, Perth, Sunshine Coast and Gold Coast while stocks last between 12-14th May. An additional $19.50 delivery fee applies on Sunday 14th May. Roses delivered in the 'seasons best' colours, depending on availability.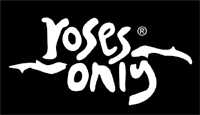 As Australia's leading floral retailer, Roses Only is renowned for its beautiful long stemmed roses, presented and delivered with Lindt chocolates, rose oil and pot pourri in the signature Roses Only box. Roses Only also offers elegant boxed tulips, gerberas, lilies and mixed seasonal flowers, as well as superb floral arrangements and bouquets. We can also compliment your order with fine champagne, wine, teddy bears, Lindt chocolates and occasionally DVDs, movie passes and more.
Roses Only offers you the perfect gift, whether it's a special birthday, your anniversary, a celebration or just an "I love you" gift, we've got something for every occasion!
Show your Mum just how much you love and appreciate her with a gift from the Roses Only Mother's Day range this year! We'll be delivering across Australia, in New Zealand and London between 12-14th May so place your order now to avoid missing out.
Every Mother's Day order placed by May 12th gives you the chance to win a trip to London flying Club World Business Class on British Airways, staying 5 nights at The Colonnade Hotel with breakfast included!
Contact Roses Only on Roses Only or 1300 767 376