The Apple iPhone 3G in Australia officially released July 11. With fast 3G wireless technology, GPS mapping, support for email features such as Microsoft Exchange and the new App Store. Simply put the Apple iPhone 3G puts even more features at your fingertips. And like the original iPhone, it combines three products in one - a revolutionary phone, a widescreen iPod, and a breakthrough Internet device with rich HTML email and a desktop-class web browser. And the best news is that Australians can now enjoy the benefits of the Apple iPhone 3G.
The iPhone is an Internet enabled multimedia mobile phone designed and marketed by Apple Inc. It has a multi-touch screen with virtual keyboard and buttons, but a minimal amount of hardware input. The i Phone's functions include those of a camera phone and portable media player (equivalent to the iPod) in addition to text messaging and visual voicemail. It also offers Internet services including e-mail, web browsing, and local Wi-Fi connectivity. The first generation phone hardware was quad-band GSM with EDGE; the second generation uses UMTS and HSDPA.
Apple announced the i-Phone on 9 January 2007. The iPhone was initially introduced in the United States on 29 June 2007. It was named Time magazine's Invention of the Year in 2007. On 11 July 2008, the iPhone 3G will be released in Australia and many other countries that before could only use "unlocked iphones".
There are many applications located on the "Home" screen: Text (SMS messaging), Calendar, Photos, Camera, YouTube, Stocks, Maps (Google Maps), Weather, Clock, Calculator, Notes, Settings, and iTunes (store). Four other applications, docked at the base of the screen, delineate the iPhone's main purposes: Phone, Mail, Safari, and iPod.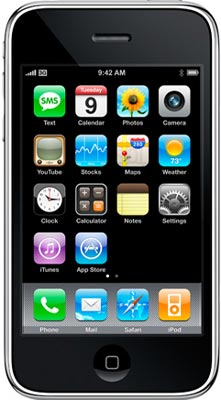 The layout of the music library is similar to iPods, with the sections divided more clearly alphabetically, and with a larger font. Just like iPods, the iPhone can sort its media library by songs, artists, albums, videos, playlists, genre, composers, podcasts, audiobooks, and compilations. Cover Flow, like that on iTunes, shows the different album covers in a scroll-through photo library. Scrolling is achieved by swiping a finger across the screen. The iPhone supports gapless playbacks. Very Nice!
Like the new iPods, the iPhone can play video, allowing users to watch TV shows and films. Unlike other image-related content, video on the iPhone plays only in the landscape orientation, when the phone is turned sideways. Double tapping switches between wide-screen and full-screen video playback.
There are soo many cool features, 3rd party applciations, along will all the needed accessories, such as: iPhone ringtones, iPhone cases, iPhone wallpapers, i Phone icons, i Phone software and much more.
We are interested to hear your thoughts on the new Apple iPhone, so post your feedback or reviews on the Femail blog.
If you are looking at order an iPhone or buying an iPhone in Australia and have a ABN number, then you can do so via United Technologies Tel: 1300 727 041.